Introducing Vancouver Referencing
Many universities and academic journals will ask you to use 'Vancouver style' citations. This means citing sources with numbers in the text, each of which points to an entry in a bibliography or reference list at the end of the document. However, there are many versions of Vancouver referencing. And these systems often differ from one another. As such, if you want your writing to be error free, you'll need a Vancouver expert to check the referencing in your work.
Vancouver Referencing Proofreading Services
Have you been asked to use Vancouver referencing in your work? Our expert academic proofreaders can help ensure your referencing is always clear and consistent. Just let us know how we can help and we'll assign a Vancouver expert to your document.
How To Select


Vancouver Referencing

As a default, we use the version of Vancouver referencing set out by Imperial College London (you can download a PDF guide for this version here). If you're happy with this system, simply select 'Vancouver' from the menu when you upload your document.

If you're using a specific style guide, though, let us know by adding a comment in the box provided. We will then use that version of Vancouver when editing your document.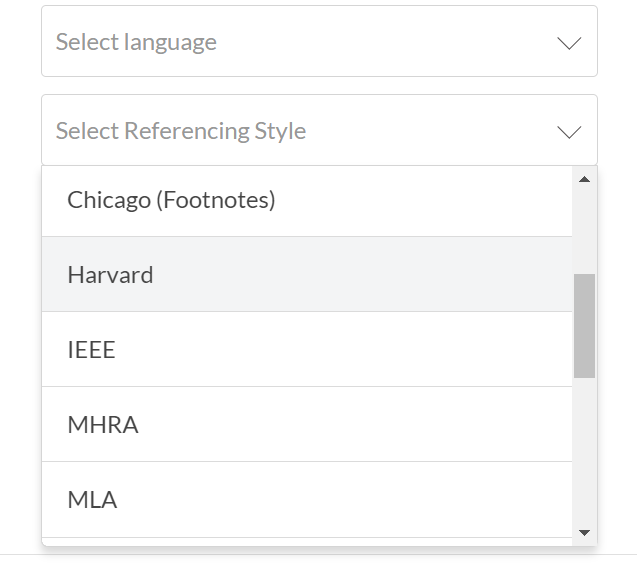 In-Text Citations In Vancouver Referencing
In Vancouver referencing, you cite sources via bracketed numbers in the text. Sources are numbered in the order they are first cited in the document:
Here, the bracketed number shows that we're citing the first source listed in the bibliography. If we were to cite the same source again later in the same document, all we would need to do is cite the same number as on the first citation. Variations on this format include:
Giving the citation immediately afterwards when an author is named in the text
Providing a page number in citations when quoting a source
Citing multiple sources in a single citation by using a dash to indicate consecutive sources in the reference list (e.g. 2–4 = sources 2, 3, and 4) or by adding commas between non-consecutive sources in the reference list (e.g. 1, 4, 9 = sources 1, 4, and 9)
Don't forget to check your own style guide if you have one, though, as different versions of Vancouver have different rules about citations.
Vancouver Bibliographies And Reference Lists
All versions of Vancouver referencing require you to list sources at the end of your document. This is usually called a 'Bibliography' or a 'Reference List'. The details of how to format a Vancouver bibliography vary. Typically, though, you should list all sources:
With full publication information
In the order they are first cited in the text
With authors' surnames given first, followed by initials
With titles of longer works (e.g. books and academic journals) italicised and titles of shorter works (e.g. book chapters and article) in quotation marks.
The format for each bibliography entry will depend on the source type. If we were citing a book, for instance, we would list it in the bibliography as follows:
Here, we have the author's name, the book title, and publication information. For details on other source types in Vancouver referencing, see our blog.
Referencing Styles And Systems
Our expert editors can work with a range of referencing styles, including:
We can work with other referencing styles on request, too. Just let us know which system you're using when you upload your work, and we'll tailor our service accordingly. For more information on legal referencing styles, such as OSCOLA and AGLC, see our dedicated legal referencing page.
Trusted by thousands of leading
institutions and businesses