Legal Referencing Systems
There are several legal referencing systems available, including:
OSCOLA – The Oxford Standard for Citation of Legal Authorities is the standard legal citation style for UK law. Most law schools and legal publishers in the UK use this system.
AGLC – The Australian Guide to Legal Citation is the most widely used legal referencing system in Australia. The fourth (and current) edition is 'AGLC4', but we can also work with earlier versions of this system if required.
Bluebook and ALWD – The Bluebook: A Uniform System of Citation is a long-standing legal citation system used in the US. The other main legal referencing system in the US is the ALWD Guide to Legal Citation. This system is similar to Bluebook, but with a few simplifications that some say make it easier to use.
The system you use will depend on your location (or the location of the legal system you are writing about). The styles above cover the most common citation formats in English-language legal writing, but let us know if you're using a different system.
Legal Referencing Services
Legal referencing is a specialist discipline. As such, you'll want a specialist proofreader to edit your legal writing. That's why Proofed has legal referencing experts ready to check your work. All you need to do is let us know which system you're using in your writing.
Referencing Styles And Systems
Our expert editors can work with a range of referencing styles, including:
We can work with other referencing styles on request, too. Just let us know which system you're using when you upload your work, and we'll tailor our service accordingly. 
Selecting A Reference System
You will be able to select a reference system when you upload your document for proofreading. To do this, simply select the relevant citation style from the drop-down menu.
If you're using a legal referencing style that isn't in this list, select 'Other' and enter the name of your chosen system in the comment box. And if you have any other instructions for how we edit your document, leave a comment to let us know.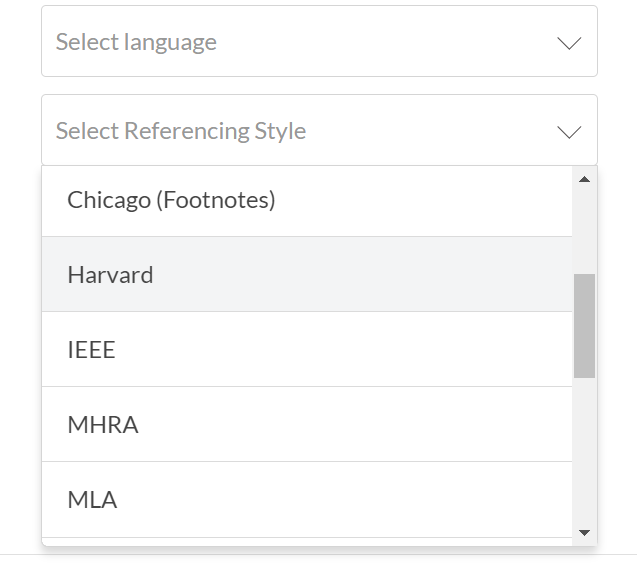 Trusted by thousands of leading
institutions and businesses