Introducing Harvard Referencing
Many colleges and universities use "Harvard" referencing to cite sources in academic documents, especially outside the U.S. This is actually a generic term for parenthetical author–date referencing (i.e., a referencing style where you cite sources by giving the surname of the author and a date of publication in brackets). As such, the exact rules of this system can vary.
We use the Open University's version of Harvard referencing as a default. You can find a PDF setting out the OU system here. If you're using a different version of this system, though, leave a comment letting us know when you upload your document.
Harvard Proofreading Services
Have you been asked to use Harvard referencing in a document? Then make sure to have it proofread by an expert. We have dozens of academic proofreading specialists with in-depth knowledge of Harvard style referencing, so just let us know how we can help.
How To Select


A Referencing Style

When you upload an academic document, we will ask you to select a referencing style from a dropdown menu. All the styles mentioned above are available here.

If your chosen referencing style is not listed here, select "Other" and use the comment box to let us know which system you're using. You can also use the comment box to specify which version of a referencing style to use.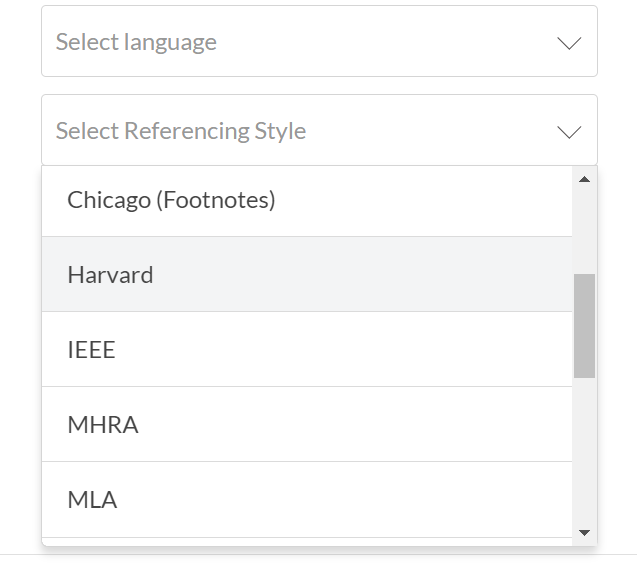 In-Text Citations In Harvard Referencing
Harvard referencing uses author–date citations. To cite a source, all you need to do is provide the author's surname and year of publication in brackets. In the Open University version of the system, you also separate the name and year with a comma:
Harvard Reference Lists And Bibliographies
Finally, in all versions of Harvard referencing, you will need to provide a list of the sources you have used in your work. This could be either:
A reference list (a list that only includes sources cited in your work)
A bibliography (a list of all sources used in your research, even if you did not cite them)
Make sure to check which of these your college or school prefers.
The exact format of a Harvard reference list or bibliography will depend on the system used. Nevertheless, most versions of Harvard require you to format a reference lists as follows:
Place it at the end of the document, before any appendices
List all sources alphabetically by author surname
List multiple works by the same author chronologically
Provide names for all listed authors, no matter how many there are
Use italics for titles of standalone works, such as books and journals
Entries in the reference list should provide enough information to identify the source. For example, in the OU version of Harvard, we would list a book with a single author like this:
For information on reference formats for other source types, see our blog.
Quoting Sources In Harvard Referencing
If you are quoting a source in Harvard referencing, make sure to include a page number in the citation. This will show the reader where to find the quoted text:
Here, for example, the citation shows us that the quote comes from page 34 of the cited source. And, as shown above, the Open University version of Harvard referencing places page numbers at the end of the citation, after a comma and the abbreviation 'p.'
Referencing Styles And Systems
Our expert editors can work with a range of referencing styles, including:
We can work with other referencing styles on request, too. Just let us know which system you're using when you upload your work, and we'll tailor our service accordingly. For more information on legal referencing styles, such as OSCOLA and AGLC, see our dedicated legal referencing page.
Trusted by thousands of leading
institutions and businesses