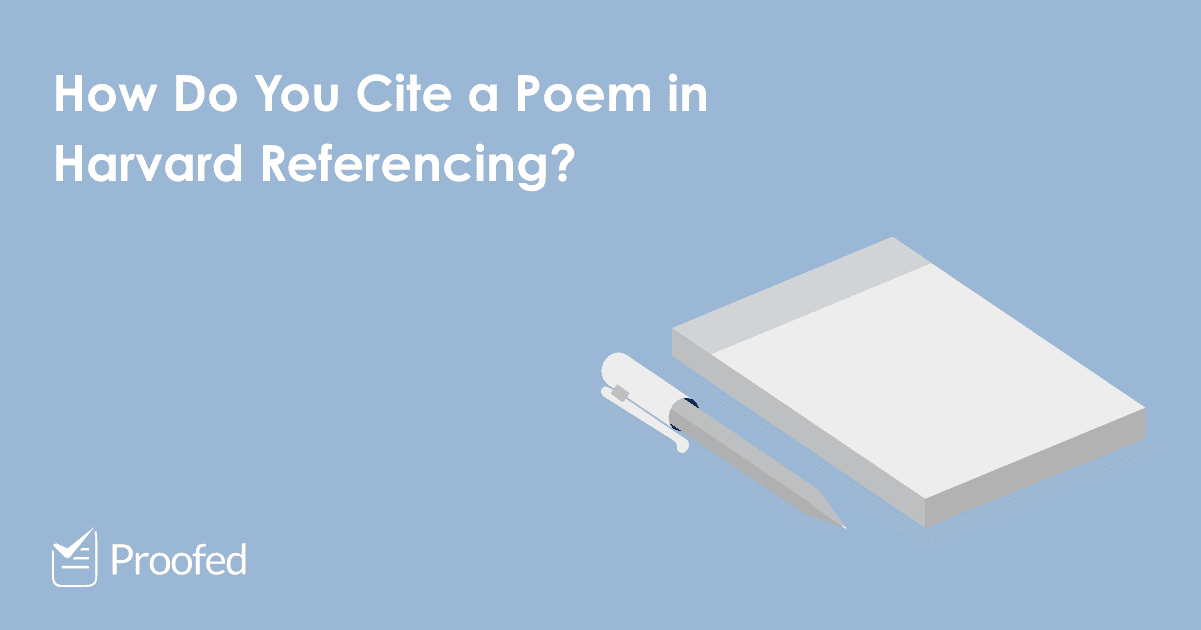 How to Cite a Poem in Harvard Referencing
If you're writing about poetry in an essay, knowing how to reference a poem is vital. But how does this work? In this post, we explain how to cite a poem in Harvard referencing, including both in the text and in the reference list.
How to Cite a Poem in Harvard Referencing
"Harvard referencing" is another name for parenthetical author–date referencing. This might sound technical, but all it means in practice is that you cite sources by giving the author's name and a year of publication in brackets. We could cite a poem like this, for instance:
"The Fly" is notable for its unusual choice of subject (Blake, 1794).
Here, we're citing "The Fly" by William Blake using its original publication date. We would then give full source details in the reference list.
Quoting Poetry
Quoting poetry can be a little different to quoting prose in two respects:
The kind of pinpoint citation you include.
How you present quoted poetry on the page.
In terms of pinpoint citations, you may want to use line numbers rather than page numbers, especially if the version you're quoting includes them.
In terms of presentation, meanwhile, if you're quoting a single line from a poem, you would quote it like you would any other source:
Donne (1633, line 3) writes, "It sucked me first, and now sucks thee."
But for two or three lines, you will also need to use a forward slash to mark the line breaks. For example:
The poem begins "Mark but this flea, and mark in this,/How little that which thou deniest me is" (Donne, 1633, lines 1-2).
And for longer passages, you should set the poem out as it is in the source:
In the final stanza, Donne (1633, lines 18-22) writes:
Find this useful?
Subscribe to our newsletter and get writing tips from our editors straight to your inbox.
Cruel and sudden, hast thou since
Purpled thy nail, in blood of innocence?
Wherein could this flea guilty be,
Except in that drop which it sucked from thee?
This helps to preserve the flow of the poem you are quoting.
Poems in a Harvard Reference List
The correct format for a poem in a Harvard reference list depends on where you found it. The three most common formats are as follows:
For a poem published as a standalone book, reference it as a book.
If the poem is part of a collection or anthology of work by various poets, reference it as a chapter from an edited book.
For a poem found online, reference it as a page from a website.
You can see examples of Harvard-style references for a few poems below:
Blake, W. (1794) "The Fly," Poets.org [Online]. Available at https://poets.org/poem/fly (Accessed July 17, 2020).
Donne, J. (1633) "The Flea," in Ferguson, M. W., Salter, M. J. and Stallworthy, J. (eds) The Norton Anthology of Poetry, New York, W.W. Norton (this edition 1996), p. 12.
Eliot, T. S. (1922) The Wasteland, London, Faber & Faber (this edition 2019).
Note that, where relevant, we've included the date of the edition (or the anthology in which a poem is reproduced) as well as the original date of publication. This is to help the reader find the version you've used.
Harvard Variations and Proofreading
For this post, we use a version of Harvard referencing based on the Open University guide [PDF]. However, the exact rules for citing a poem in Harvard referencing may depend on the version of the system you're using, so make sure to check your style guide if you have one.
And if you want to be extra sure your written work is error free, including your referencing, it pays to have it proofread! Why not submit a free sample document today and find out how our expert editors can help you ensure clarity and consistency in your writing?
More Writing Tips?
When it comes to written content, perfection is the goal. Whether it's a crucial business...
Trusted by thousands of leading
institutions and businesses