ChatGPT's meteoric rise to popularity has dominated the news in the last six months. Within one week of the tool's launch, many media outlets were praising the software, with The New York Times admiring its "brilliance and weirdness" and TechMonitor saying it's a "game-changer for businesses." But soon, it became clear that ChatGPT, though revolutionary, is not without its issues, raising debate about whether you can trust ChatGPT to create content for business. This blog delves into the debate, looking at the good, the bad, and the ugly of using ChatGPT to create content. 
What Is ChatGPT?
According to its own description, ChatGPT is "a large language model trained by OpenAI, based on the GPT-3.5 architecture. It is designed to be able to engage in conversations with humans and generate responses that are fluent and coherent, using natural language processing techniques. ChatGPT has been trained on a massive amount of text data, and is capable of understanding and generating responses in multiple languages. Its abilities include answering questions, providing recommendations, and engaging in general chit-chat."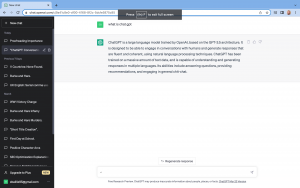 The Issues With Using ChatGPT for Content Creation
So Should We Forget About ChatGPT Altogether?
You might be tempted to avoid ChatGPT like the proverbial plague after everything we've just said, but we would be remiss not to discuss some of the benefits of the software. 
SEO Optimization
In 2022, Google's Search advocate, John Mueller, announced that Google's algorithm would penalize AI-generated content, much to the dismay of many online creators who used AI to help them with their SEO. So, rather than helping, ChatGPT hindered the SEO efforts of these creators. However, a year later, Google revised its stance, saying its issue was with creators using AI solely to rank higher in the search engine and not to create quality content. It seems that the unfair notion that AI-generated content is bad for SEO has stuck. 
Streamlining Workflows
If you're anything like us, we're sure you don't have enough hours in the day to do everything you want or need to do. This is where AI really becomes a vital tool. AI can help you streamline your workflows and do the more boring and time-consuming tasks. For instance, you can use ChatGPT to create outlines from which your writers can work, something that always takes longer than anticipated, but this has the added benefit of creating consistency. ChatGPT can also write your social media posts, which your social media team needs to tweak only, freeing them up to do the bigger tasks. These are just two examples of how you can use ChatGPT to streamline your workflow. 
Conclusion
AI has long been heralded as something that can assist us in being more productive, and that's exactly how you should use AI. Replacing humans completely with AI leaves you open to accuracy, legal, and ethical issues, but using AI in conjunction with your human teams can help you create more content more consistently – a massive win for any business.
Knowing how to use AI to assist your content production processes is challenging, so if you'd like more information about using AI in content generation, you can read our blog here.
Reach out to us today if you need help editing your AI-generated content and getting it publication ready.