Whether you're just starting out as an editor or have years of experience under your belt, having certain tools and strategies to help you with your process are great for making a piece of writing pop.
 There's a whole range of apps, tools, and methods out there to try when it comes to editing, whether you need to brush up on your grammar, take advantage of a second pair of eyes, or simply manage your time.
In this post, we asked our team of expert editors what their favorite tools are when they need a helping hand at work. If you're looking to give a project a polish, try these key tips and tricks.
1. Use Checklists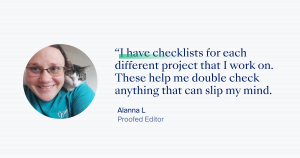 Pro Tip: Check out Proofed's official Proofreading Checklist here. 
3. Use Proofed's resources.
The resources provided by Proofed have always been extremely helpful. I also use various pages online to check grammar structures and look up vocabulary. – Diane D
4. Check the dictionary.
If I am ever unsure about something, my first stops are Google Ngram Viewer, which is great for checking word associations – especially which preposition you should use – and Macmillan Dictionary, which is, in my humble opinion, the best dictionary (check it out and enjoy all that it has to offer!). – Darcy C
5. Take advantage of Microsoft Word.
MS Word spell checker is helpful (and its grammar checker is occasionally right). – Jordan B
7. Use PerfectIt.
PerfectIt – I have built style sheets for different dialects and types of documents. I run this software first, which gives me a sense of the content and potential issues, and then again at the end to catch inconsistencies. But like any tool, this is a helping hand, not a replacement for the skills of a real editor. – Jenny E
8. Get familiar with various tools and guides.
Depending on the document format or client, I use draftable, an HTML converter, a passive voice detector, and a title case converter. I also have the Proofed guides up for specific reference styles. – Cathy P
9. Change your screen.
Once I finish editing, I read my work on a tablet, as the change in screen can help me to pick up on things I might have missed. – Carol W
11. Try out Free Timer.
I use the "Free Timer" app from the Microsoft Store, which I can set for 25 minutes of productive time. The app allows a second window to be open, which I use to set my break time – usually five minutes. – Anonymous