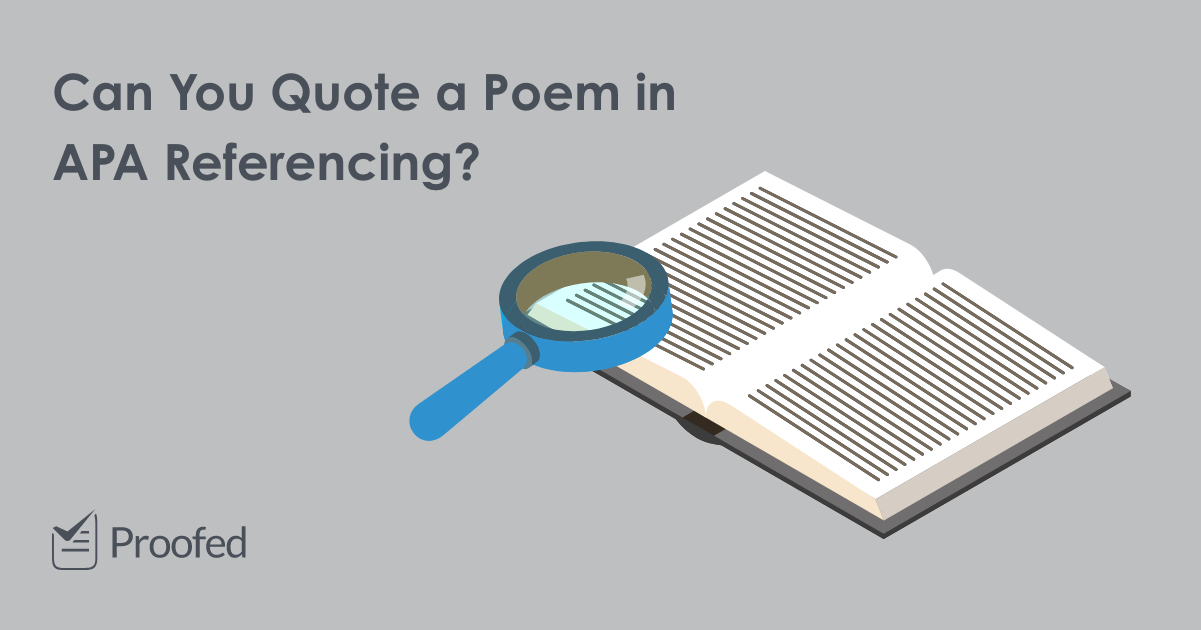 How to Quote a Poem in APA Referencing
Many style guides have special rules for quoting poetry in an essay. In this post, for example, we will look at how to quote a poem using APA referencing. This will cover:
How to present quoted verse on the page
How to format in-text citations for a poem in APA referencing
If you are writing about poetry, then, make sure to follow the rules below.
How to Quote a Poem
The basic rules for quoting a line of poetry are the same as for quoting any other source. As such, to quote a poem, you should:
Place the quoted text within quotation marks.
Cite the author's surname and year of publication in brackets.
If available, include a page number for the quoted passage.
Otherwise, a single line of poetry will look like any other quote.
If you're quoting two lines from a poem, though, you will need to include a include a forward slash to show where the line break was in the original text. A two-line quotation would therefore look like this:
One of the most famous examples of nonsense poetry is "The Owl and the Pussy-Cat," which begins thus: "The Owl and the Pussy-cat went to sea / In a beautiful pea-green boat" (Lear, 1871/1983, p. 34).
Here, we're quoting the first two lines of an Edward Lear poem (we include two dates because this is a republished version of the original work). The page numbers in the citation, meanwhile, show us where this poem appears in the book.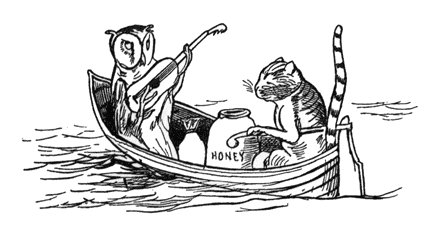 Quoting Three or More Lines of Poetry
If you're using more than two lines from a poem, present it as a block quote. Ideally, you will recreate the presentation of the lines on the page from the original source:
Find this useful?
Subscribe to our newsletter and get writing tips from our editors straight to your inbox.
The final stanza begins with an interspecies wedding:
"Dear Pig, are you willing to sell for one shilling
   Your ring?" Said the Piggy, "I will."
So they took it away, and were married next day
   By the Turkey who lives on the hill. (Lear, 1871/1983, p. 34)
Here, for example, we indent the second and final lines more than the rest of the quote. This is because the original poem is presented in the same way.
Furthermore, as with any APA block quote, the citation here comes after the final punctuation in the quote, not before it.
Adding a Poem to an APA Reference List
Finally, if you quote a poem anywhere in your work, it should also appear in the reference list at the end of your document. The correct reference format to use, however, will depend on how the poem was published:
For long poems published as standalone works, use the standard book format. You can do this for anthologies with a single author, too, but make sure to name the editor as well as the author of the poems themselves.
List poems published in an anthology as chapters from an edited book (i.e., include details for both poem and container volume).
List a single poem found online as a web page.
Whatever their format, make sure to provide full publication information for all poems and their container volumes (i.e., the book or website where you found the poem). This will allow your reader to find them if required.
And if you need anyone to check your document for errors – including in citations and the reference list – don't forget that we have expert academic proofreaders on hand and ready to help 24/7.
More Writing Tips?
Among and between are both prepositions used to describe how objects, people, or things relate...
Trusted by thousands of leading
institutions and businesses