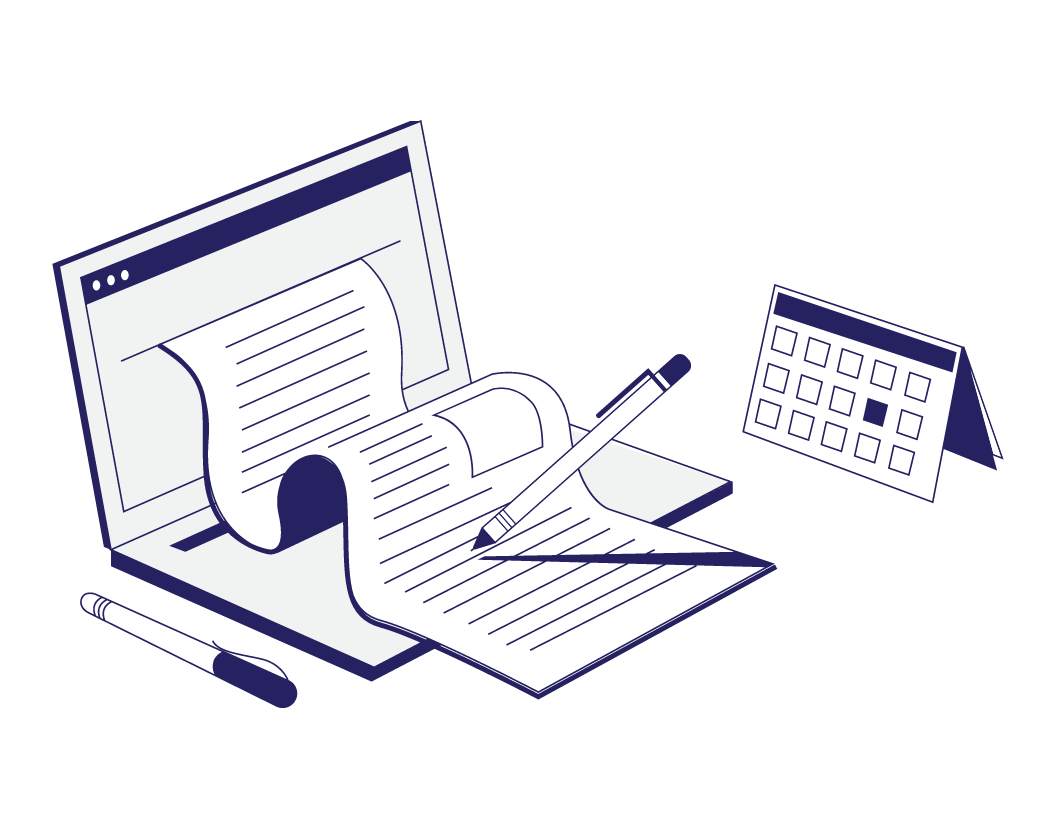 How to Pick the Best Style Guide for Your Business Writing
To be sure your formal business writing meets professional standards, it helps to follow a style guide. But which is the best style guide to ensure clear, concise business writing? Top choices include:
The Business Style Handbook
The Gregg Reference Manual
The Associated Press Stylebook
The Chicago Manual of Style
We'll look at each of these style guides below. We'll also look at the role of in-house style sheets for branded materials, as well as some other style guides you might want to try. Read on to learn more about picking a style guide for your business.
The Business Style Handbook
The Business Style Handbook: An A-to-Z Guide for Effective Writing on the Job is a great choice because it's targeted specifically for business writers.
Its authors, Helen Cunningham and Brenda Greene, wrote it after surveying communications executives at Fortune 500 companies. As such, its advice focuses on writing strategically and best practices in business communications. But its most valuable asset may be its A–Z list of common terms and usage rules, a no-nonsense approach favored by many professionals.
The Gregg Reference Manual
While it is less focused on business writing than the style guide above, William A. Sabin's The Gregg Reference Manual: A Manual of Style, Grammar, Usage, and Formatting has been a popular choice in the world of corporate communications for over 50 years. And it will meet all your professional writing needs.
As well as basic information on spelling, grammar, and punctuation, though, it includes advice on writing reports, memos, letters, emails and other business documents. On its 11th edition as of 2020, The Gregg Reference Manual is updated every few years, so it keeps up with changes in writing conventions, too.
The Associated Press Stylebook
The Associated Press Stylebook (or The AP Stylebook for short) is best known as a guide for journalists. But it's also widely used in corporate communications. This is largely because of its emphasis on clear, concise writing, but it also boasts:
A comprehensive guide to punctuation.
A section on communicating business and financial concepts clearly.
An easy-to-use A–Z of common terms and abbreviations.
Availability as a physical book or a regularly updated online resource.
Keep in mind, though, that The AP Stylebook focuses on American English. If you are writing for an audience outside the US, you may need to adapt its guidelines.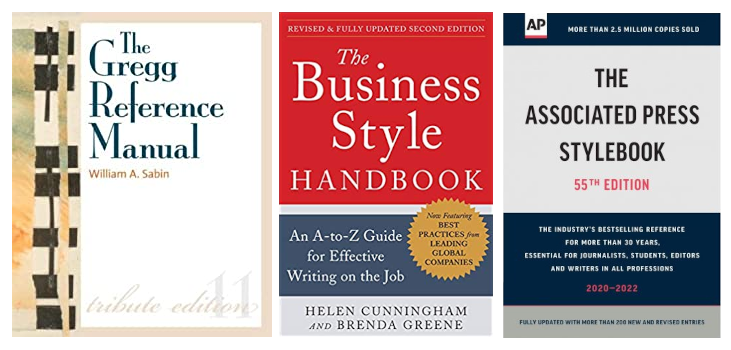 The Chicago Manual of Style
The Chicago Manual of Style (CMoS) is used by publishers and authors all around the world for many types of writing. It is also one of the most comprehensive style guides you'll find, covering topics important to business writing such as:
Detailed rules for spelling, grammar, punctuation, etc.
Advice on writing clearly and sentence structure.
A guide to bias-free language and problematic words and phrases.
Some of the key differences between American and British English.
A massively thorough referencing system for citing sources.
Based on this comprehensive approach, its publishers even describe it as "the ultimate resource for those who care about getting the details right." This all adds up to a hefty book, but luckily there is an online version for easier access.
Find this useful?
Subscribe to our newsletter and get writing tips from our editors straight to your inbox.
However, because CMoS is so comprehensive, some of its information, like how to prepare a manuscript for publication, may not be relevant to business writing. And, at times, the guide can be hard to navigate. As such, if you're looking for a compact, easy-to-use style guide, it might not be your first choice!
That said, its pros outweigh its cons, so it remains a great choice for any writer.
In-House Style and Branding Guides
Many companies also have in-house style sheets and branding guides that cover other types of business writing (e.g., web copy, marketing materials). This should focus on information specific to your business, such as:
The general tone and level of formality required.
Spelling, capitalization, and punctuation preferences (e.g., US or UK English).
Unique terminology, such as brand or product names.
Advice on when to use different grammatical points of view.
How to use bullet points, lists, or other formatting.
The target audience for branded materials.
For example, a company might use AP style for formal writing. But for its branded materials, it might build on this with an in-house style sheet for things not covered in the style guide, or saying where writers should deviate from the guide. The key is capturing what makes your company or brand voice stand out.
As such, when working on less formal writing, you should check whether your company has a style sheet or branding guide. Employers, meanwhile, may want to develop a style sheet or brand guide to cover branded content.
Keep in mind, however, that you'll only need a custom guide to capture a unique brand voice. If you're simply aiming to ensure a clear, concise, professional writing style in formal communications, an established style guide will be more suitable.
Other Style Guides
There are a number of other style guides available to writers, including:
Regional style guides – Different style guides cater to different dialects (e.g., Fowler's Dictionary of Modern English Usage for British English and The Elements of Style for American English). As such, you may want to use a regional style guide if you are localizing writing for a specific audience.
Journalistic style guides – We mentioned The AP Stylebook above, but other journalistic organizations also produce style guides (e.g., The Economist Style Guide or the online Guardian style guide). While not business-focused, these can help you with writing clearly in general terms.
Specialist style guides – Some style guides are geared towards a subject area (e.g., the AMA Manual of Style for medicine or the IEEE Editorial Style Manual for engineering). If you are producing technical documents, check whether there is a standard style guide used by other writers in your field.
These are less common in the business world than the examples we gave above. Nevertheless, depending on your needs, you might find these guides helpful.
Expert Business Proofreading
If you want to ensure that your business writing is error free, or even develop a style guide for your company, we can help. Click here to learn about our free trial proofreading service or schedule a call to get help with your style guide.
More Writing Tips?
When it comes to written content, perfection is the goal. Whether it's a crucial business...
Trusted by thousands of leading
institutions and businesses