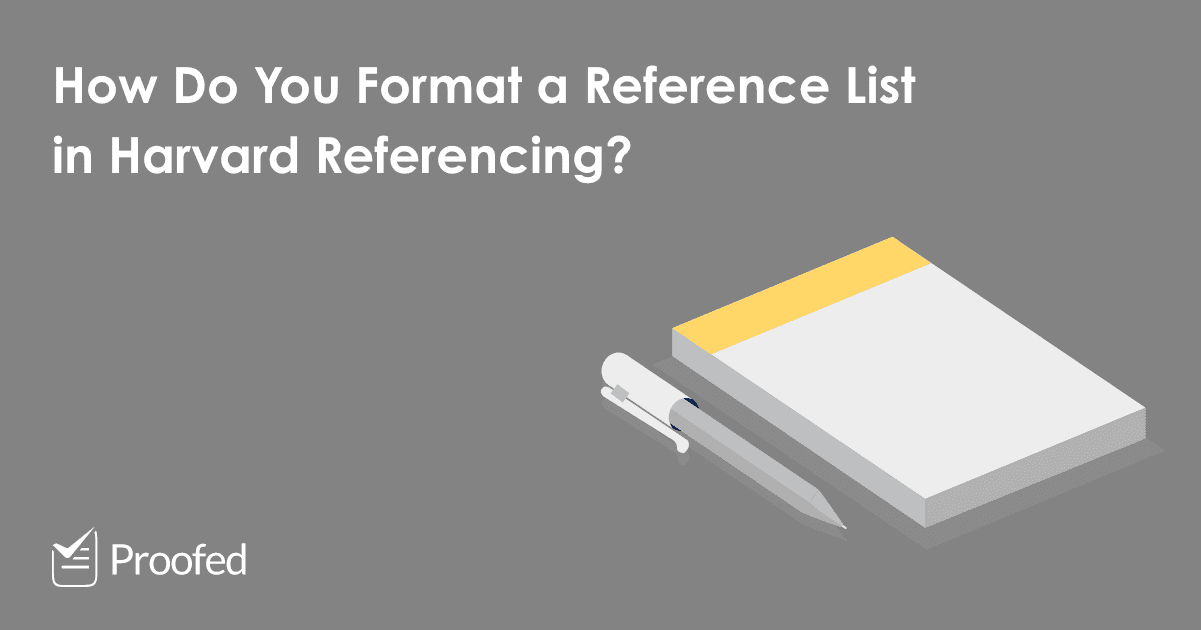 How to Format a Harvard Reference List
Many universities recommend using the Harvard referencing citation style. There are many variations of this system, so make sure to check your style guide for specifics, but all of them require you to include a reference list. In this post, then, we'll look at the basic format of a Harvard style reference list.




What Is a Harvard Reference List?
A reference list or bibliography (the terms are often used interchangeably) comes at the end of your work and provides the full source information for all the author–date citations in the main text of your work.
It's vital to include a reference list like this for several reasons, such as:
Readers can check your sources to find out more on the subject matter.
It helps you show that you have read the relevant background literature.
It helps you to avoid plagiarism by showing where you've drawn on other people's ideas or directly quoted their words in your writing.
When researching an essay, it's thus a good idea to note down as much information as you can about the sources you read (e.g., author names, titles, publication details). This will make it easier to compile the final reference list.
How to Format a Harvard Reference List
As mentioned in the introduction, the exact format of a Harvard reference list will vary depending on the version of the system you're using. However, there are some basic principles you should always follow:
A reference list should always go at the end of the document.
Reference lists should have a clear title (e.g., "Reference List" or "References").
All sources should be listed with full publication details. If you cannot find every detail you need, make sure to include enough for a reader to find the exact version of the source you've used.
Sources should be listed alphabetically by author surname. This means you should give author names surname first, followed by first name (e.g., "Ricoeur, Paul") or initials (e.g., "Ricoeur, P.").
Titles of longer works (e.g., books and journals) are usually italicized.
Whichever style you use, make sure to apply it consistently!
In addition, common variations include:
Adding a half-inch (1.27 cm) hanging indent for each entry.
Placing titles of shorter works (e.g., journal articles) in quote marks.
To make sure your reference list is perfect, then, you will want to check your school's style guide for formatting guidelines.
Harvard Reference Formats
The information to include for each source in a Harvard reference list depends on two things:
The format of the source (e.g., book, journal article, webpage).
The version of Harvard referencing you're using.
Here again, you'll want to check your university's style guide to know the exact format to use. But we can give you a couple of examples using the Open University Harvard Referencing Style Guide [PDF].
The basic format for a book in this version of Harvard referencing is:
Surname, INITIAL(S). (Year) Title, Place of publication, Publisher.
Find this useful?
Subscribe to our newsletter and get writing tips from our editors straight to your inbox.
And in practice, then, a book reference will look like this:
Tolkien, J.R.R. (1991) The Hobbit, or There and Back Again, London, HarperCollins.
The generic format for a journal article, meanwhile, is:
Surname(s), INITIAL(S). (Year) "Title of Article," Title of Journal, volume, issue number, page number(s).
And you can see how this would look in practice below:
Gray, L. (2018) "Exploring How and Why Young People Use Social Networking Sites," Educational Psychology in Practice, vol. 34, no.2, pp. 185–194.
As you can see, the Open University version of this system doesn't use a hanging indent, but it does place article titles in quote marks. For more information on reference formats, take a look at our writing tips blog.
Harvard Referencing Proofreading
Whichever version of Harvard referencing you are using, we have proofreaders who can help ensure your writing is error free.
All you need to do is let us know which style guide to use when you submit your work for proofreading. Submit a 500-word sample document to our referencing experts for free today to find out more.
More Writing Tips?
For many students and their families, autumn officially starts once school is back in session....
Trusted by thousands of leading
institutions and businesses