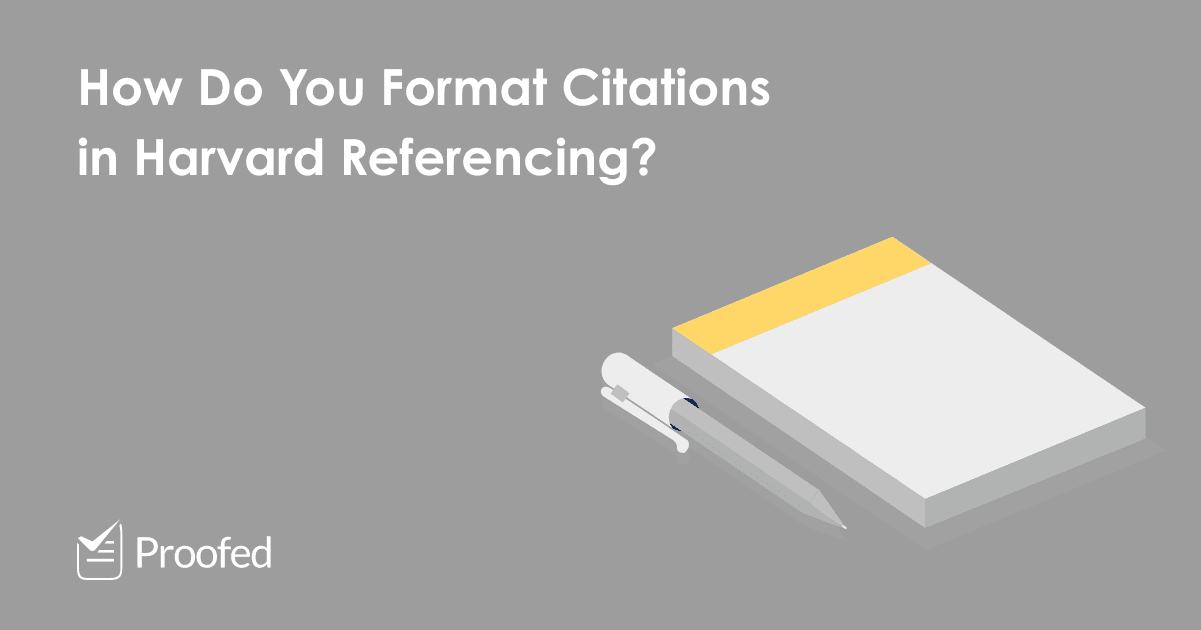 How to Format In-Text Citations in Harvard Referencing
Harvard referencing, also known as parenthetical author–date referencing, is one of the most common citation styles used by universities. In this post, we will look at the basic format for in-text citations in Harvard referencing.




In-Text Citations in Harvard Referencing
With Harvard referencing, you will need to provide bracketed citations in the text and a full reference list at the end of your document.
The basic format for an in-text citation in Harvard referencing is to give the author's name and year of publication for the source that you are citing in brackets, separated by a comma. For example, you could cite a source written by Ferguson and published in 2007 like this:
Having flowers in the workplace can reduce stress (Ferguson, 2007).
When you name the author in the text, though, you only need to give the year of publication in brackets. This helps prevent repetition:
Ferguson (2007) says that havig flowers in the workplace can reduce stress.
Quoting Sources in Harvard Referencing
When you quote a source in Harvard referencing, you need to include the page number of the quoted material in your in-text citation. Typically, this goes at the end of the citation, after a comma and the abbreviation "p.":
Ali considers potted plants "a mood enhancer" (1999, p. 32).
This shows the reader that the quote came from page 32 of the source. If a quote extends over more than one page, though, give a page range using the abbreviation "pp." Take this extended quote, for instance:
This is further evidenced by anecdotal evidence. In the study, one office worker said, "I used to hate coming into the office. But a little greenery has made a big difference. It feels fresher, more homely. I don't find myself feeling as tense as I used to" (Ali, 1999, pp. 35–36).
Find this useful?
Subscribe to our newsletter and get writing tips from our editors straight to your inbox.
Citing Sources with More Than One Author
If a source has two authors, separate their names in citations with "and":
Potted plants are more effective than cut flowers (Kim and Moore, 2007).
And if a publication has three or more authors, give the first author's name followed by "et al." (a Latin phrase meaning "and others"). For example, we would cite a source by Tony, Uberti, and Wilson as follows:
The color green has a calming effect (Tony et al., 2013).
You would then provide the names of all authors in the reference list:
Tony, M., Uberti, A., Wilson, T. (2013) "The color green: Stress reduction via introduction of plant life to an office environment," Journal of Environmental Health, vol. 12, no. 1, pp. 15–23.
Variations on Harvard Referencing
Harvard referencing is a generic style, so the exact requirements can vary. In the post above, we explain the Open University version, which is the default style guide that we currently use for this system.
However, make sure to check your style guide if you have one, as your university may use a slightly different format.
For more information on Harvard referencing, see our other blog posts. And if you'd like to have one of our Harvard referencing experts check that the citations in a document are error free, simply submit it for proofreading today and let us know which version of Harvard you are using.
More Writing Tips?
For many students and their families, autumn officially starts once school is back in session....
Trusted by thousands of leading
institutions and businesses