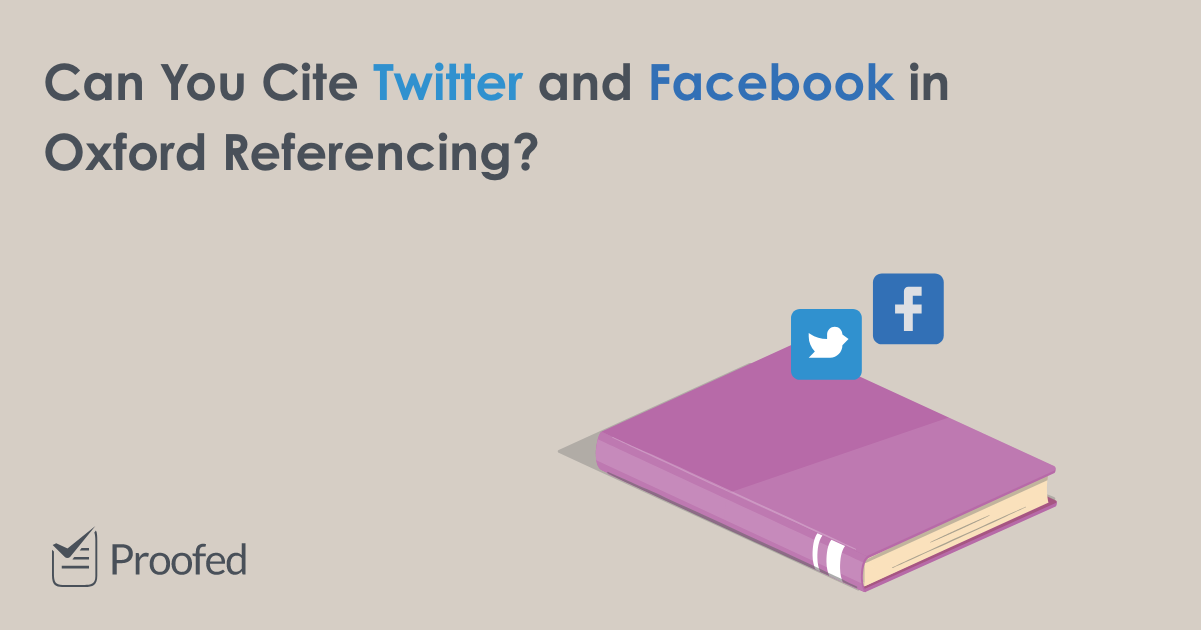 How to Cite a Social Media Post in Oxford Referencing
We wouldn't recommend using Facebook or Twitter as your main source when writing an essay. However, there are times when you may need to cite a social media post. Here, then, we're looking at when and how to reference social media using Oxford-style footnote citations.
When to Cite a Social Media Post
Social media is not, shall we say, academically rigorous. Rather, it is full of nonsense. Some of it is entertaining nonsense, but that doesn't mean it belongs in your college work. You need academic rigor!
As a rule, then, you shouldn't cite a social media post if there is another source available. If you need to cite the date of the Boston Tea Party, for example, you're better off with a history book.
But you can cite social media in some cases. This might be because a company has tweeted information about its performance, or it could be because you're writing a paper on how people respond to news online. Whatever the reason, though, you need to give a full citation.
So, then, how do you cite a social media post in Oxford referencing?
How to Cite a Social Media Post in a Footnote
To cite a social media post in Oxford referencing, you need to give a footnote citation. The first footnote should include the following:
Author/Username – Ideally, the first initial and surname of the author; you can use an organizational name or a username instead if required.
Title/First Words of Post – If the post has no title, use the opening words (enough to make the post identifiable, but no more than one sentence).
Platform – Where the post was made (e.g., Twitter, Facebook, LinkedIn).
Date Posted – The month, day, and year it was posted.
URL – The URL for the post (not the poster's page or profile as a whole).
Date of Access – The date you last accessed the post.
In practice, the first footnote citation of a social media post would look something like this:
Find this useful?
Subscribe to our newsletter and get writing tips from our editors straight to your inbox.
1. McDonald's Australia (@maccas), "Hi Sal! Prices can vary slightly between restaurants…," Twitter, 14 July 2018, twitter.com/maccas/status/1018005297368100864, accessed July 21, 2018.
If you then go on to cite the same post later in the same document, you can use a shortened footnote format to avoid excessive repetition.
Social Media Posts in the Bibliography
The format for a social media post in an Oxford bibliography is similar to the first footnote citation. The differences are that you should:
Reverse the initial and surname for the author so that you can list the post alphabetically by author surname alongside other sources.
Use a half-inch (1.27cm) hanging indent for each line after the first.
Otherwise, the bibliography entry for a social media post will include the same information as the first footnote citation for the source.
Oxford Variations
"Oxford referencing" is a style rather than a system. It varies between institutions, including on how to present citations and the bibliography entry.
The format we use above follows common Oxford conventions, but you should also check your style guide (if you have one) to confirm that this is correct for you. Beyond that, just make sure all your referencing is clear and consistent. And if you'd like an expert academic editor to help on that front, simply submit your written work for proofreading today.
More Writing Tips?
In today's digital age, engaging and interactive presentations are a great way to capture your...
Trusted by thousands of leading
institutions and businesses