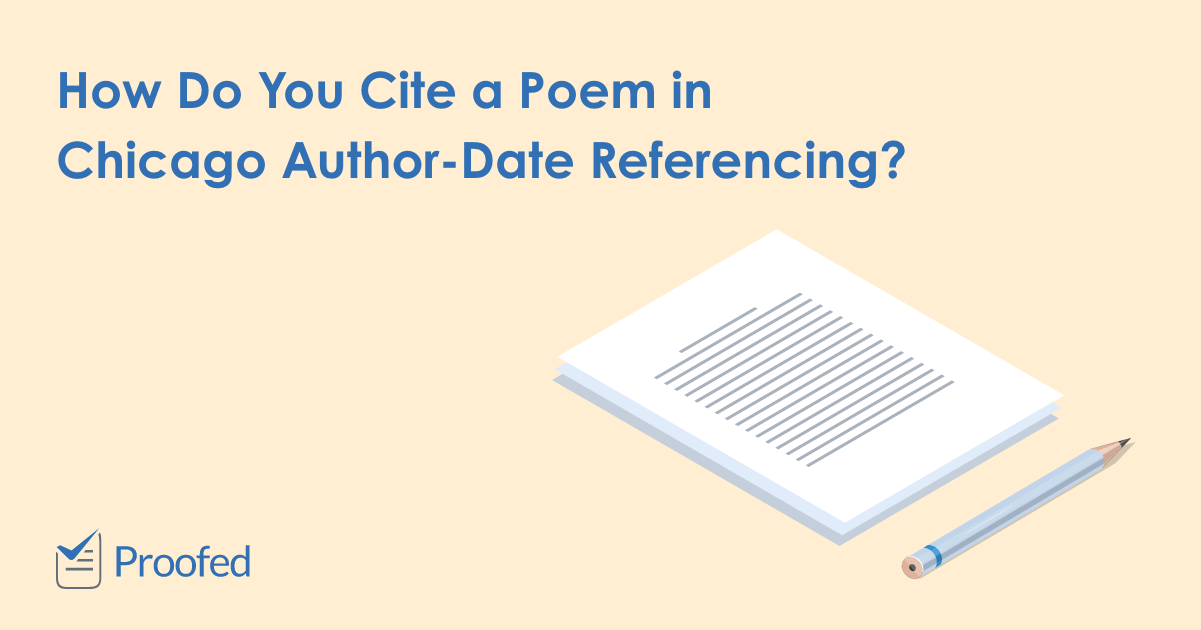 How to Cite a Poem in Chicago Author–Date Referencing
In an earlier post, we looked at how to cite a poem in Chicago footnote referencing. But what if you're using the author–date version?
Here, we look at how to format the in-text citations and reference list entry for poems in Chicago author–date referencing.
In-Text Citations for a Poem
The basic format for citing any source in Chicago author–date referencing is to give the surname of the author and a date for the source in brackets.
For a poem in an edited book, for example, we would give the surname of the poem's author and the year the edited book was published. If we were quoting from the poem, we would also include page numbers. Here's an example:
School bells are described as "knelling classes to a close" (Heaney 2009, 132).
But if you name the author in the text, you can omit this detail:
Heaney (2018, 132) describes school bells as "knelling classes to a close."
For a poem found online, you would cite the year the webpage was published or last updated. If a webpage does not give a date for this, though, you should use the abbreviation "n.d." (short for "no date") after a comma:
The poem challenges the stereotypical view of a Valentine's gift (Duffy, n.d.).
Poems in a Chicago Reference List: Print Publications
The format for a poem in a Chicago reference list depends on how and where it was published. For print sources, this will usually be a book, a journal or magazine, or an edited collection, each of which has its own format:
Find this useful?
Subscribe to our newsletter and get writing tips from our editors straight to your inbox.
For a poem published as a standalone book or in an anthology with a single author, you would use the standard book format.
If a poem was published in a periodical, you would use the magazine/newspaper format or the journal article format (for periodicals with volume and issue numbers).
For poems published as part of an anthology or collection with several authors, you would cite it as a chapter from an edited book.
The most common of these print sources is the edited book format:
Author Surname, First Name. Year of Publication. "Title of Poem." In Book, edited by Editor(s) name, page number(s). City: Publisher.
Here's how the entry for the poem from the edited book above would look:
Heaney, Seamus. 2018. "Mid-Term Break." In 100 Poems, edited by Seamus Heaney, 132. London: Faber and Faber.
Poems in a Chicago Reference List: Online
For a poem published online, the reference list entry should look like this:
Author Surname, First Name. Year of publication or revision. "Title of Page." Publishing Organisation or Name of Website. Last modified/accessed date. URL.
If the webpage does not have a date of publication or last modification, give a date of accessed instead. For instance:
Duffy, Carol Ann. n.d. "Valentine." Scottish Poetry Library. Accessed February 3, 2020. https://www.scottishpoetrylibrary.org.uk/poem/valentine/.
We hope you're now ready to cite poems using Chicago author–date referencing. But if you'd like an expert to check that your writing and referencing is error free, our expert editors are available 24/7.
More Writing Tips?
In today's digital age, engaging and interactive presentations are a great way to capture your...
Trusted by thousands of leading
institutions and businesses