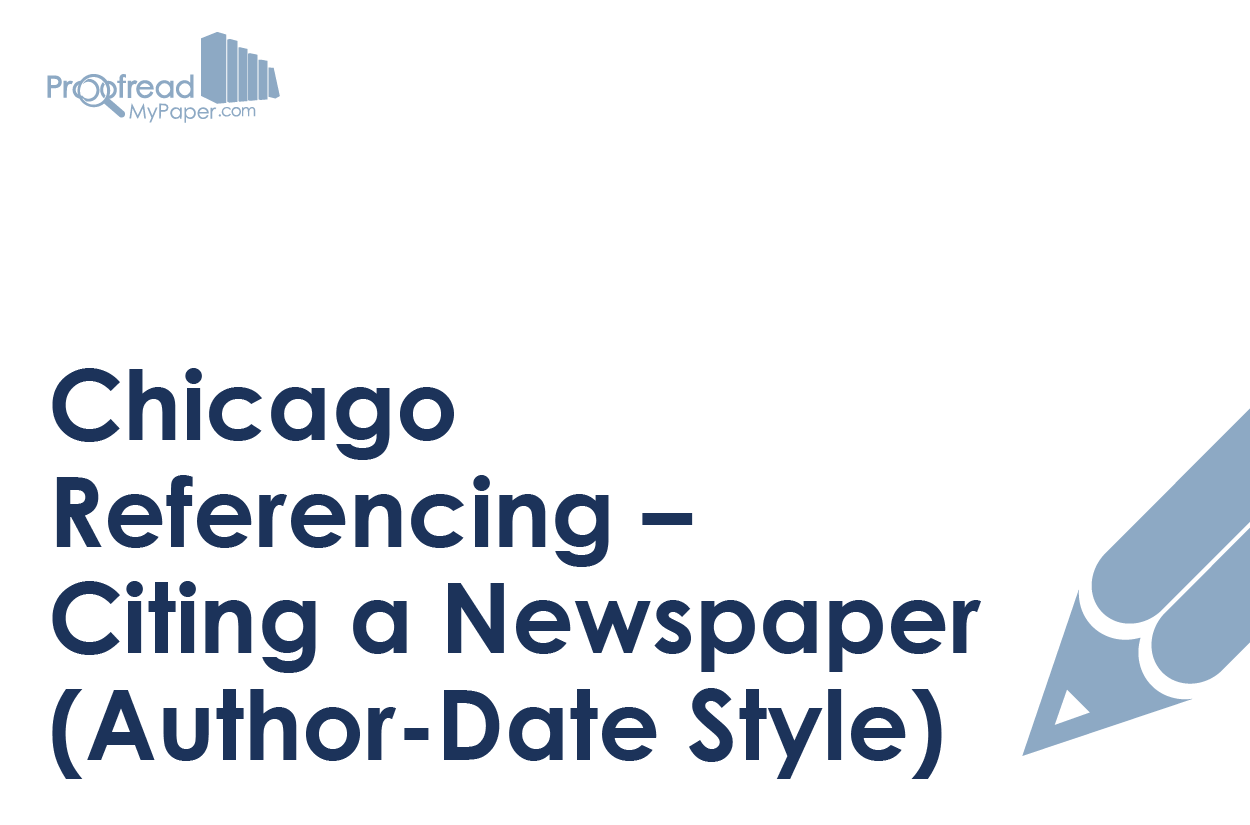 Chicago Referencing – Citing a Newspaper (Author–Date Style)
Chicago referencing can seem complicated. This is partly because of the number of source types it covers. But it's also because there are two versions: author–date citations (common in the sciences) and footnote citations (common in the humanities).
In this blogpost, we focus on how to cite a newspaper with author–date style citations. Make sure that this is the version you're using in your paper before you follow the advice!
Do I Need to Cite Newspaper Articles?
The Chicago Manual of Style's online guide says that "Newspaper and magazine articles may be cited in running text… and they are commonly omitted from a reference list."
This means that you may be able to simply mention a newspaper article in your work:
As Edith Lederer notes in a Washington Post article published December 31, 206, Ban Ki-moon valued meeting with world leaders as part of the fight against climate change.
However, most colleges want you to demonstrate your ability to cite sources, so you should check your style guide before omitting a citation for a newspaper article.
If your style guide doesn't offer specific guidance on newspaper articles, it's usually better to include a citation and an entry in the reference list.
In-Text Citations
The rules for in-text citations of newspaper articles are the same as for other sources: i.e., give the author's name and year of publication in parentheses:
Ban Ki-moon valued meeting world leaders to discuss climate change (Lederer, 2016).
If the author is named in the text, give the year of publication immediately afterwards. If quoting the print version of an article, you should also give page numbers:
Lederer (2016, 23) reports that Ban Ki-moon valued "face-to-face meetings" with world leaders to discuss fighting climate change.
For online articles, no page numbers are required (although you can give a paragraph number if you need to be specific).
Find this useful?
Subscribe to our newsletter and get writing tips from our editors straight to your inbox.
Some newspaper articles may not have a named author. In such cases, use a shortened version of the article title instead:
Ban Ki-moon valued meeting world leaders to discuss climate change ("Ban Ki-moon buoyed by climate accord," 2016).
Most newspaper articles will have a named author, though, so remember to check carefully.
Reference List
In the reference list, newspaper articles should be listed using the following format:
Surname, First Name. Year. "Title." Newspaper Name, Month Day.
Chicago referencing doesn't include page numbers in the reference list, even for print articles. This is because pagination can differ in different editions of the same newspaper.
A reference list entry for the Washington Post article cited above would therefore appear as:
Lederer, Edith M. 2016. "Ban Ki-moon buoyed by climate accord but laments conflicts." Washington Post, December 31.
If no author name is available, use the title instead. For online articles, a URL should be given as well. In addition, for regional newspapers, you may want to name a city and state:
"Climate Change: 'If We Save Tuvalu, We Save The World'." 2016. Civil Beat (Honolulu, HI), September 2. http://www.civilbeat.org/2016/09/climate-change-if-we-save-tuvalu-we-save-the-world/
More Writing Tips?
When it comes to written content, perfection is the goal. Whether it's a crucial business...
Trusted by thousands of leading
institutions and businesses