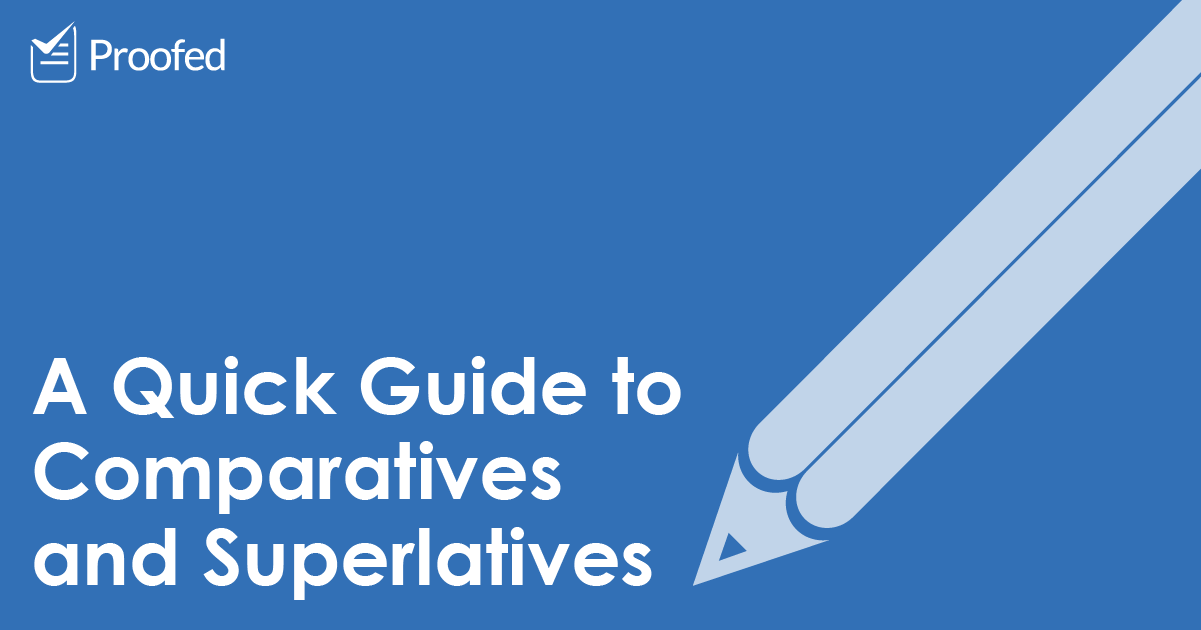 A Quick Guide to Comparatives and Superlatives
Comparatives and superlatives are used for comparing things (e.g., saying something is "better" than something else or picking out the "best" thing from a group). But how exactly do these words work? And how do you avoid errors when using them? Let us explain.
Understanding Comparatives and Superlatives
We use comparative adverbs and adjectives to compare two things:
Your house is bigger than my house.
The comparative "bigger" here shows that we're comparing the size of two houses. We use superlatives, meanwhile, to show that something has the most or highest degree of some quality. However, this only applies when discussing a group of at least three things:
She has the biggest house in the neighborhood.
Here, for instance, we're discussing the entire neighborhood, and we use the superlative "biggest" because there may be many houses in a neighborhood.
Comparative (-er) and Superlative (-est) Forms
Many comparatives are formed by adding '-er' to an adjective or adverb (e.g. 'harder'), while many superlatives take an '-est' ending (e.g. 'greatest'). This applies to most single-syllable adverbs, as well as adjectives no more than two syllables long. For instance:
| | | |
| --- | --- | --- |
| Adjectives | Comparative | Superlative |
| Big | Bigger | Biggest |
| Happy | Happier | Happiest |
| Narrow | Narrower | Narrowest |
| Adverbs | Comparative | Superlative |
| Fast | Faster | Fastest |
| Late | Later | Latest |
| Near | Nearer | Nearest |
With some of these words, we can also see how the spelling of a term can change when adding a vowel suffix (e.g. doubling the 'g' in 'biggest' or changing the 'y' to an 'i' in 'happiest').
More and Most
With longer adverbs and adjectives, as well as adjectives ending '-ful', '-ous' or '-less', comparatives and superlatives are usually formed by using 'more' or 'most' before the word.
The comparative and superlative forms of 'interesting', for instance, are 'more interesting' and 'most interesting', not 'interestinger' and 'interestingest'. Other examples include:
| | | |
| --- | --- | --- |
| Adjectives | Comparative | Superlative |
| Painful | More painful | Most painful |
| Hopeless | More hopeless | Most hopeless |
| Complicated | More complicated | Most complicated |
| Adverbs | Comparative | Superlative |
| Stupidly | More stupidly | Most stupidly |
| Easily | More easily | Most easily |
| Amazingly | More amazingly | Most amazingly |
There is some variation here, though it depends on context. For example, 'quicker' and 'quickest' are often used as comparative and superlative forms of the adverb 'quickly'. But this is technically wrong, so 'more quickly' and 'most quickly' should be used in formal writing.
Find this useful?
Subscribe to our newsletter and get writing tips from our editors straight to your inbox.
Irregular Comparatives and Superlatives
Not every comparative or superlative follows the patterns above. We also have some irregular terms, which include common words such as "better" and "best." These particular terms are the comparative and superlative forms of "good" and "well" (hence we don't say "gooder" or "goodest").
Key irregular comparatives and superlatives to remember include:
| | | |
| --- | --- | --- |
| Base Adjective/Adverb | Comparative | Superlative |
| Good/Well | Better | Best |
| Bad/Badly | Worse | Worst |
| Much/Many/Some | More | Most |
| Little | Less | Least |
| Far | Further/Farther | Furthest/Farthest |
As you can see, these terms don't follow any specific pattern. The best way to avoid errors is therefore to memorize their comparative and superlative forms. Or you can check out our full common writing errors guide.
And if you'd like any help ensuring that you've used comparatives and superlatives correctly in your writing, why not submit a free sample?
More Writing Tips?
In today's digital age, engaging and interactive presentations are a great way to capture your...
Trusted by thousands of leading
institutions and businesses