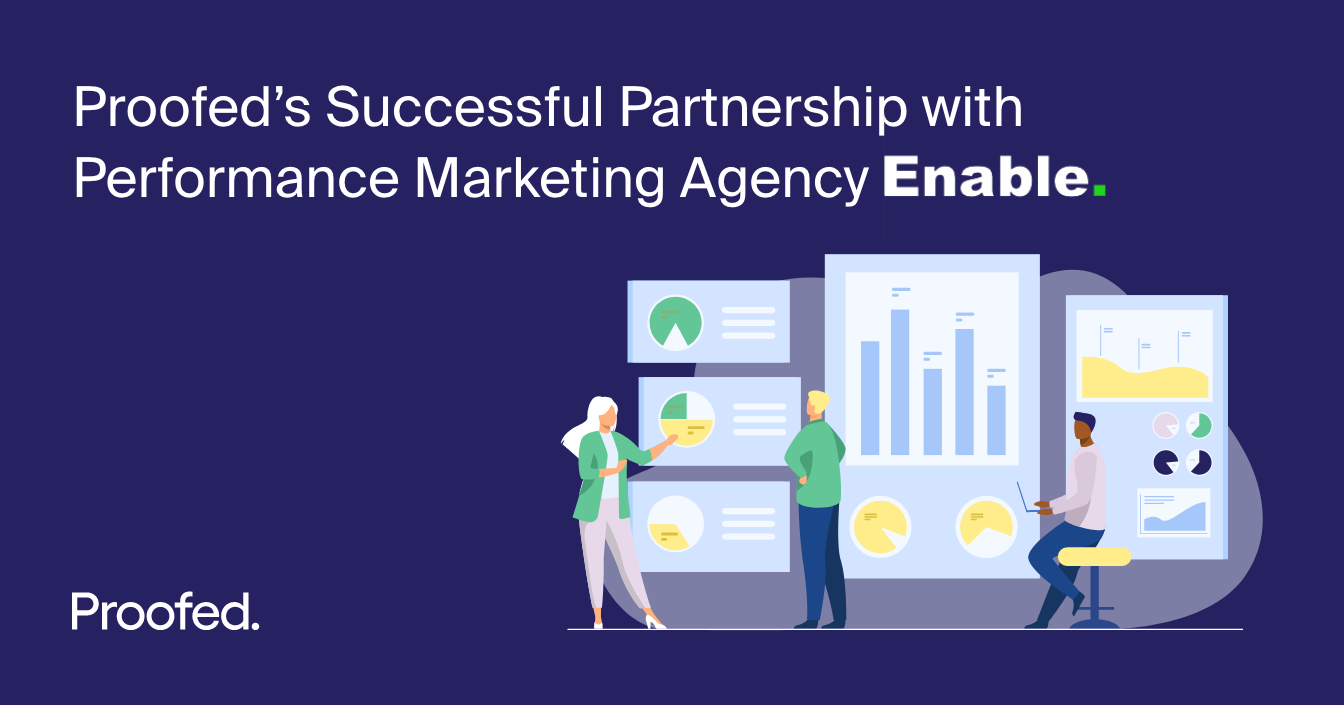 Proofed Partners with Enable to Produce Brilliant Marketing Results
Partnership results in a 335% return against advertising expenditure.
At Proofed, we believe in expertise, which is why we recruit highly qualified editors from every field of study and professional industry—they help our customers refine their writing regardless of the subject matter or document type. We extend this philosophy to working with other companies, too, including our seven-year partnership with Enable.
A London-based performance marketing agency, Enable has helped us reinvent our marketing efforts and grow our brand. Their expertise in the modern digital landscape has helped us bring our editorial know-how to more people. This has been a massive triumph, resulting in an outstanding return of 335% against advertising expenditure and generating revenues of $1.7 million on the back of multiple successful marketing initiatives.
This is in no small part due to Enable's expertise in web tracking and data analytics, which allows them to run high-performance campaigns across a diverse range of digital channels, from Google and Facebook to smaller platforms that other companies might overlook. And their data-driven approach allows them to continually optimize their strategy, with each campaign reaching a wider audience and achieving improved results.
Chris, Enable's founder, states, "We've been working with Proofed for over seven years now, and it's been great to be part of their journey—they've come a long way since we started running their Google Ads campaigns back in 2014! As well as Google, we've worked on paid digital marketing campaigns across Microsoft, Facebook, LinkedIn, and Reddit, helping them to scale their business globally. We look forward to what the future holds for Proofed!"
Find this useful?
Subscribe to our newsletter and get writing tips from our editors straight to your inbox.
Adam Harvey, Proofed's co-founder, says, "We're thrilled to be working with Enable, who are helping us grow our marketing efforts and reinvent our brand. They bring great expertise in the pay-per-click and digital advertising space, which has proved invaluable to us. This partnership will be a key pillar in helping us achieve our growth goals in the future, too."
Learn more about how Enable works and how they have helped multiple businesses grow their brands here. And if you want to discuss potential partnerships with us, drop us an email today.
More Press Releases?
AI-generated content is here and it's revolutionizing content production. But getting that content reviewed and...
Trusted by thousands of leading
institutions and businesses