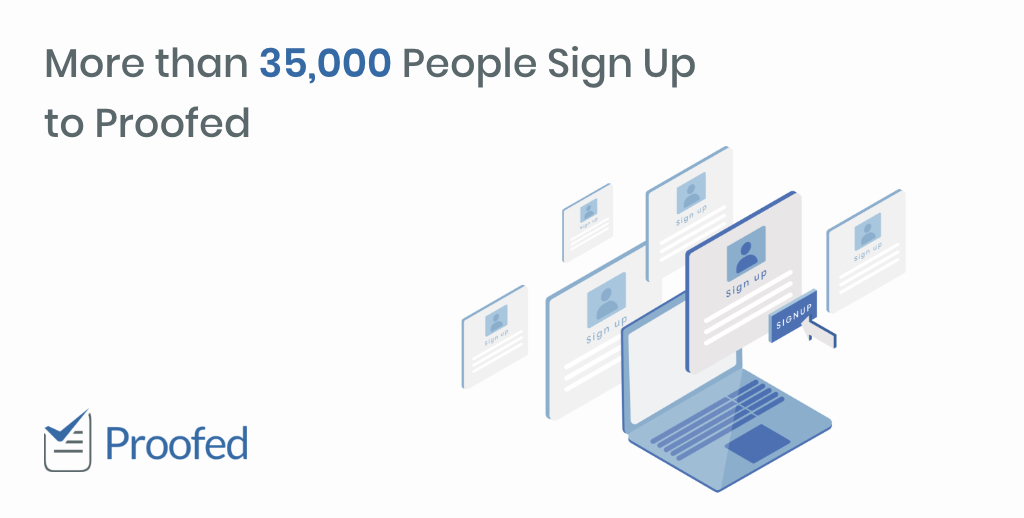 More Than 35,000 People Sign Up To Proofed
More than 10,000 new sign ups in the last year alone.
Proofed is growing fast! In fact, we've reached the major milestone of exceeding 35,000 customer sign ups globally. This includes more than 10,000 people in the last year across our US, UK, and Australian sites, making this an exciting time at Proofed.
The increase in sign ups reflects Proofed's efforts to expand our services. We still provide the high-quality student proofreading service for which we're well known. But we now offer tailored proofreading and editing services for businesses, authors, researchers, and professionals as well. And we have increased the number of document formats customers can upload to our site.
To handle the increased demand, we are adding to our team of expert support staff and proofreaders. This includes editors with experience in a range of academic and professional fields. thus ensuring we have the expertise to deal with any customer request.
Find this useful?
Subscribe to our newsletter and get writing tips from our editors straight to your inbox.
Proofed Board Member Joshua Pizzaro believes that the company can think big for the future: "Proofed's growth is linear on an upward trend, meaning we are surpassing year-on-year signup figures by over 100%. This reflects Proofed's great reputation for providing the highest quality proofreading and editing around. And we look forward to continuing to grow on this basis."
With Proofed continuing to increase the services we offer, we hope to help many more people perfect their writing in the future. To find out more, contact us at info@proofreadmyessay.co.uk.
More Press Releases?
AI-generated content is here and it's revolutionizing content production. But getting that content reviewed and...
Trusted by thousands of leading
institutions and businesses