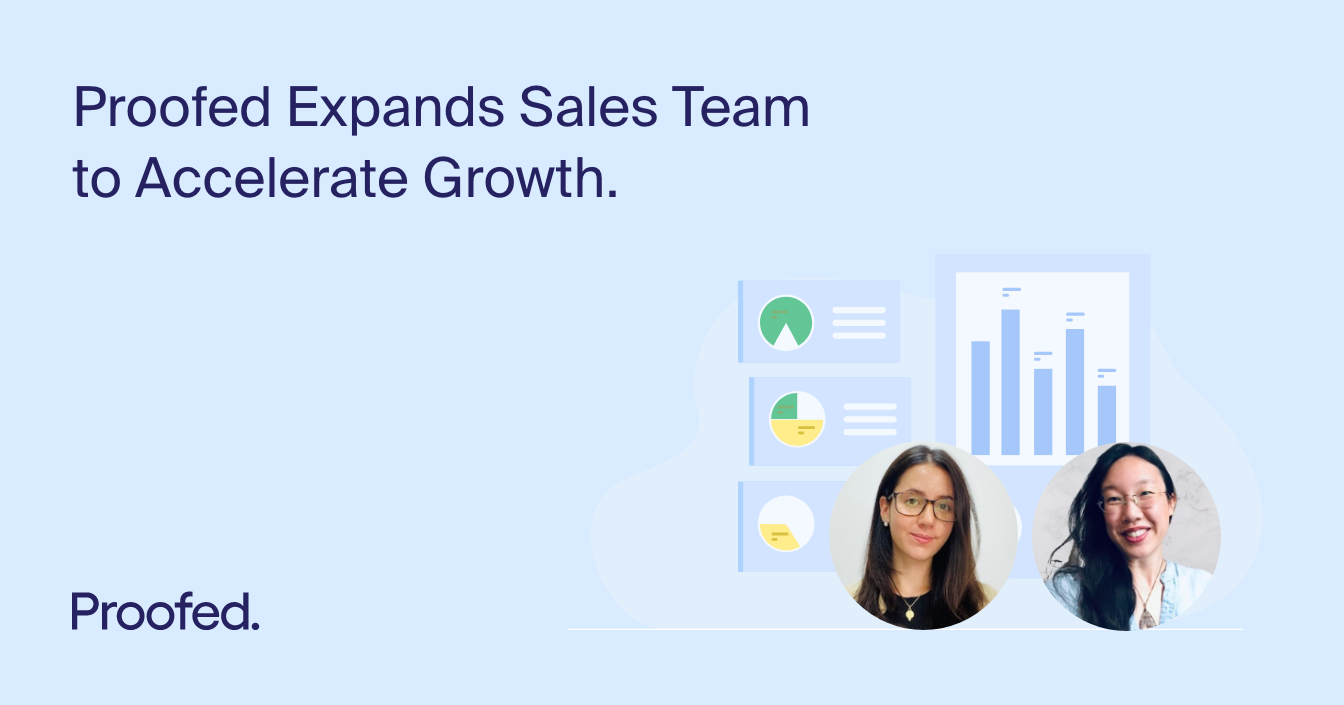 Proofed Expands Sales Team to Accelerate Growth
Two new members join the sales development team as demand for B2B services drives strategic expansion.
Following the hire of Brandon Dyer as head of sales, we've seen a sharp increase in demand for our managed business services at Proofed. Brandon has paved the way for our growing base of business clients and expanded his team with two inaugural sales development representatives, Sophia Emi and Maria-Jose Alvarez. 
A significant step for Proofed, this marks the beginning of a rapidly developing sales team.
With the increased demand from B2B customers, Maria-Jose and Sophia will take responsibility for accelerating growth by promoting and educating potential business prospects on the suite of our English-language services. By identifying and building relationships with companies creating content at scale, the sales development team will deliver a predictable pipeline of new business customers who can grow alongside Proofed.
Sophia and Maria-Jose have hit the ground running and recorded impressive successes in a short time, connecting Proofed with large global companies in sectors such as financial services, advertising and marketing, and e-learning.
This comes as no surprise, given their impressive careers and educational experiences. Maria-Jose received an MSc in health and international development from the London School of Economics and Political Science and has worked in nonprofit management. After hours, she completes crossword puzzles and learns Modern Greek.
"I've always been inspired by good writing and wholeheartedly believe in the power language has to strengthen identity on individual and corporate levels. That's why I loved Proofed," Maria-Jose explains.
Find this useful?
Subscribe to our newsletter and get writing tips from our editors straight to your inbox.
Before joining Proofed, Sophia received her MFA in creative writing and served a year with Americorps. On the weekends, you can find her writing and editing poetry at a local coffee shop.
"With a background as a creative writer, I'm excited to join Proofed to help other companies with their editorial work. I'm looking forward to new conversations across disciplines and subject matters so that we can help match the right team of editors with each client," says Sophia.
Brandon, Head of Sales, adds, "We are fortunate to have Maria-Jose and Sophia join the sales team as our first SDRs, and I'm really excited to see the impact they will have on growing our pipeline as we continue to develop the outbound strategy. We couldn't have found two better hires to take this challenging role head-on!"
We're excited to see what the future holds for the sales team and want to give another warm welcome to Sophia and Maria-Jose. For more information on how we partner with companies to create clear and compelling content, read about our business proofreading and editing services. Or, reach out directly to Brandon at brandon@getproofed.com.
More Press Releases?
AI-generated content is here and it's revolutionizing content production. But getting that content reviewed and...
Trusted by thousands of leading
institutions and businesses