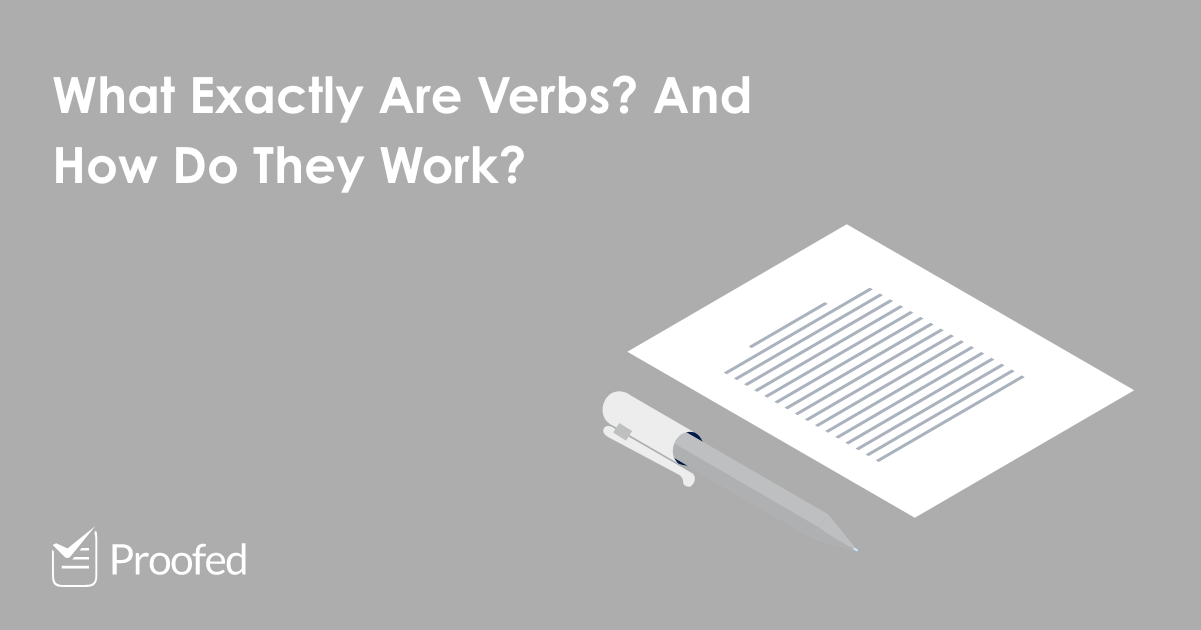 Writing Tips: What Is a Verb?
Verbs are an important part of language. But what exactly is a verb? In this post, we'll look at the basics of verbs in English, including different verb types, verb forms, and the difference between regular and irregular verbs.
What Is a Verb?
Verbs are "action words." We use them to refer to actions performed, events that happen to someone or something, and states of being:
Actions performed – run, jump, talk, cook, read, go
Events that happen to someone or something – rain, die, grow, become
States of being – have, know, like, need, think
Every complete sentence needs at least one verb to say what the subject is doing or being. For instance, we could say:
Katie ran across the road.
Here, the verb "ran" describes the action the subject (Katie) carried out.
Different Verb Types
We can classify verbs into one (or more) of several types. These include:
Main verbs – The verb that says what the subject is doing or their state of being is the main, principal, or lexical verb. In the example above, "ran" is the main verb (i.e., the verb that tells us what Katie was doing).
Linking verbs – A linking verb connects the subject of a sentence to a subject complement (e.g., John is bored). The subject complement is an adjective, noun, or pronoun that tells us something about the subject.
Auxiliary verbs – Verbs that go before a main verb to form different tenses and grammatical moods (e.g., We have been here before).
Modal verbs – Verbs that help us express things like necessity, capability, permission, and probability (e.g., I should go to bed earlier).
In addition, we can divide all main verbs into transitive and intransitive verbs:
Transitive verbs require an object (i.e., something for the verb to affect). For example, "buy" is a transitive verb. This means we cannot simply say "I buy." Instead, we have to say what we buy (e.g., I buy apples).
Intransitive verbs do not require an object. For example, "laugh" and "arrive" are intransitive verbs, so they don't need an object to form a complete sentence (e.g., I laughed or We arrived).
Some verbs can be either transitive or intransitive in different contexts:
Transitive: He read the letter.
Intransitive: I read to the class.
In the first sentence above, for example, we need the object "the letter" for the sentence to make sense. In the second, though, we don't need an object to know what the sentence means because "read" is intransitive there.
A Quick Guide to Verb Forms
Verbs also have different forms. For example, "walk," "walks," "walking," and "walked" are all forms of the same verb, with different forms used with different tenses. Let's take a brief look at some verb forms.
The base or root form of a verb is the form you'll see in a dictionary. It is used in the present simple tense (except for the third person singular). Examples include "open," "watch," "study," and "love":
I walk to work every day.
The base form is also used in the infinitive form (e.g., We need to talk).
The third person singular form of a verb is used in the simple present tense in the third person. For most verbs, this is the base form with "-s," "-es," or "-ies" at the end. Examples include "opens," "watches," "studies," and "loves":
He walks to school with Sophie.
The present participle form is used in the progressive tenses and formed by adding "-ing" to a base verb (e.g., "opening," "watching," "studying," "loving"). We typically use them after "is," "are," "be," "been," "were," or "was":
We are walking the long way round.
The simple past tense and past participle forms are used in the past tenses. In most cases, we form them by adding "-d," "-ed," or "-ied" to a base verb, such as with "opened," "watched," "studied," and "loved":
They walked home from the party.
When using a past participle, it usually comes after "have," "has," or "had":
I had walked five miles by lunchtime yesterday.
Some verb forms have extra uses. For instance, participle verbs can also be used like adjectives (e.g., A watched pot will never boil). But in most cases they express an action, with the correct form depending on the tense used.
Regular and Irregular Verbs
The examples in the previous section are all regular verbs.
This means they use the same regular spelling pattern for their simple past tense and past participle forms, as shown below:
| | | |
| --- | --- | --- |
| Base Form | Simple Past Tense | Past Participle |
| Love | Loved | Loved |
| Open | Opened | Opened |
| Study | Studied | Studied |
| Walk | Walked | Walked |
| Watch | Watched | Watched |
But some verb are irregular. And these don't follow the same patterns as above. You can see examples of a range of irregular verbs below:
Find this useful?
Subscribe to our newsletter and get writing tips from our editors straight to your inbox.
| | | |
| --- | --- | --- |
| Base Form | Simple Past Tense | Past Participle |
| Arise | Arose | Arisen |
| Cut | Cut | Cut |
| Do | Did | Done |
| Give | Gave | Given |
| Go | Went | Gone |
| Hit | Hit | Hit |
| Hold | Held | Held |
| Leave | Left | Left |
| Overtake | Overtook | Overtaken |
| Ride | Rode | Ridden |
| Ring | Rang | Rung |
| See | Saw | Seen |
| Understand | Understood | Understood |
As you can see, there is a lot of variation here! This can make irregular verbs tricky, so remember to check spellings you're unsure of in a dictionary.
Furthermore, if you would ever like help to check your writing is error free, our expert proofreading services are available 24/7.
More Writing Tips?
In today's digital age, engaging and interactive presentations are a great way to capture your...
Trusted by thousands of leading
institutions and businesses