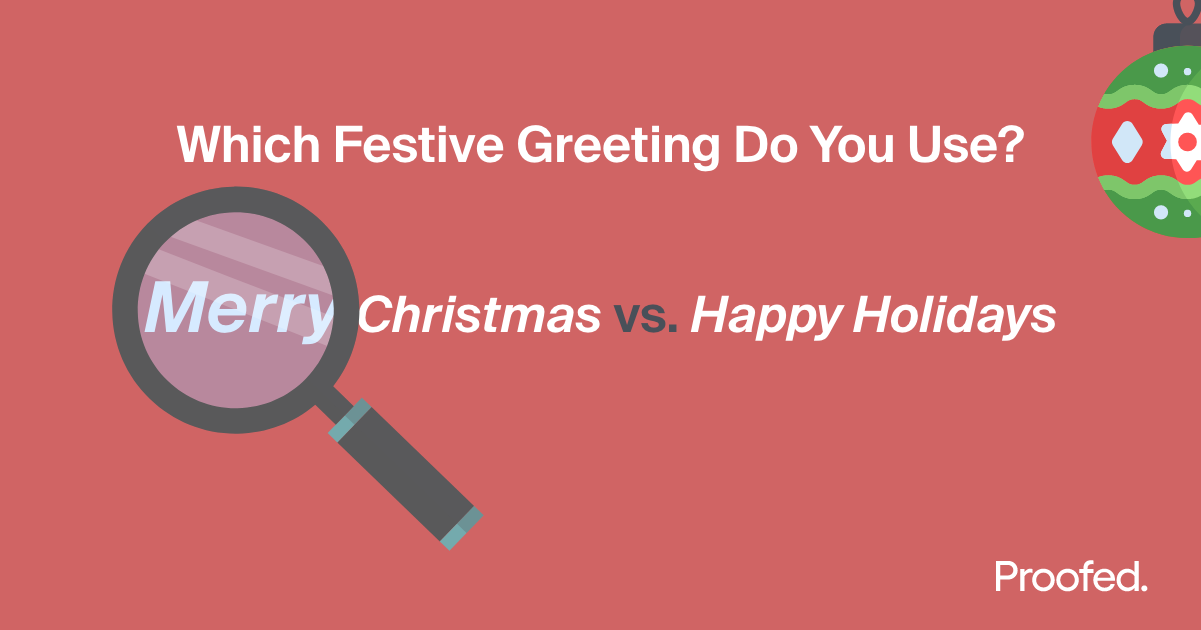 Writing Tips: Merry Christmas vs. Season's Greetings
Christmas may be just round the corner, but getting your words right is still important! So, what is the best way to pass on the compliments of the season these days: Merry Christmas or happy holidays? Is one option better than the other? Or are they both fine? Let's take a look.
How to Use "Merry Christmas"
"Merry Christmas" is a traditional greeting used to express good tidings during the holiday season. For example, you might say:
Have a very merry Christmas and a peaceful New Year!
Variations include "happy Christmas" and "merry Xmas" (where the "X" stands in for "Christ"). People have used this greeting since at least 1534. It even appears in a letter to Henry VIII's chief minister, Thomas Cromwell.
"Merry Christmas" really caught on, though, in 1843, when it was used on the first commercial Christmas card. In the same year, it also appeared 21 times in A Christmas Carol, Charles Dickens's classic Yuletide tale!
"Christmas" itself is a shortened form of "Christ's Mass," which points to the Christian origins of Christmas. Nowadays, though, people of all religions, and people with no religion, also celebrate it as a secular holiday.
Happy Holidays and Season's Greetings
The phrases "happy holidays" and "season's greetings" have become popular alternative Christmas greetings in recent years:
Find this useful?
Subscribe to our newsletter and get writing tips from our editors straight to your inbox.
Happy holidays from everyone at Head Office!
The Potter family extend season's greetings to you and yours.
These greetings reflect the fact that Christmas is now more secular. And as they don't refer to the Christian aspect of the season, they can encompass other festivals that take place at the same time of year, such as Hanukkah.
Thus, whatever someone's religious beliefs or traditions, you can use these phrases to extend your good wishes at this time of year.
Merry Christmas or Happy Holidays?
So, this Christmas, which phrase should you use? If you want to be more inclusive or aren't sure what traditions the person you're greeting follows, then the secular "happy holidays" and "season's greetings" are good options.
If you are a traditionalist, however, it is fine to say "merry Christmas" as most people, whether Christian or not, won't really mind.
And whichever greeting you choose to use over the festive period, if you need any writing checking, remember to get it proofread by the experts. You can even upload a 500-word document for a free trial.
More Writing Tips?
In today's digital age, engaging and interactive presentations are a great way to capture your...
Trusted by thousands of leading
institutions and businesses