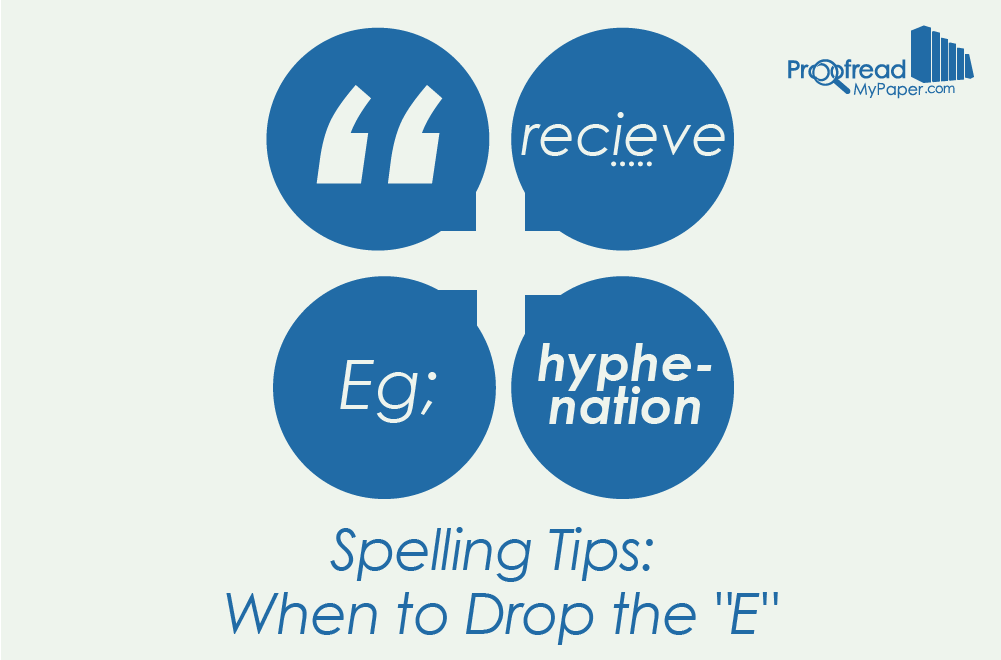 Spelling Tips: When to Drop the "E"
Thanks to acid house, the phrase "dropping an 'e'" sounds rather unsavory these days. Nevertheless, in some situations, dropping an "e" is essential to correct spelling (which is how we proofreaders get our kicks).
More specifically, you need to be careful when adding a suffix to a word that ends in "e" because this changes how certain words are spelled. Luckily, there are a couple of helpful guidelines to follow.
Suffixes Starting with Vowels
The key rule is that, most of the time, you should drop the "e" from the end of a word when adding a suffix that begins with a vowel (e.g., "-ing," "-ed" or "-able").
For example, we can add the suffix "-ed" to the word "talk" to make "talked" without any problem. But when a word already ends in "e," like "dance," we drop the final "e" so that the past tense is "danced" (i.e., "danc-ed," not "dance-ed").
Other examples include:
| | | |
| --- | --- | --- |
| Suffix | Example Word | Modified Version |
| -able | Live | Livable |
| -age | Dote | Dotage |
| -ed | Inspire | Inspired |
| -est | True | Truest |
| -ing | Note | Noting |
| -ion | Adulterate | Adulteration |
| -ory | Celebrate | Celebratory |
| -ous | Fame | Famous |
This isn't a complete list of relevant suffixes ("-er," "-ation" and "-ist" are common too), but it should give you a sense of what to look out for. And for this rule, "y" counts as a vowel suffix (e.g., Ice → Icy or Laze → Lazy).
Find this useful?
Subscribe to our newsletter and get writing tips from our editors straight to your inbox.
A Few Exceptions
As with any rule, there are exceptions to the convention outlined above. One is the word "being." Other examples include words that end with two vowels, and words that end with "-ce" or "-ge." We'll look at these cases below.
Double Vowels
Words that end in double vowels (e.g., "-ee" or "-oe") don't always require the final "e" to be dropped when adding a vowel suffix:
Agree → Agreeable
Shoe → Shoeing
However, some modifications do require you to drop the final "e":
Argue → Arguable
Accrue → Accruing
There's no shortcut to getting things right here, so you should always double check the spelling with these and similar words.
Words Ending "-ce" and "-ge"
Here the rule is not to drop the final "e" from words that end with either "-ce" or "-ge" when adding a suffix that starts with an "a" (e.g., "-able") or an "o" (e.g., "-ous"):
Advantage → Advantageous
Bridge → Bridgeable
Efface → Effaceable
Suffixes Starting with Consonants
Finally, suffixes that begin with consonants, most of which don't require dropping the final "e" from words that end in that letter; the noun "time," for instance, can be modified to "timely" by simply adding the suffix "-ly."
The problematic words are those that end in "-ue" like "true," "due" or "argue," which do require you to drop the final "e" when adding a suffix that starts with a consonant:
True → Truly
Due → Duly
Argue → Argument
Expert Proofreading Services
If you need to be sure your writing is error free, our expert editors can help. Upload a document for proofreading today and get your first 500 words checked for free.
More Writing Tips?
Understanding the role of words in language is fundamental to effective communication. Pronouns are a...
Trusted by thousands of leading
institutions and businesses