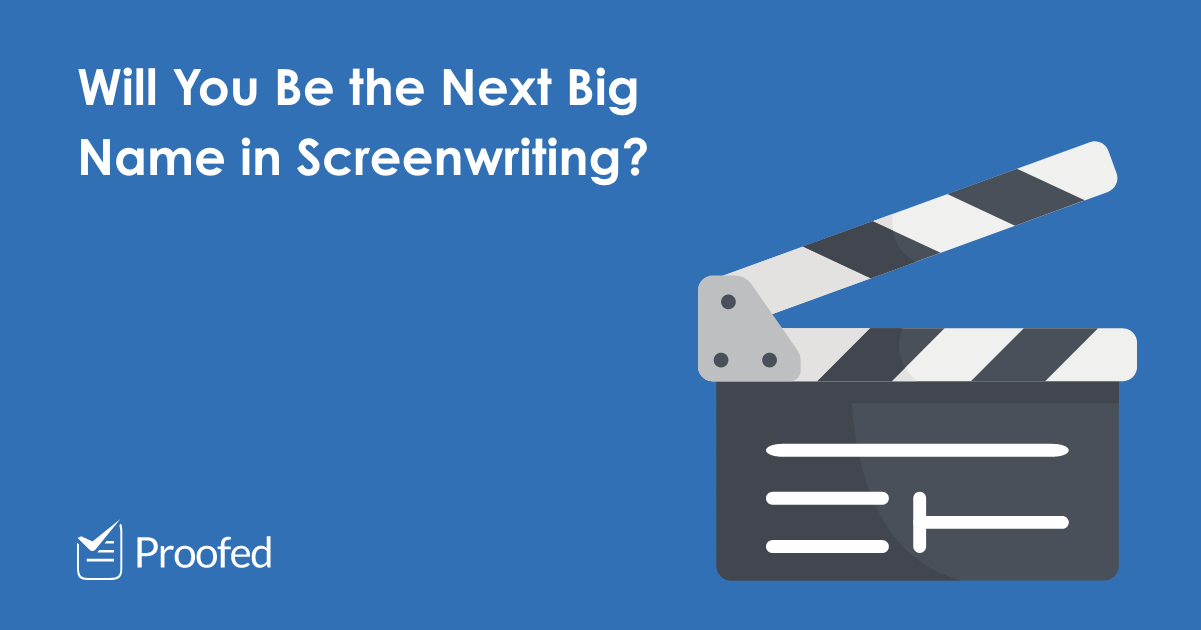 National Screenwriters Day: 5 Tips for Becoming a Screenwriter
It's National Screenwriters Day! And with directors and actors hogging the limelight, it's good to celebrate the people who write our favorite onscreen stories. But how do you become the next Billy Wilder or Nora Ephron? In this post, we look at a few tips for becoming a screenwriter.
1. Read Screenplays
We're all used to watching movies and TV shows, but have you ever tried reading one? If not, now is the time! The first thing anyone who wants to become a screenwriter should do is read screenplays.
The aim is to see how a screenplay is constructed and how it provides the foundations for a finished production. Start with your favorite movies or TV episodes, then move on to some classic screenplays.

2. Learn the Craft
Going to film school can help you become a screenwriter. You immerse yourself in cinema and television. And you're surrounded by people with similar interests. But studying for a qualification won't automatically get you a career as a screenwriter. And there are other ways to learn!
So, if film school isn't an option right now, you can try:
All these will help you eventually produce polished, professional screenplays.
3. Have a Writing Schedule
The best way to become a screenwriter? Write. A lot. As often as possible. And this may require setting a writing schedule, which means:
Working out how much time each day you can spare for writing
Setting a regular time and place for doing this
This can be helpful if you're a full-time aspiring screenwriter, as it gives your day structure. But it's equally useful for those trying to balance their screenwriting aspirations with another job.
Find this useful?
Subscribe to our newsletter and get writing tips from our editors straight to your inbox.
4. Seek Feedback
Every screenwriter needs someone to read their works-in-progress. Ideally, this should be someone who understands screenwriting and storytelling. But it should also be someone you trust to give you honest feedback and constructive criticism, as that's how you will improve as a writer.
Eventually, of course, you'll want to start sending screenplays to competitions or agents. But you need to polish your scripts first, and this is where having a few people to offer feedback helps!
5. Networking
Getting your screenplay noticed is much easier if you know the right people. And this means you need to know other screenwriters, as well as people in the movie and TV industries. Online communities and networking events are a good place to start. But you can also look for internships and other work at companies involved in the entertainment world.
Sure, being an assistant at a talent agency might not be quite your dream role. But it is a foot in the door! And it is a chance to meet people who could get your screenplay in the right hands.
Summary: 5 Tips for Becoming a Screenwriter
Becoming a screenwriter is not easy! It's a very competitive field and requires a lot of commitment. You might also face a lot of rejection along the way. But if you're truly passionate about screenwriting and you're willing to put in time and effort, you have every chance of living the Hollywood dream.
If you're just starting out, though, remember what you need to do first:
Read screenplays of movies to get a sense of how they're written.
Learn the craft by reading books and/or attending classes.
Create a writing schedule and get writing!
Find trusted people to read your work and offer feedback.
Start networking with other screenwriters and industry professionals.
And if you've written a screenplay, make sure to have it proofread by the experts so you know it's error free before sending it to producers!
More Writing Tips?
In today's digital age, engaging and interactive presentations are a great way to capture your...
Trusted by thousands of leading
institutions and businesses