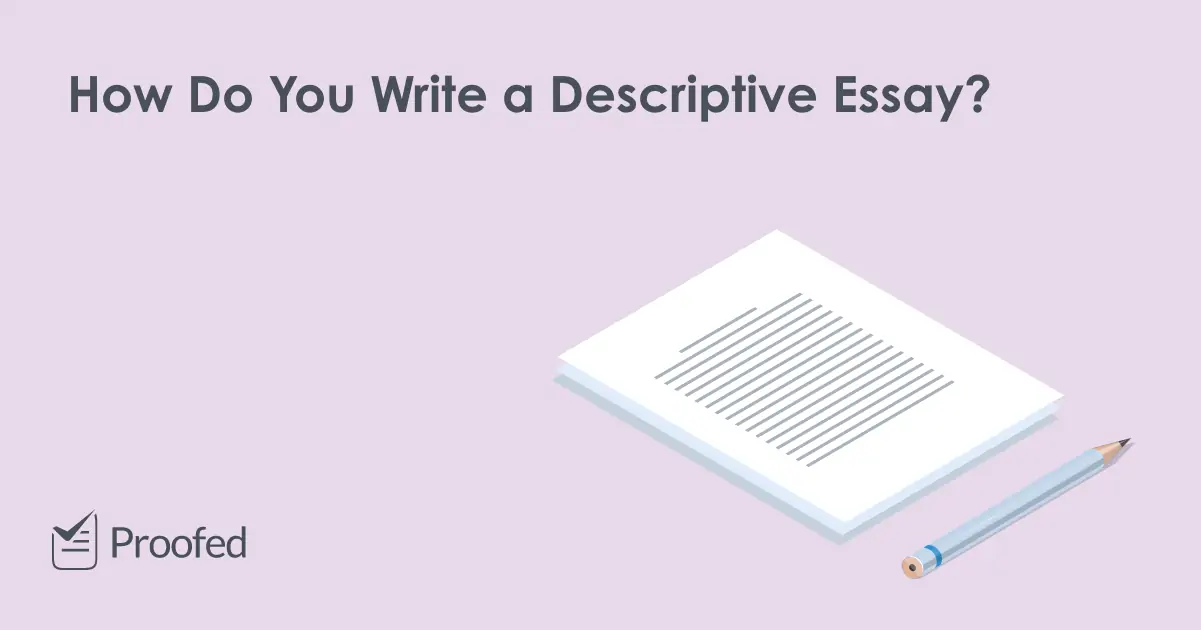 How to Write a Descriptive Essay
A descriptive essay, as the name may suggest, is an essay in which you describe something. The idea is to create a vivid picture of something – a person, object, place or experience – for your reader.
But how do you write a descriptive essay? We have a few helpful tips to share.
1. Brainstorming and Organizing Your Ideas
Your first step should be to brainstorm ideas. Think about the qualities of what you're describing. As well as physical qualities, make notes about any thoughts, memories, and emotions you associate with your subject matter.
This brainstorming will give you the raw material for your descriptive essay. The next step is to create an essay outline. Typically, this will include:
An Introduction – An outline of what you will describe and the "thesis" for your essay (i.e., a key theme that will run through your essay and guide your description). For instance, if writing about an inspirational teacher, you could mention the importance of education in the introduction.
Main Body – A series of paragraphs in which you describe your subject. Each paragraph should cover a single main point, then lead neatly on to the next one, adding to the overall picture you're creating for the reader.
Conclusion – A final paragraph where you summarize your overall essay. This is also a good place to reaffirm your essay thesis, emphasizing how your description reflects this.
Before you start writing, then, make some notes about what each paragraph in your essay will include. This will then guide the drafting process, making sure your essay has a clear structure.
2. Use Vivid, Sensory Language
A descriptive essay should paint a picture for your reader. And this means you need to use vivid, exciting language rather than a formal, academic tone. Ideas for making your essay more linguistically engaging include:
Using sensory language to evoke how something looked, smelled, etc.
Writing in the present tense to make the situation feel immediate.
Describing feelings and thoughts elicited by the subject of your essay.
Looking for dynamic adjectives and adverbs to use (e.g., you could say something made you "happy," but "elated" or "delighted" may be stronger).
Using metaphors, similes, and other literary techniques.
Keep your introduction in mind while writing. The language you use should serve the "thesis" you set out there, drawing the reader's attention to specific aspects of the thing you're describing.
Find this useful?
Subscribe to our newsletter and get writing tips from our editors straight to your inbox.
3. Show, Don't Tell
"Show, don't tell" refers to a technique used by authors to make their writing more engaging. Essentially, all this means is using action, description, and dialogue to paint a picture for the reader rather than simply stating something in plain language. We can see the difference below:
Telling: Miss Hardy was an engaging speaker.
Showing: When Miss Hardy spoke, everyone listened. Her voice bubbled with enthusiasm, bringing even the most mundane subjects to life.
In the first sentence, we simply tell the reader that Miss Hardy was an engaging speaker. But in the second, we try to help the reader picture being in her class, listening to her speak. And by engaging the reader's imagination like this, we can make our description more memorable.
4. Editing and Proofreading Your Descriptive Essay
Once you have a first draft, you'll be ready to start editing. The idea here is to go back over your essay – at least once, but possibly multiple times – to look for ways you could improve it. This drafting process may involve:
Making sure your writing is clear, well structured, and impactful.
Rewriting passages that feel clichéd or that could be stronger.
Reading your essay out loud to see how well it flows.
Ensuring that the central theme of your essay is present throughout.
And when you've finished redrafting, go through the essay one more time to remove any typos that remain. Alternatively, you can submit your descriptive essay for proofreading. With the expert eye of a professional editor on your side, you can be confident your writing is the best it can be.
More Writing Tips?
In today's digital age, engaging and interactive presentations are a great way to capture your...
Trusted by thousands of leading
institutions and businesses