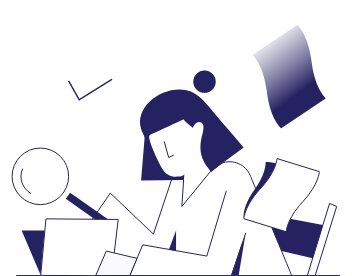 How to Revise and Resubmit a Journal Article
When you submit an article to an academic journal, there are several possible responses. One is being asked to revise and resubmit your paper based on the reviewer feedback. But how should you approach revising and resubmitting a journal article? We have a few tips academic writers can follow:
Read the review feedback and take some time to absorb it.
Organize the feedback and plan your revisions.
Work through the revisions to redraft your article.
Draft a polite response letter to accompany your revised article.
Get your revisions proofread to maximize chances of success.
For more on how to revise and resubmit an article, check out our guide below.
1. Read the Feedback, Then Take a Break
When you receive a response to your initial submission, you will typically get:
A letter from an editor covering general feedback and areas of improvement. This should guide the overall direction of your revisions.
Detailed comments from reviewers addressing specific parts of your paper.
Read these carefully to get a general sense of the changes being suggested.
If the feedback seems harsh, remember that being asked to revise and resubmit is a good thing! The review process is simply an opportunity to refine your paper or to refocus on the part of your work most relevant to the journal.
As such, keep the deadline in mind, but consider taking a few days to absorb what the reviewers have said before planning your responses. That way, when you come to address it, you can be sure you're responding objectively.
2. Plan Your Responses
When you're ready, plan your responses. We'd suggest creating a spreadsheet to organize things at this stage. You can then create four columns as follows:
Reviewer – In this column, note who left each piece of feedback.
Comments – Copy the feedback itself into the second column. This could be anything from a minor spelling correction to a request to expand upon parts of your argument. For general feedback from the editor, break it down in terms of specific parts of your paper that you'll need to revise. If two reviewers comment on the same thing, include both sets of comments.
Responses – This is where you will plan your revisions in response to each point of feedback. Give yourself clear instructions for what you need to do and exactly which part(s) of your paper you need to revise to address the issue.
Status – Use this to record where you are in the revision process for each issue (e.g., to mark each revision as "Pending" or "Complete").
Make sure you respond to all of the reviewers' comments. If there are a lot, you might also want to group them by section. For instance, you could put all the comments about the introduction into one sheet in your spreadsheet, all comments about the literature review in another sheet, and so on.
Keep in mind that, if you disagree with something a reviewer said, you do not have to make a revision. But you should still note your reasons for disagreeing in your spreadsheet. You can then use this to justify your decisions in your response letter.
Find this useful?
Subscribe to our newsletter and get writing tips from our editors straight to your inbox.
3. Redraft Your Paper
Once you have a plan, put it into action! This means working through your list of reviewer comments, then revising your paper to address the issues raised.
How you do this is up to you. You could work through the revisions in order, starting with the introduction and ending with the conclusion. Or you could start with the simpler revisions if you want to ease yourself into the process.
In either case, update the status column in your spreadsheet as you work through the changes. And make sure to follow the publisher's guidelines for marking up revisions in your paper (e.g., whether to track changes or create a list of revisions).
4. Write a Response Letter
As well as your revised paper, most journals will require a response letter. Start this by thanking the editor and reviewers for their time (it's only polite).
However, the majority of this letter will be a point-by-point explanation of the changes you've made in the revised version of your paper. To do this:
Note each major point of feedback, quoting what the reviewer said verbatim.
Follow each point with an explanation of the revisions you've made to address the issues raised. Where relevant, make sure to include page, paragraph, and line numbers for the changes you discuss to help the reader(s) find them.
If you choose not to make any of the suggested changes – or if you got contradictory feedback from reviewers and need to pick just one suggestion to implement – include the reasoning for your decision in this list.
5. Perform Final Checks
Before resubmitting your article, there are a few things you should check:
Have you responded to all the feedback? Go back to the initial reviewer comments and make sure you're addressed them all somewhere, either by making the necessary revisions in the paper or in the letter of response.
Do the revisions fit with the rest of the paper? Make sure any revised or new material fits neatly with the text remaining from the original version.
Are your paper and letter of response error free? Errors or inconsistencies could undermine your hard work, so make sure to check your writing.
Our expert editors can help with that final point. To try Proofed's academic proofreading services for free, submit a trial document today.
More Writing Tips?
Putting together a reference list is an important and necessary part of writing a paper,...
Trusted by thousands of leading
institutions and businesses