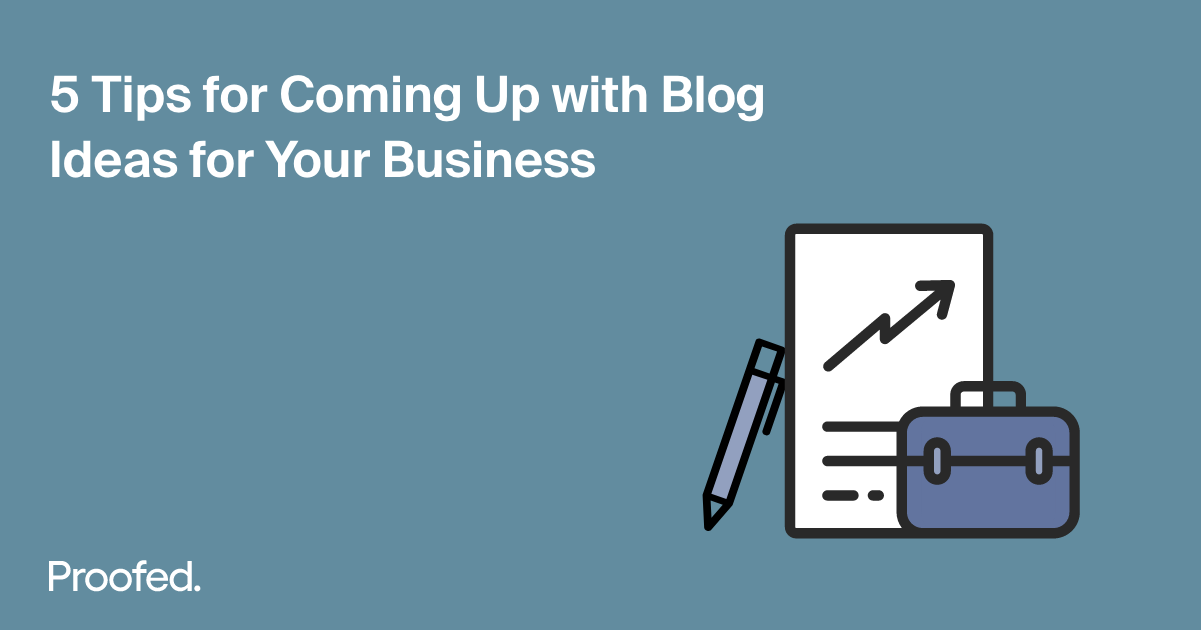 How to Come Up with Great Ideas for Your Blog (5 Top Tips)
A blog is a cost-effective way of driving traffic to your business's website. But for this to work, you'll need to create content that is relevant to your customers. So, how do you come up with new ideas for your blog? We have five tips that can help:
Research the keywords that people search for in connection to your business.
Use customer questions and testimonials to create posts.
Keep an eye on the news to come up with topical ideas for your blog.
Review your existing content for areas you can expand upon.
Create a series of staff profiles to help customers connect with your business.
For more on generating new ideas for your blog, check out our advice below.
1. Research Keywords for Your Blog
Search engine optimization (SEO) is a vital part of modern marketing. And your blog is a great way to boost SEO. You can do this by using it to target long-tail keywords: i.e., longer phrases that build on keywords you've used elsewhere on your site.
For example, if a company sells angling supplies, one of its main keywords might be "fishing rods," with a section on the website dedicated to fishing rods accordingly.
But there are also lots of longer phrases they might want to target, such as "fishing rods for sea fishing." To target this, the company could write a blog post about sea fishing with links to relevant products on their website.
Anyone searching for "fishing rods for sea fishing" would then find the blog post, which would in turn point them towards the relevant products.
To make the most of your blog, then, you should:
If you haven't already done so, do some SEO research and identify some long-tail keywords you want to target (you can use a keyword research tool for this).
Use the keywords to generate a list of blog topics/titles.
Create content that includes links to other parts of your site as required (e.g., linking to products or services that are relevant to the post topic).
This will ensure you create content relevant to your business.
2. Use Customer Questions and Testimonials
Your blog is aimed at your customers, so why not use them to generate ideas? In particular, you can base blog posts on customer questions and testimonials:
Questions customers have asked about your business – If your site has a frequently asked questions page, for instance, you could expand on the information there in a series of blog posts. Alternatively, you could write posts that respond to specific questions submitted by customers.
Positive customer testimonials – If you've received positive feedback of recently completed a job successfully, you may be able to turn it into a case study. Make sure to check with the customer first, though!
As well as helping you generate ideas for content, this approach shows that you actively engage with and care about what your customers say.
3. Use the News to Stay Topical
Topical blog posts often perform well since they get people talking, as well as demonstrating that your business is up to date on the latest news and events!
Find this useful?
Subscribe to our newsletter and get writing tips from our editors straight to your inbox.
As such, you can look for ideas for blog posts in the news or in industry newsletters.
Researching what other businesses in your field are talking about is a good way to find topical blog subjects. But you could also use a service like Google Alerts to search for the latest news items relevant to your business.
4. Review Your Existing Content
If you're struggling to come up with ideas for your blog, review your existing content for topics that you could cover in more detail.
The top thing to look for is shorter posts with a wide scope (e.g., posts that summarize a big topic). For instance, if you had previously posted something like "10 Tips for Choosing a New Computer," you might be able to do a series of "10 Tips" posts on similar topics where you focus on particular types of computer (e.g., "Choosing a New Laptop," "Choosing a New Netbook," "Choosing a New Tablet").
Another option is to look for posts that lend themselves to variation. If you had a post called "5 Ways to Save Money on Your Energy Bills," for instance, you could do similar posts for other ways to save money around the home (e.g., "5 Ways to Save Money on Groceries," "5 Ways to Save Money on Travel").
In either case, try not to duplicate content too closely! If your posts are too similar to one another, it may reduce your ranking on search engines.
5. Highlight Your Staff
You can also use your blog to highlight people at your business. For example, you could schedule a series of "Day in the Life" type posts where employees discuss their roles, or posts based on profiles and interviews with people at your company.
As well as providing blog content, posts like this show the human side of your business and offer a glimpse behind the scenes. Both of these can help build trust with customers, making your business more accessible.
Business Proofreading
As well as coming up with ideas for your business's blog, you'll need to create high-quality content. And that demands careful proofreading.
Our expert editors will make sure your blog posts are always easy to read and error free. Find out more by uploading a free 500-word trial document for proofreading.
More Writing Tips?
If you're a writer, then you know the hard work and research it takes to...
Trusted by thousands of leading
institutions and businesses