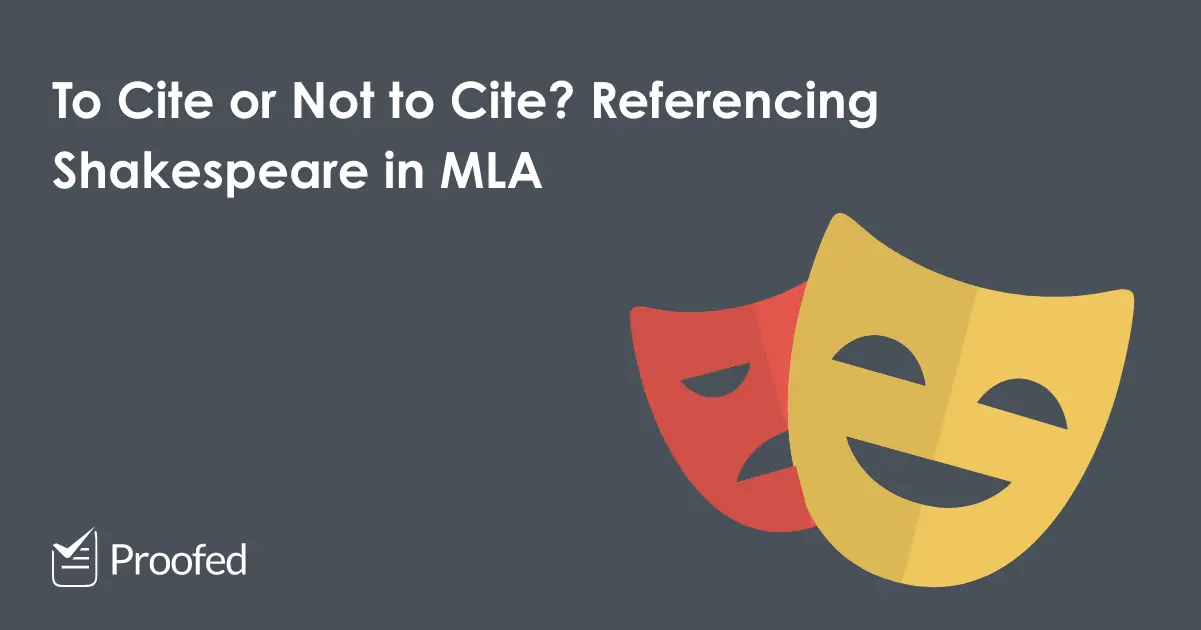 How to Cite Shakespeare in MLA Referencing
Is this a dagger I see before me? No. It's a blog post about citing Shakespeare in MLA referencing. And that's even more useful than a dagger, especially if you're currently writing an essay. But how do you cite a Shakespeare play when using MLA referencing? Let us explain.
Citing Shakespeare in MLA Referencing
When citing Shakespeare, you will need to adapt the basic MLA citation format slightly. The biggest difference is that, rather than page numbers, you need to give act, scene and line numbers:
Macbeth's soliloquy lays the ground for his later torment, betraying his mental fragility early on (Shakespeare 2.1.33–61).
Here, we're citing act 2, scene 1, lines 33–61 of the play Macbeth. Most MLA citations of Shakespeare will use this citation format. Some editions of Shakespeare plays feature paragraph numbers instead of line numbers, but you can use these for pinpoint citations as well.
Citing Multiple Shakespeare Plays
We have cited "Shakespeare" in the example above because he is the author. However, if you are referencing more than one Shakespeare play in the same essay, you will need to use the play title in citations instead. For example, we could cite both Othello and Macbeth as follows:
Shakespeare's characters often express regret immediately after a misdeed, such as when Othello describes Desdemona's death as "horrible and grim" (Othello 5.2.236) or when Macbeth admits to being "afraid to think" about what he has done (Macbeth 2.2.64).
Here, we're citing act 5, scene 2, line 236 of Othello and act 2, scene 2, line 64 of Macbeth. Using the play titles in the citations makes it absolutely clear which text we're citing each time.
In addition, if you're citing multiple plays repeatedly, you can abbreviate the title of each play in citations. Othello, for example, could be cited as just Oth. to minimise repetition:
Iago's reaction speaks volumes at this point (Oth. 3.3.234).
You will still need to give the full title in the Works Cited list, though.
Find this useful?
Subscribe to our newsletter and get writing tips from our editors straight to your inbox.
Shakespeare in the Works Cited List
In the Works Cited list, standalone Shakespeare plays are cited in the same way as any book:
Surname, First Name. Title. Editor/Translator (if applicable). Publisher, Year of Publication.
In practice, then, we could cite a print edition of Macbeth as follows:
Shakespeare, William. Macbeth. Edited by Keith Carabine. Wordsworth Editions, 2005.
The format differs slightly if the work cited is part of an anthology. In this case, treat the poem or play like a chapter from an edited book. For example:
Shakespeare, William. Macbeth. The Oxford Shakespeare: The Complete Works, edited by Stanley Wells and Gary Taylor, Oxford University Press, 2005, pp. 969–994.
Here, we have the details of the container volume and the page range for the play as well. It is worth noting, though, that MLA referencing italicizes the titles of plays even when they are part of a larger anthology. This differs from a book chapter title, which would be in quote marks.
And if you'd like anyone to check the referencing in your writing, give our specialist proofreading services a try.
More Writing Tips?
In today's digital age, engaging and interactive presentations are a great way to capture your...
Trusted by thousands of leading
institutions and businesses