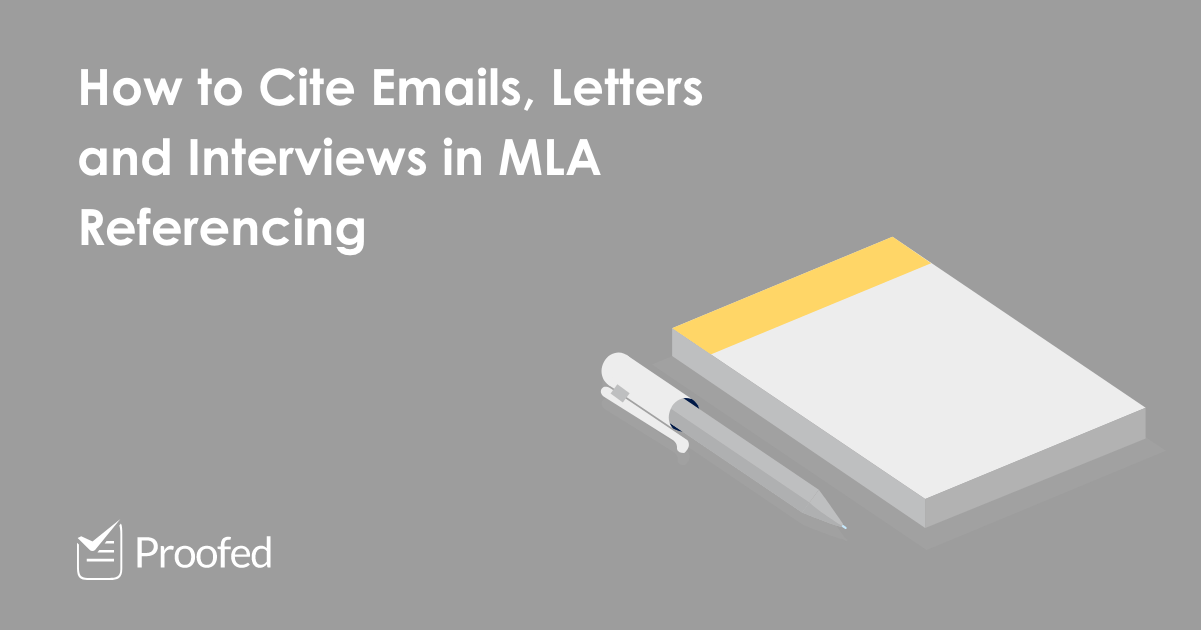 How to Cite Emails, Letters and Interviews in MLA Referencing
MLA referencing has rules for all sorts of published sources, such as books, websites, and journal articles. But what if you need to cite unpublished sources, such as letters, emails, or interviews you conducted yourself? Check out our guide to find out how this works in MLA referencing.
Citing Personal Communications in MLA Referencing
Personal communications include letters, emails, and personal interviews. And while these are not conventional academic sources, you may need to cite one on occasion (e.g., if you have emailed an expert in your subject area with a question and want to cite the response).
To cite them in the main text of an essay, MLA requires you to either:
Mention the name of the person who sent it or the interviewee in the text.
Add the surname of the sender/interviewee in brackets.
So, for instance, we could cite an email in the text in either fashion:
In an email, Dr. Rochester claimed his research had been inconclusive.
The team leader considered the research inconclusive (Rochester).
It simply depends on which style works best in context! If you're citing more than one personal communication from the same person, moreover, make sure to include a 'title' in each citation (e.g., the subject line from an email or a description of the personal communication).
Emails and Letters in an MLA Works Cited List
For any source you cite in MLA, you need to add personal communication to the Works Cited list at the end of your document. For emails, letters, and similar communications, the standard format is:
Surname, First Name. "Title." Received by Recipient Name. Date of communication.
Find this useful?
Subscribe to our newsletter and get writing tips from our editors straight to your inbox.
The "title" here is to help identify the source. This could be the subject line from an email or a short description (e.g., "Letter to Santa Claus"). In practice, then, we would list an email in an MLA Works Cited list as follows:
Rochester, James. "Re: Research Project 2018." Received by James Smith. 28 Aug. 2019.
Make sure to provide enough information for your reader to work out which citations in the main text relate to which entry in the reference list.
Interviews in an MLA Works Cited List
The format is slightly different for an interview. In this case, MLA referencing suggests the following for entries in the Works Cited list:
Surname, First Name. Interview. Date of interview.
Ideally, you should also state how the interview was conducted (e.g., "Phone interview" if you did it over the phone, or "Personal interview" if you spoke to the interviewee in person). For instance:
Rochester, James. Phone interview. 15 Sept. 2019.
As above, make sure you provide enough information in citations and the Works Cited list for your reader to connect the two. And if you want to be sure your citations are clear and consistent throughout your work, why not submit it to our academic proofreading services?
More Writing Tips?
If you're a writer, then you know the hard work and research it takes to...
Trusted by thousands of leading
institutions and businesses