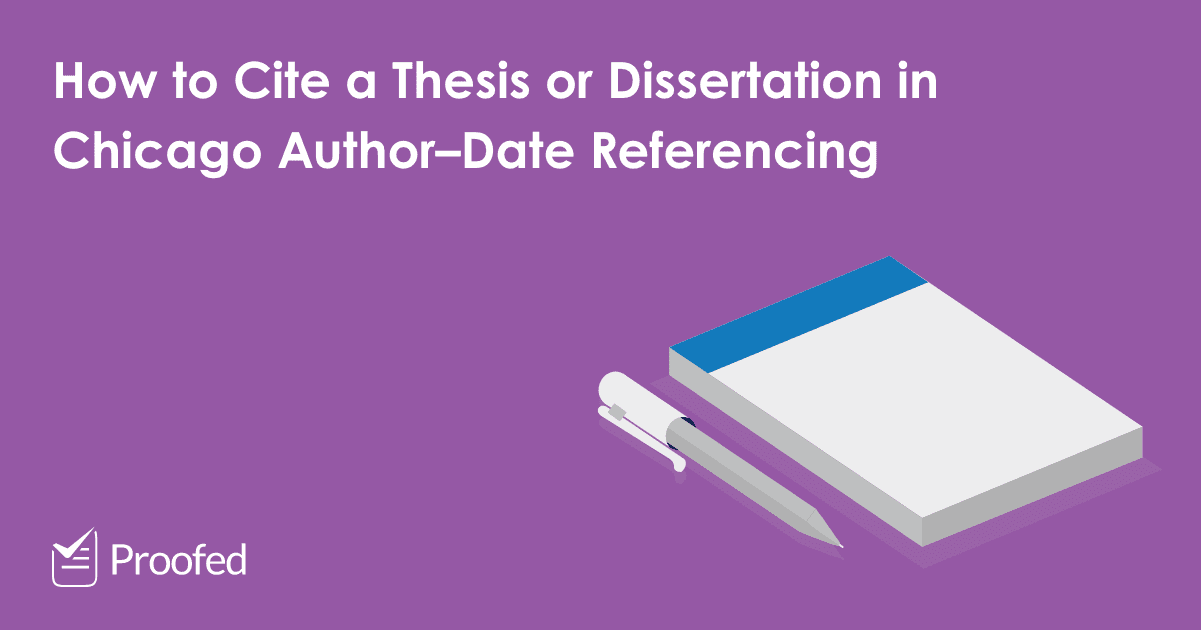 How to Cite a Thesis or Dissertation in Chicago Author–Date Referencing
Want to reference someone else's thesis or dissertation in your own work? This can be useful if you are working on an unusual topic where little research has been published or when you know someone who wrote their final master's or PhD piece on the same topic you are studying.
As with any source, though, you'll need to cite it properly. Check out our guide to find out how this works in Chicago author–date referencing.
How to Format In-text Citations
In author–date Chicago referencing, you cite a thesis or dissertation by giving the author's surname and the date of completion in brackets. For instance, we could cite a source by "Carter" from 2001 like this:
Citing your sources is very important (Carter 2001).
If you're quoting a thesis or dissertation, meanwhile, you should include the page number in your citation:
Place quotes "within quote marks" (Carter 2001, 65).
You will then give the full source information in your reference list.

Reference List Entry for a Thesis or Dissertation
In the reference list at the end of your paper, the basic format for a thesis or dissertation is:
Author Surname, First Name. Year of completion. "Title." Type of paper, academic institution, year of completion. URL/database ID (if applicable).
Find this useful?
Subscribe to our newsletter and get writing tips from our editors straight to your inbox.
For instance, the entry for a master's dissertation would look like this:
Carter, Susan. 2001. "Citing Sources." Master's diss., University of Learning.
For an online version of a document, make sure to add the URL, too:
Johnson, Luke. 2012. "The Joy of Writing." PhD diss., University of Learning. http://www.uol.ac.uk/archive/phd/johnson-10122017-final.pdf.
If you've only referred to an abstract rather than a full dissertation or thesis, meanwhile, you can simply add this detail after the title:
Carter, Susan. 2001. "Citing Sources." Abstract. Master's diss., University of Learning.
Want to have your referencing, or any other aspect of your writing, checked? Check out how our team of proofreading experts can help!
More Writing Tips?
In today's digital age, engaging and interactive presentations are a great way to capture your...
Trusted by thousands of leading
institutions and businesses