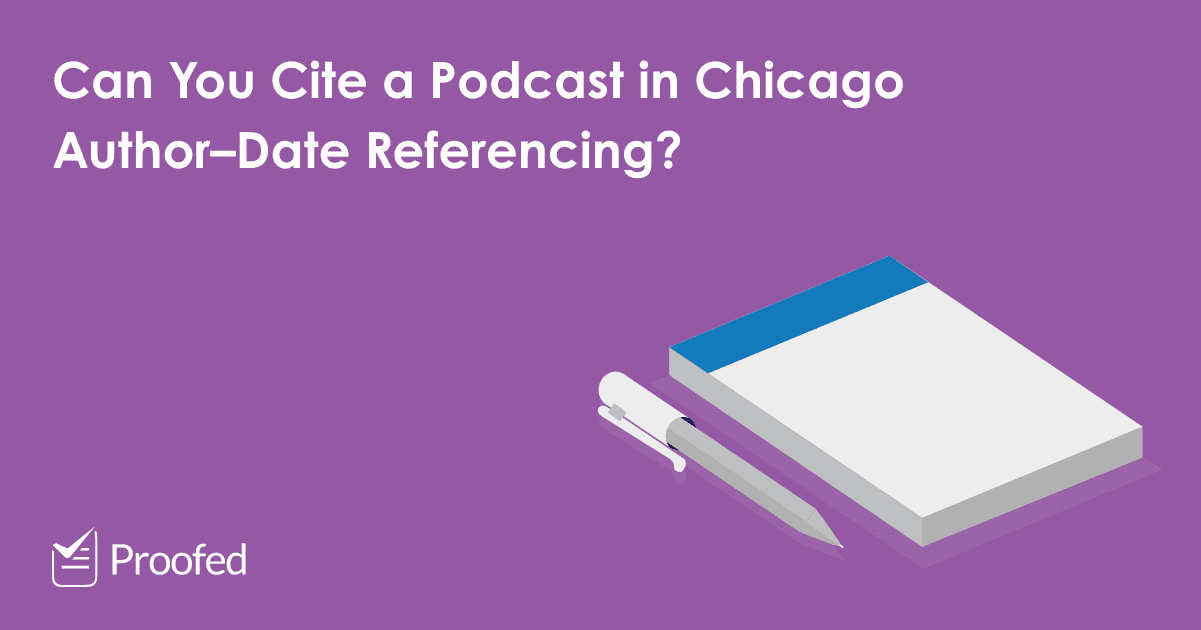 How to Cite a Podcast in Chicago Author–Date Referencing
Listened to an interesting podcast? If you want to reference it in your writing, you'll need to cite the source correctly. Check out our guide to citing a podcast in Chicago author–date referencing to see how this works.
Citing a Podcast in Chicago Referencing
In the Chicago Manual of Style's author–date referencing system, you cite sources by giving in-text citations in brackets.
For a podcast, this means citing the surname of the main creator (e.g., a presenter or interviewer) and the publication date:
Podcast hosts think podcasts are great (Smith 2019).
This idea was supported in a podcast interview (Mackey 2020).
To quote a podcast, moreover, you may want to include a time stamp:
However, Carter stated, "I don't think that's true" (Johnson 2020, 21:10).
Here, for instance, we're quoting something from 21 minutes and ten seconds into the episode. This will help the reader find the relevant part.
Find this useful?
Subscribe to our newsletter and get writing tips from our editors straight to your inbox.
Reference List Entries for Podcasts
Any podcast you cite should be added to the reference list at the end of your document. The entry here should be presented as follows:
Main creator surname, first name. Year of publication. "Title" or Interviewee Name. Day, month and year of publication. Podcast Title. Additional contributors (e.g., producers or guests). Podcast, format (e.g., MP3 audio), total run time of episode. URL.
Let's take a look at some examples too see how this works:
Johnson, Lloyd. 2020. Interview with Mark Carter. April 23, 2020. Excellent Podcasts. Produced by Lizzie Rutter. Podcast, MP3 audio, 1:23:01. http://www.excellentpodcasts.com/lji.
Mackey, Tom. 2020. "Episode 71 – Fun with Podcasts." March 6, 2019. Podcast Fun. Podcast, AAC audio, 15:31. http://www.podcastfun.com/71.
Smith, Chloe. 2019. "Even More Podcasts." January 10, 2020. Podcasts, Podcasts Everywhere. Produced by Sharon Lawes. Podcast, MP3 audio. http://podcastseverywhere.com/emp.
We hope this has made citing a podcast in the Chicago author–date system easier. But if you would like some extra help to make sure your writing is error free, why not try our brilliant proofreading service today?
More Writing Tips?
In today's digital age, engaging and interactive presentations are a great way to capture your...
Trusted by thousands of leading
institutions and businesses