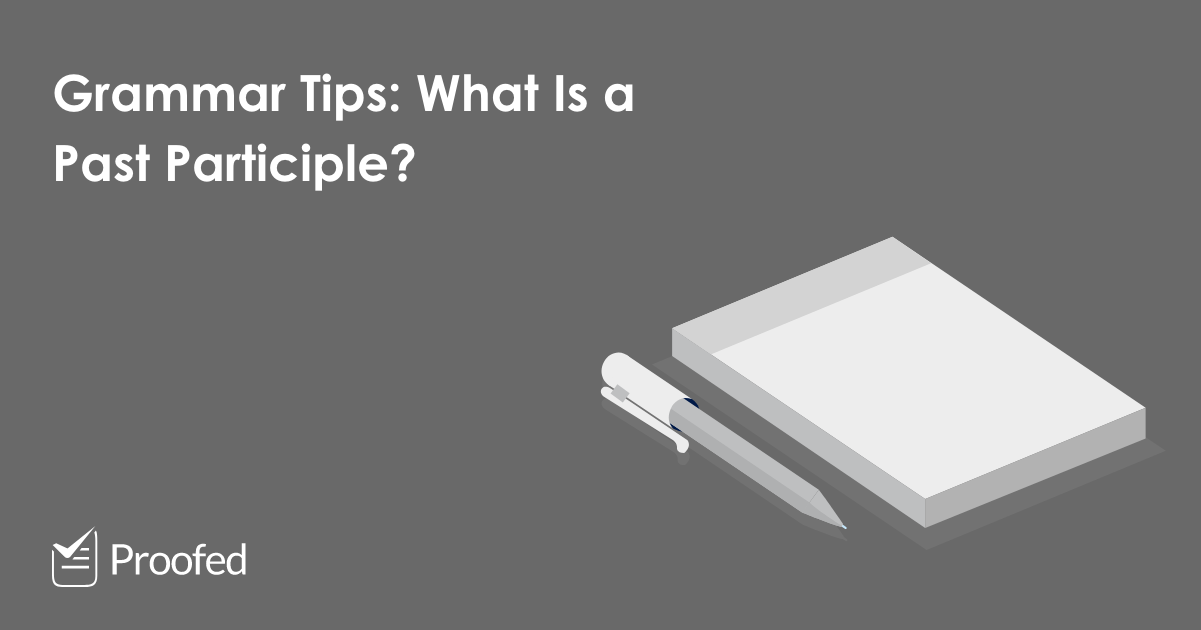 Grammar Tips: What Is a Past Participle?
You almost certainly use past participles on a daily basis if you speak English. But what exactly is a past participle? And how do past participles work? In this post, we'll explain the basics of how to use these words in your writing.
What Is a Past Participle?
Past participles are a type of verb used in two main situations:
To form the perfect tenses (e.g., present perfect, past perfect).
As an adjective to modify a noun or pronoun.
We'll look at both uses in detail next. And after that, to finish the post, we'll look at the difference between regular and irregular past participles.
The Perfect Tenses
As verbs, we use past participles to express a completed action in the perfect tenses (i.e., the present, past, and future perfect tenses):
Present perfect = have/has + past participle (e.g., I have looked)
Past perfect = had + past participle (e.g., I had looked)
Future perfect = will have + past participle (e.g., I will have looked)
We use the present perfect tense for things that began in the past and remain true or to discuss actions completed within a stated ongoing time:
They have always liked dancing together.
She has walked to work four times this week so far.
The past perfect, meanwhile, is used for actions completed before a point in time (either specified or unspecified) or a conditional set in the past:
We had lost all hope until you found us!
She had danced there several times before.
If we had looked harder, we would have found it.
And the future perfect is for actions that will be complete by a certain time:
He will have finished his homework by tomorrow morning.
There are also continuous perfect tenses, such as the present perfect continuous, which are concerned with ongoing actions. But these use present participles instead (i.e., verbs that end "-ing," like "looking").
Past Participles as Adjectives
We can also use past participles as adjectives (i.e., to modify a noun or pronoun). Typically, this involves placing the past participle before the word we want to modify, such as in the following sentences:
He couldn't hide the shocked look on his face.
She took her broken watch to get repaired.
Here, the past participles "shocked" and "broken" modify the nouns "look" and "watch," respectively. However, we can also use past participles as modifiers after a linking verb, such as in the following:
The kids were bored by the class.
The boy seems excited.
In the first sentence above, the linking verb "were" connects the noun "kids" and the past participle "bored." And in the second, we link "boy" (noun) and "excited" (past participle) with the verb "seems."
Regular vs. Irregular Past Participles
When forming a past participle, it will usually end "-ed." You can see this in most of the examples above! But this depends on whether the verb is regular or irregular. The difference here is:
Regular past participles are all formed by adding "-ed," "-ied," or "-d" and match the simple past tense form of the verb (e.g., the simple past tense and past participle forms of "kick" are both "kicked").
Irregular past participles do not follow a regular pattern and have a range of word endings, not just "-ed." And while some irregular verbs use the same form for the simple past tense and past participle (e.g., bend/bent/bent), others use different forms (e.g., drive/drove/driven).
You can see examples of some more irregular verbs below:
| | | |
| --- | --- | --- |
| Base Verb | Simple Past Tense | Past Participle |
| Arise | Arose | Arisen |
| Be | Was/Were | Been |
| Begin | Began | Began |
| Come | Came | Come |
| Cut | Cut | Cut |
| Deal | Dealt | Dealt |
| Do | Did | Done |
| Drink | Drank | Drunk |
| Eat | Ate | Eaten |
| Freeze | Froze | Frozen |
| Go | Went | Gone |
| Grow | Grew | Grown |
| Hit | Hit | Hit |
| Know | Knew | Known |
| Lay | Laid | Laid |
| Lie | Lay | Lain |
| Meet | Met | Met |
| Overtake | Overtook | Overtaken |
| Pay | Paid | Paid |
| Quit | Quit | Quit |
| Read | Read | Read |
| Ride | Rode | Ridden |
| Sweep | Swept | Swept |
| Swim | Swam | Swum |
| Tear | Tore | Torn |
| Throw | Threw | Thrown |
| Understand | Understood | Understood |
| Wake | Woke | Woken |
| Write | Wrote | Written |
 
Unfortunately, there are no reliable tips for spelling irregular past participles correctly beyond practicing them! As such, make sure to look up the spelling if you're not sure about the past participle form of a verb.
Find this useful?
Subscribe to our newsletter and get writing tips from our editors straight to your inbox.
Proofreading for Grammar
We hope this post has helped you understand past participles. But if you're ever unsure about the grammar in your writing, don't forget that you can have your work proofread! Our expert editors are here to help, so submit a free 500-word trial document today to find out more.
More Writing Tips?
In today's digital age, engaging and interactive presentations are a great way to capture your...
Trusted by thousands of leading
institutions and businesses