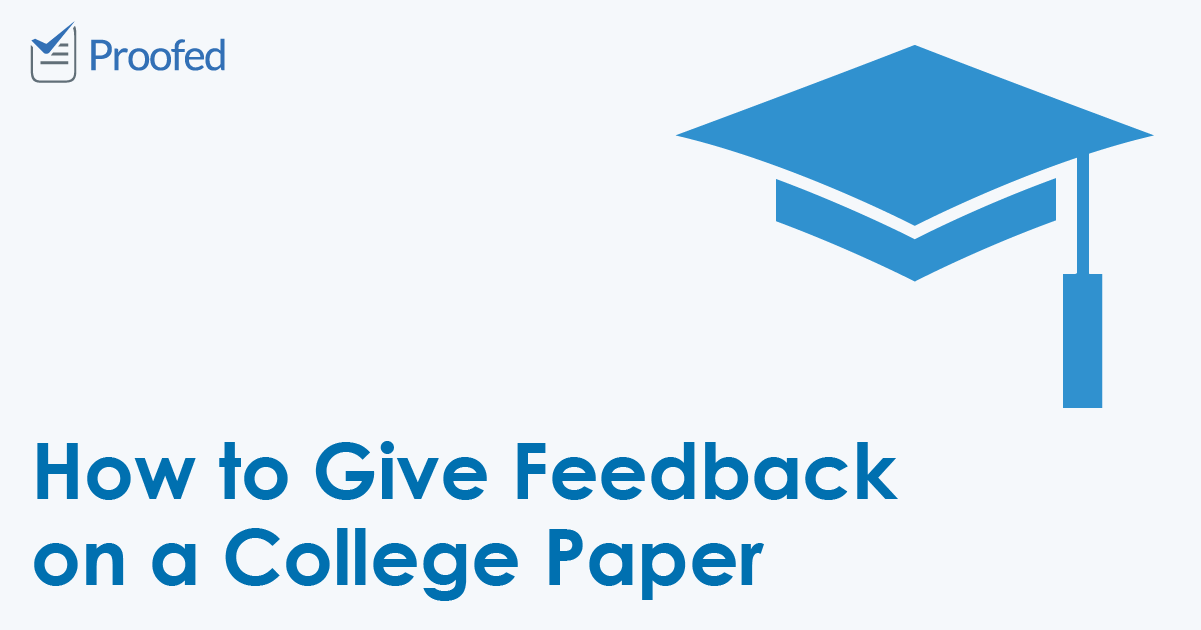 How to Give Feedback on a College Paper
Whether you're teaching or just helping a friend, offering feedback on a college paper can be intimidating if you've not done it before. We do, though, have a few tips to share on this subject.
Content vs. Quality of Writing
There are two things you may want to offer feedback on when reading a college paper:
The content of the paper itself
How well it is written
The feedback you provide will depend on the topic and type of essay. But there are some things you could comment on for any paper, including:
Spelling, grammar, and punctuation errors
The overall structure and readability of the paper
Academic vocabulary and writing style
Factual inaccuracies or ambiguities
Whether the author provides evidence for their arguments
Clarity and consistency of referencing
Ideally, you'll be able to provide feedback on all of these. However, if you're simply reading the first draft of a paper to help a friend, you may want to check what kind of feedback they want.
Try, too, to provide a balance of positive and negative feedback. It's just as important to note something that is well written as something that needs clarifying. After all, if the author sees nothing but negative comments, they could get discouraged and stop caring.
Comments in Margins vs. In-Depth Feedback
One way of leaving feedback is to make notes in the margins (either on paper or using the comment function in Microsoft Word, depending on how you are reading it). These should be short notes related to a specific issue (e.g., to highlight a misspelled word or a missing citation).
Find this useful?
Subscribe to our newsletter and get writing tips from our editors straight to your inbox.

Try not to leave too many comments in the margins, though. If there is a recurring problem (e.g., consistently misspelling a word), don't comment on it every time. Instead, leave a comment noting the pattern of errors. This highlights the issue without overwhelming the reader.
You may also want to provide some overall feedback at the end of the paper. Ideally, this in-depth feedback should:
Start positive (e.g., This is a well-researched, well-organized paper…)
Focus on one or two major issues rather than repeating everything you have commented on in the margins (if there are too many big problems to pick one or two, you may want to speak to the author in person instead)
Provide concrete criticism on specific problems, including page numbers where relevant, not just general criticisms (e.g., You are missing citations in section three… rather than The referencing in this paper is not very good…)
End by highlighting areas that could be improved and potential solutions
If you are offering feedback on an essay-in-progress, focus on issues that could be improved in the paper at hand. If you are marking a final draft, however, you may want to offer advice on strengths and weaknesses that the author can keep in mind for the next paper they write.
Marking Criteria
Finally, if you're teaching on a college course – or even just marking papers – you should have access to the marking criteria. These will be set by the school or whoever is teaching the class. More importantly, though, they will set out expectations for what a good paper should do in detail.
These criteria are most useful when grading a paper, but they can also be helpful if you're simply giving feedback. They can be useful when planning a paper, too, so they're worth asking about even if you're writing an essay rather than offering feedback! If you're not sure where to find the marking criteria for your course, check your school's website or ask your professor.
More Writing Tips?
Is Superman doing good? Or is he doing well? The answer: it depends on what...
Trusted by thousands of leading
institutions and businesses