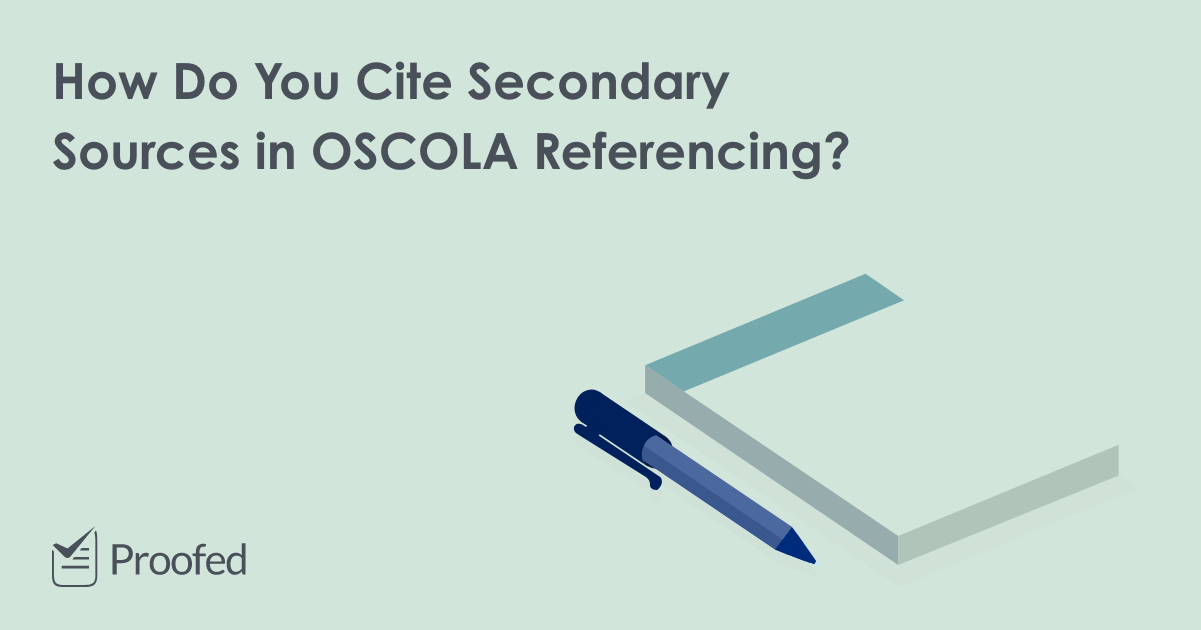 Citing Secondary Sources in OSCOLA Referencing
OSCOLA – short for Oxford University Standard for Citation of Legal Authorities – is the standard for citing legal authorities in the UK. It also divides authorities into primary sources (case reports and legislation) and secondary sources (pretty much everything else).
This second category can seem confusing at first, so check out our guide to find out how to cite secondary sources in OSCOLA referencing.
What Are Secondary Sources?
Secondary sources in OSCOLA include pretty much anything that isn't a legal document but that you want to cite in your work, such as:
Books
Edited collections
Journal articles
Newspaper or magazine articles
Official documents
Websites
So unless the document you're citing is a case report, a statute or a statutory instrument, there's a good chance it will be a secondary source. And now we've established that, let's look at how to cite secondary sources.
General Principles
Like primary sources, you should cite secondary sources in footnotes, indicated via superscript numbers (e.g., 1, 2, 3) in the main text. The exact information required in a footnote will depend on the source type, but there are some pointers worth keeping in mind for all sources:
In citations, you will usually provide the author's first name (or initial) and surname, a source title and relevant publication information.
If a source has more than three authors, name the first person listed followed by "and others" to show that some authors have been left out.
Sources without a named author should be listed with the organization that claims editorial responsibility as the author.
Titles of books (and all publications with an ISBN) should be italicized.
Publications available electronically should be cited with the relevant URL.
Citing a Book in OSCOLA Referencing
To demonstrate how citing secondary sources works in OSCOLA referencing, we'll focus on how to cite a book.
The standard format for a book in OSCOLA is as follows:
Author, | Title | (Edition, | Publisher | Year) | Pinpoint
The pinpoint here is the specific page or paragraph number you're citing. And you only need to include the edition if the source is not a first edition. In a footnote, then, we would cite a book like this:
Find this useful?
Subscribe to our newsletter and get writing tips from our editors straight to your inbox.
1. Bill O'Rights, Constitutional Protection (2nd edn, Hodder & Fouslon 1998) 245.
You can indicate consecutive citations of the same source using "ibid.," along with a new page number if you are citing a different part of the source. For non-consecutive citations of a source, meanwhile, you can give the author's surname and cross-reference it with the first note.
Secondary Sources in an OSCOLA Bibliography
An OSCOLA bibliography should contain both:
Within this bibliography, you should list sources alphabetically by author surname with all relevant publication information. As with footnotes, the exact information required will depend on the source type. Usually, though, it will be similar to the first footnote, only with:
The author's surname given first
Initials in place of a first name
No period
For example, we would list the source cited above as follows:
O'Rights, B, Constitutional Protection (2nd edn, Hodder & Fouslon 1998)
And if you need any help making sure you've correctly cited secondary sources, don't forget to submit your document for proofreading.
More Writing Tips?
In the grammar world, positioning is everything. The wrong word in the wrong place can change the...
Trusted by thousands of leading
institutions and businesses