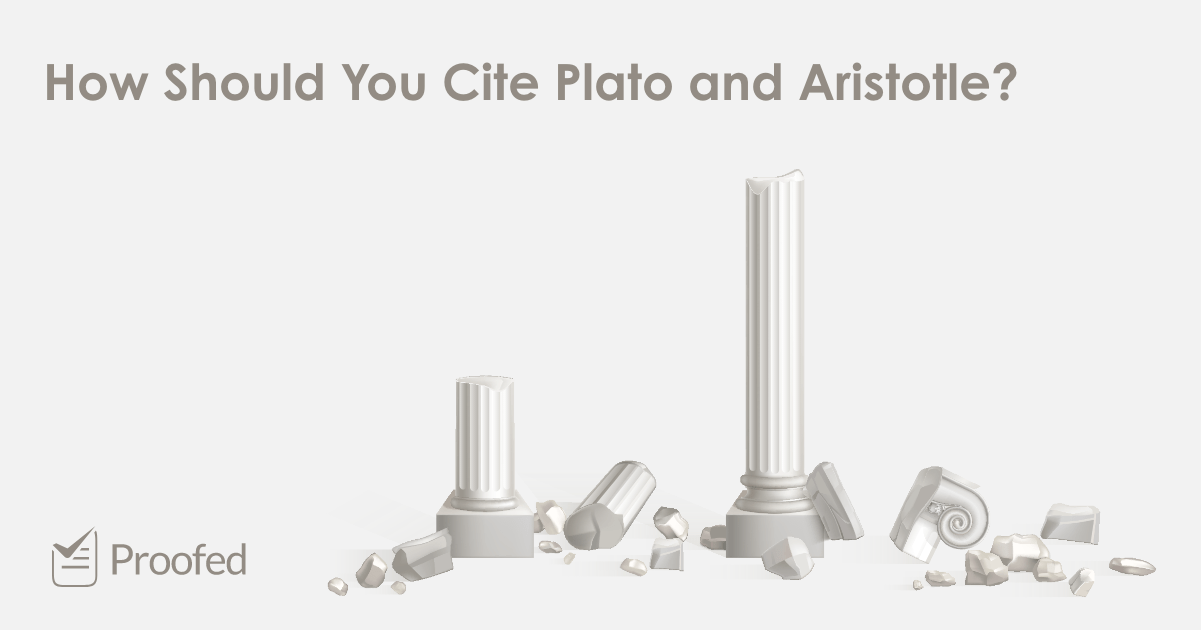 Citing Plato and Aristotle: Stephanus and Bekker Numbers
There are many referencing systems, all with their own rules. But Plato and Aristotle – the breakout stars of ancient Greek philosophy – don't play by anyone else's rules. In fact, these toga-wearing rebels have special citation styles of their own known as Stephanus numbers (Plato) and Bekker numbers (Aristotle). But how do these work? Let us explain.
Citing Plato with Stephanus Numbers
If you read a text by Plato, you may notice numbers and letters in the margins. We call these "Stephanus numbers" or "Stephanus pagination." They're named after Henricus Stephanus, who published a famous edition of the collected works of Plato in 1578. And since then, the page numbering from this edition has become a standard part of published Plato texts.
The advantage here is that people with different editions of the same text can use the same numbers. To cite one of Plato's dialogues, then, you will need to give the title, a section number, and a letter:
Socrates describes those who trust writing as naïve (Phaedrus, 274c).
The number here refers to the page number from the Stephanus edition. Each page was then divided into five sections, which we indicate with the letters a-e. So in the example above, we're citing text from page 274, section c of the Stephanus edition. The same passage will be labeled with the same number and letter in all modern versions of the Phaedrus.
Knowing the details of the pages, sections, etc., is not that important, though! The key is to use the numbers and letters in the margins of Plato's works for citations. And the same is true of Aristotle and Bekker numbers.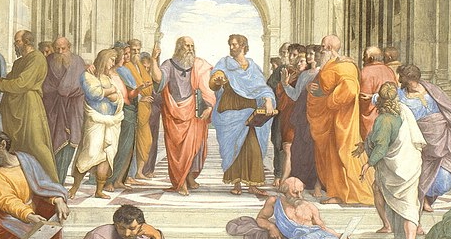 Citing Aristotle with Bekker Numbers
Just as Plato has Stephanus numbers, Aristotle has Bekker numbers (or Bekker pagination). These are named after August Immanuel Bekker, who edited a version of the complete works of Aristotle. Bekker numbers are based on the page numbering used in this edition of Aristotle's collected writings. To cite a text by Aristotle using Bekker numbers, you'll need:
Find this useful?
Subscribe to our newsletter and get writing tips from our editors straight to your inbox.
The title of the book you're citing
A book and chapter number from the collected Bekker edition
The page, section, and line numbers from the Bekker edition
For example, we could cite Aristotle's famous Nicomachean Ethics as follows:
Being happy takes a complete lifetime (Nicomachean Ethics, 1.7, 1098a16).
Here, we see the title (Nicomachean Ethics), the book and chapter number (1.7), and a pinpoint citation (page 1098, section a, line 16). Since most modern editions of Aristotle include Bekker numbers, this citation would work for any version of the Nicomachean Ethics.
Plato and Aristotle in Reference Lists
Some referencing systems have special rules for adding "classical" texts, including those by Plato and Aristotle, to a reference list. APA, for instance, says you don't need to include ancient Greek texts in the reference list at all as long as you clearly identify the version used in citations.
However, it's usually a good idea to list texts by Plato and Aristotle in your reference list, so make sure to check your style guide for the correct format.
If you're still unsure of the best approach to use in your work, ask your supervisor or lecturer about how to list them. And if you'd like anyone to check the referencing in a document, just let us know.
More Writing Tips?
Putting together a reference list is an important and necessary part of writing a paper,...
Trusted by thousands of leading
institutions and businesses