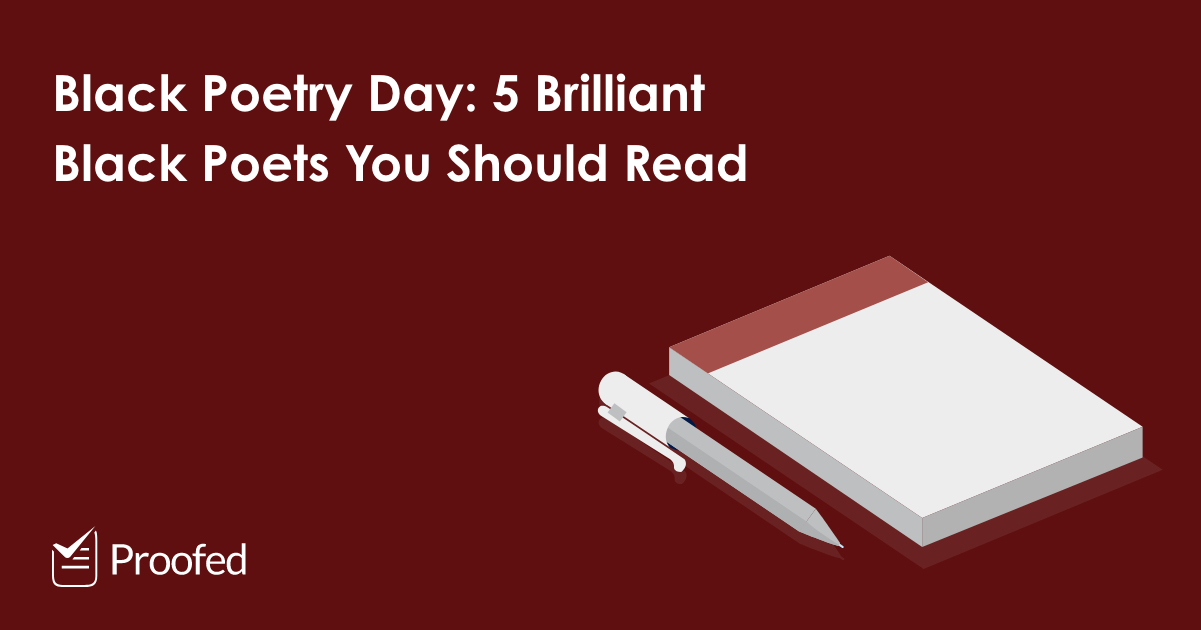 Black Poetry Day: 5 Brilliant Black Poets You Should Read
Today, October 17, is Black Poetry Day, a day for celebrating Black poets around the world. And to mark this, we've put together a list of five Black poets for you to read or listen to as you celebrate Black Poetry Day.
1. Benjamin Zephaniah
Benjamin Zephaniah is a British poet who grew up in a Jamaican community in Birmingham, and whose work is often described as dub poetry. We can see this influence on the language of his famous poem, "Dis Poetry":
Dis poetry is like a riddim dat drops
De tongue fires a riddim dat shoots like shots
Dis poetry is designed fe rantin
Dance hall style, big mouth chanting
This made him stand out when he emerged in the UK in the 1980s.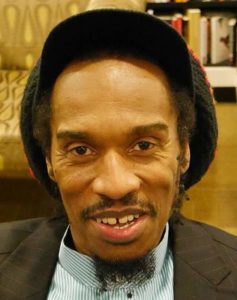 From the start, Zephaniah wrote poetry for everyone, not just those who would read it in a book. This meant performance was always a key part of his work. He is also hugely versatile, writing on topics that range from the natural world to his personal experiences of racism.
It's no wonder, then, that Zephaniah is now considered a national treasure in the UK. And how many other poets can say that they're both published children's authors and that their work is often read at political protests?
2. Oodgeroo Noonuccal
Oodgeroo Noonuccal is an Aboriginal Australian poet and campaigner for Aboriginal rights. She's also a pioneering writer, with her poetry collection We Are Going the first book to be published by an Aboriginal woman.
One of her best-known poems is "Municipal Gum." In it, she personifies a gum tree in an urban environment. The tree, like the indigenous peoples of Australia, is displaced and suffering in its new surroundings:
Gumtree in the city street,
Hard bitumen around your feet,
Rather you should be
In the cool world of leafy forest halls
She also compares the tree to a cart-horse:
Here you seems to me
Like that poor cart-horse
Castrated, broken, a thing wronged,
Strapped and buckled, its hell prolonged,
And she ends the poem by identifying with the gum tree:
O fellow citizen,
What have they done to us?
The broken rhyme in the poem adds to its feeling of dislocation. And by connecting the plight of her people, the gum tree, and the horse, she reflects the Aboriginal belief that all living things deserve respect.
Her work was dismissed by some critics as "protest poetry." She didn't mind this description, though, as throughout her life she worked to give a voice to the Aboriginal experience and promote Aboriginal pride and rights.
Find this useful?
Subscribe to our newsletter and get writing tips from our editors straight to your inbox.
3. Yrsa Daley-Ward
Yrsa Daley-Ward is a British poet who self-published her first book, bone, in 2014 (republished by Penguin in 2017). A young, black, LGBTQ+ woman, she writes about mental health, sexuality, identity, race, and relationships.
Daley-Ward notably draws on her difficult early years in her work, creating something positive from them. As she says in "Poetry":
Maybe your life will work.
Most likely it won't at first
but that
will give you poetry.
Part of her success lies in writing about universal experiences to create work that is relatable. In addition, she promotes it via social media, such as Instagram and Twitter, allowing her to reach a young, passionate audience.
4. Maya Angelou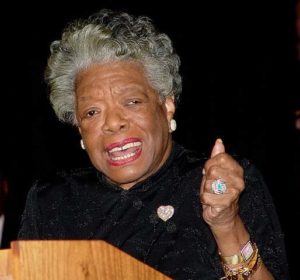 No list of Black poets would be complete without Maya Angelou, the renowned poet, memoirist, and civil rights activist. Her most famous poem, "On the Pulse of the Morning," was written for President Bill Clinton's inauguration in 1993.
In it, nature is personified (a rock cries out, a river sings, and a tree speaks) to confront humanity with its historical mistakes. But the poem also promises a better future if we can learn from our past errors, reminding us that:
History, despite its wrenching pain,
Cannot be unlived, and if faced
With courage, need not be lived again.
It is thus a call for peace, unity, and social justice. Angelou was also a great performer. In fact, some critics argue that her performance of "On the Pulse of the Morning," which won a Grammy, was better than the poem itself!
5. Saul Williams
Finally, Saul Williams is an American rapper, writer, musician, actor, and poet. And while he has now published several poetry collections, he is perhaps most associated with the vibrant slam poetry scene.
This is a form of competitive spoken-word poetry, performed in front of a live audience and judging panel. Pioneered by Marc Smith in 1980s Chicago and influenced by the Beat movement and hip hop, slam poetry offered an energetic antidote to the stuffiness of traditional poetry readings.
Williams' poetry is socially conscious, reflecting on the injustices he sees but also elevating those around him. In "Coded Language," for instance, he encourages listeners to "Reject mediocrity!" and embrace their potential:
Find your mantra and awaken your subconscious
Curve your circles counter-clockwise
Use your cipher to decipher, Coded Language, man made laws
Climb waterfalls and trees, commune with nature, snakes and bees
Let your children name themselves and claim themselves as the new day
Slam poetry is better heard than read, so give the poem a listen here.
Poetry Proofreading
Have we missed your favorite Black poet? Let us know in the comments. And if you're working on poetry of your own this Black Poetry Day, we have a team of expert editors who can help you polish and proofread your work.
More Writing Tips?
For many students and their families, autumn officially starts once school is back in session....
Trusted by thousands of leading
institutions and businesses