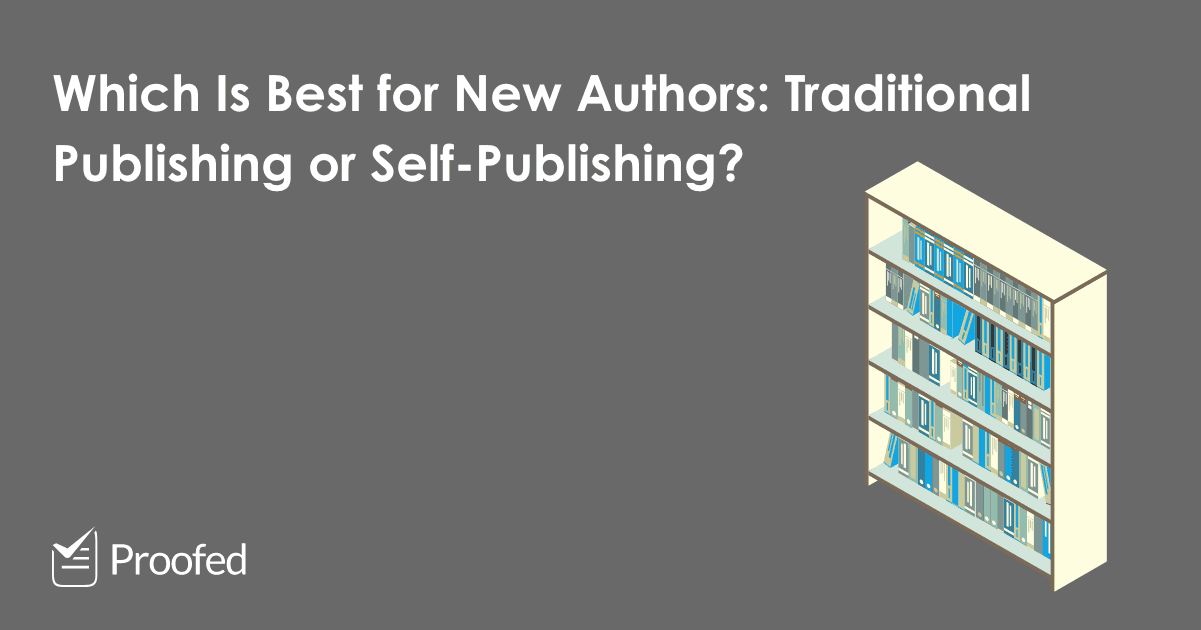 Author Tips: Traditional Publishing vs. Self-Publishing
If you've written a book, you have a choice over how to publish it. You can go with traditional publishing, or you can opt to self-publish. But what are traditional publishing and self-publishing? In this post, we'll explain the basics and look at a few factors that might influence your decision, including:
The finances of creating and marketing a book.
How long each route can take.
The degree of creative control available.
Who handles the distribution of your book.
How publicity and promotion work in each case.
First, though, we'll take a quick look at what each route involves.
What Are Traditional Publishing and Self-Publishing?
By traditional publishing, we mean the route via which most books have been published since there has been a publishing industry! This involves:
Pitching your manuscript to a literary agent.
Finding a publisher and securing a book deal.
Working with the publisher and an editor to develop your manuscript.
The publisher will then oversee the editing, cover design, distribution and marketing of your book. Your role in this process, then, is mostly about writing the manuscript. After that, the publisher will take the lead.
However, the development of online marketplaces, such as Amazon, has led an increasing number of authors to self-publish.
With self-publishing, you are responsible for the whole process, from drafting and editing through to distribution and marketing. And while you don't get the advantage of having a publisher in your corner, it does let you bypass the more frustrating aspects of getting a book published traditionally.
But which approach is right for you? Check out our advice below to find out.
1. The Finances of Publishing
With traditional publishing, you don't have to pay for any part of the process, and you will usually get an advance when you sign the book deal. However, once your book is published, you will likely only get a small percentage of the royalties (around 5­–15%).
Self-publishing is more expensive because you have to cover the costs of editing, cover design, distribution and marketing. But you will get to keep a much higher percentage of the profits when you sell copies of your book.
2. The Time Involved in Publishing
Traditional publishing can be a lengthy process. It takes time to find an agent and get a deal with a publisher. Publishers can be very picky, so you should be prepared to face rejections. And even once you have secured a deal, your book may not be published for months or even years.
Self-publishing, on the other hand, can be done at your own pace. And you can do it at any time – you don't have to wait for someone to accept your manuscript. However, bear in mind that you will have to carry out all the steps to publishing yourself, which can be time-consuming.
3. How Much Creative Control Will You Have?
With traditional publishing, the publisher usually has the final say over your manuscript. When you sign a book deal, you are selling the publisher your idea, not just your book. This might not be a problem if you trust your publisher and editor, but you do risk losing some creative control.
With self-publishing, you are your own boss and you maintain ownership of the rights to your book. However, this can be an exhausting process if you do it all yourself. And while you can outsource some of the work, such as the editing and the cover design, you will need to cover these expenses, so it may be a case of balancing the workload against your budget.
Find this useful?
Subscribe to our newsletter and get writing tips from our editors straight to your inbox.
4. Who Handles Distribution?
Possibly the biggest single advantage of taking the traditional route is that a publisher will have established routes for distribution, from online shops to high-street stores. And if you want to see your book on the shelves of major retailers, it certainly helps to have a deal with a major publisher.
As a self-published author, your two main routes for distribution are:
Ebook Platforms – Services such as Amazon KDP and Kobo allow you to upload an sell your book as an ebook, which is a great way for first-time authors to reach a wide market.
Print-on-Demand Services – Alternatively, some companies offer a print-on-demand service, where you can order print copies of your book. However, this can be quite expensive.
Typically, then, the traditional route is far simpler for the author and will usually help you find a larger audience. But as long as you're confident about promoting your book, self-publishing can be equally effective.
5. How Do Publicity and Promotion Work?
An established publisher will have a ready-made process for promoting your book, from advertising to sending out review copies to the right people. You will have to do some work, such as readings and promoting your book on social media, but you will be backed up by your agent and publisher.
If you self-publish, on the other hand, you will have to take the lead on all promotion. This may not be a problem if you already have an online following from social media or a blog. But without an established audience, it can be difficult to reach a large number of readers.
However, if you successfully self-publish, you will have a platform, and it can then be easier to get published by a traditional publisher. You might even be approached by a literary agent if your self-published book does well.
Summary: Traditional Publishing vs. Self-Publishing
The key differences between traditional publishing and self-publishing are:
With traditional publishing, you will have a publisher to help you find an audience and navigate the publication process.
With self-publishing, you will have more creative control, but you will need to handle each stage of the publishing process yourself.
Keep in mind, too, that choosing one method doesn't mean you are restricted to that for everything you wish to publish. You can even try the traditional route, then fall back on self-publishing if you struggle to find a publisher (which is also a great way of proving your doubters wrong).
Ultimately, then, whether you should choose traditional publishing or self-publishing depends on your needs as an author.
Regardless of the route you pick, though, you'll want to your manuscript to be the best it can be. And since our team of expert editors includes authors and publishing professionals, we can help with that!
Why not upload a free sample document today and give our services a try?
More Writing Tips?
When it comes to written content, perfection is the goal. Whether it's a crucial business...
Trusted by thousands of leading
institutions and businesses