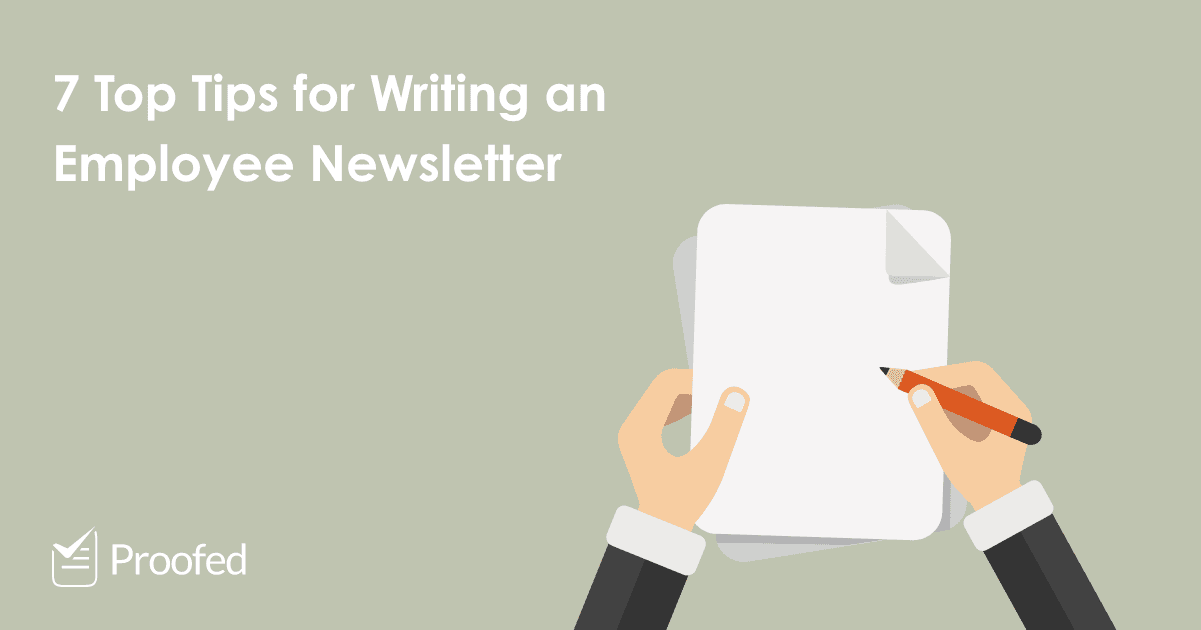 7 Top Tips for Writing an Employee Newsletter
An internal newsletter is a chance to build morale and add value for employees, so you'll want to get it right. But what does this involve? Our five top five tips for writing an employee newsletter include:
Plan your newsletter so that you're clear about what you want to say.
Check your employer's style guide or style sheet for advice on branding.
Find a subject line that will encourage people to open your newsletter.
Use a conversational style to make your writing more engaging.
Think about the layout to make sure your newsletter is easy to read.
Use a call to action (CTA) to encourage staff to act on what they read.
Proofread your internal newsletter before sending it out!
For more information on all the above, read on below.
1. Plan Your Employee Newsletter
Before you start, think about the purpose of your newsletter:
What are you trying to achieve by writing a newsletter? Provide important information? Increase staff morale? Or something else?
Will content be about or contributed by staff? If so, what will this be?
What would your employees want from a newsletter?
Common topics for internal newsletters to cover, meanwhile, include:
Company achievements and new hire announcements
Policy changes and company performance
Event announcements for staff
Current projects teams are working on
Employee profiles and achievements
Focus on keeping the newsletter interesting for staff. The aim is to create an employee-focused newsletter that people will want to read.
2. Check Your Style Guide
If your company uses a style guide or an in-house style sheet, check this before you start creating your newsletter. Where possible, make sure you know the company guidelines on branding, including:
The brand voice, which may influence things like tone and vocabulary.
Logos and visual branding required for the design of your newsletter.
There may be room for variation here! A newsletter is usually less corporate in tone than a business report, for example, so you do not need to follow guidelines that are intended for formal writing. But it is important that your newsletter fits in with similar written content produced by your company.
3. Craft a Perfect Subject Line
Many workers feel overwhelmed by their emails. So, if you want people to read your newsletter, you need a strong subject line. This means it should:
Be clear and concise (ideally, no more than ten words).
Offer the reader a reason to open it by creating a sense of urgency or highlighting an opportunity (e.g., Five days left to sign up for training!).
Be personalized (e.g., by including the recipient's first name or tailoring the content in the subject line to different groups of employees).
You can even use A/B testing to see which subject lines work best.
4. Use a Conversational Tone
As well as encouraging people to open your newsletter, you'll want to make it engaging and easy to read with a conversational writing style. Key aspects of achieving this friendly but professional tone include:
Make sure to write for your readers, too! This means thinking about each topic you cover from the perspective of employees rather than the company. For instance, the following is company-focused:
Management requires staff with an outstanding annual leave balance to use it by the end of the financial year.
Find this useful?
Subscribe to our newsletter and get writing tips from our editors straight to your inbox.
But we could reframe it to focus on the employee:
Fancy a vacation? If you've got a lot of annual leave stored up, now is the time to think about how you'd like to use it.
This time, it feels less like a management directive and more like a friendly reminder, which is likely to be far more engaging for the reader.
5. Employee Newsletter Layout and Readability
The layout and design of your newsletter is also important. Try to:
Use short paragraphs and avoid massive blocks of text.
Break the newsletter into sections with clear subheadings.
Use bullet points and lists to make it easy to skim read.
Add images, infographics and charts to break up the text.
These tips will help create a layout that's easy to read, letting you communicate your message more effectively.
6. Use a Call to Action
If you need to ask employees to do something, you can include a call to action (otherwise known as a CTA) in your newsletter. What the action is will depend on the situation. In all cases, though, a good CTA should:
Have a clear course of action (e.g., a link to click or a form to complete).
Give the reader a reason to act (e.g., by stating a benefit of acting or creating a sense of urgency about responding by stating a deadline).
Be impossible to miss! Think about how to format any important CTAs you include in your newsletter so that readers can spot them easily.
For example, if we mentioned a staff party in a newsletter, we might include a CTA along the following lines:
Are you signed up for the staff party yet? Make sure to email marie@company.com before 5pm Thursday, July 2 to book your space!
Here, we have a simple message, a clear path of action (aided by making the email a link), and key information highlighted to make it hard to miss.
7. Proofread Your Internal Newsletter
As with any business writing, errors in a newsletter will look unprofessional. And if it leads to a key message being miscommunicated, a typo could even lead to inefficiencies or extra costs. As such, proofreading is essential.
And if you'd like any help making sure your internal newsletters are clear, concise and error free, why not submit a sample document for free today and see what our business proofreading services involve?
More Writing Tips?
For many students and their families, autumn officially starts once school is back in session....
Trusted by thousands of leading
institutions and businesses