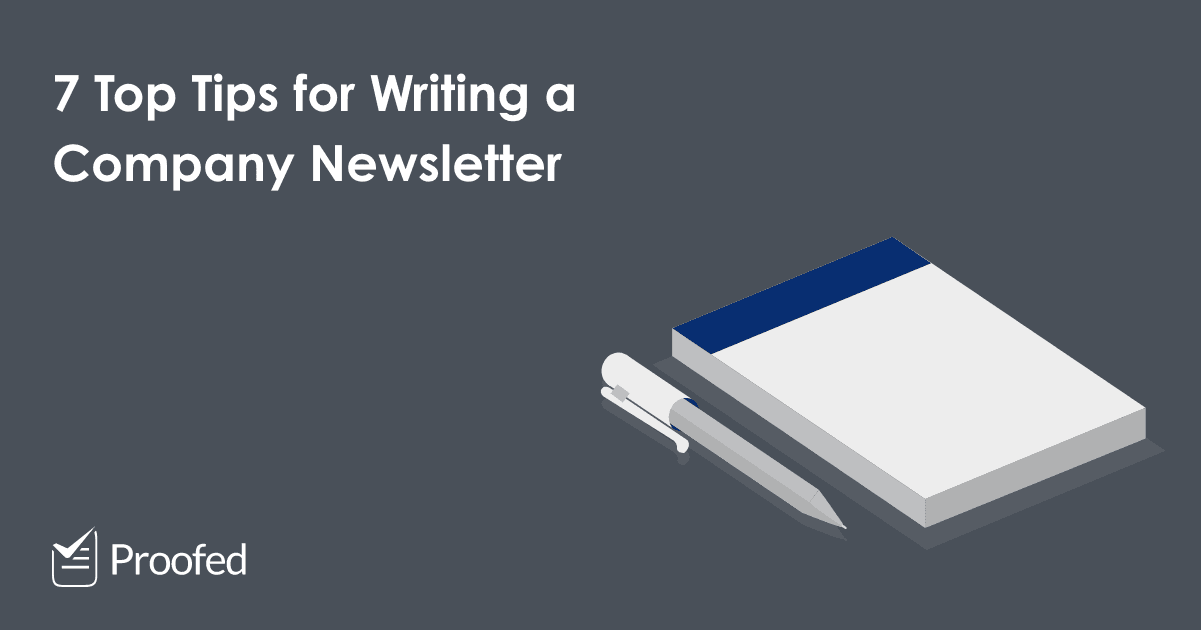 7 Top Tips for Writing a Company Newsletter
Your company newsletter is a key marketing tool. But the average office worker receives around 120 emails every day, so how do you get people to open and read your newsletter? Here are seven top tips for writing a company newsletter that will really stand out.
1. Work Out the Goal of Your Newsletter
Before you begin, identify what you want your newsletter to accomplish.
Of course, your intention is to drive traffic to your website, but what do you want your reader to do when they get to your site? Read a new blog? Sign up for a course? Buy a product or service?
Each newsletter should focus on one or two main objectives. These will inform your content and calls to action (we will look at this more below).
2. Think About the Sender Name
People are more likely to open an email from someone they trust, so the sender name is an important consideration for your newsletter.
The three main options for a newsletter sender name are:
Your company's name – If a customer has signed up to your newsletter, they should instantly recognize the name.
The newsletter title – If your newsletter has a catchy title, you can use this as the sender name to make sure subscribers pay attention.
An individual's name – Using your own name is a risk, as people may not recognize it. But if you are an expert in your field, or you have a strong relationship with customers, using your name can boost trust.
Think about which of the above is most suitable for your newsletter.
3. Pick a Compelling Subject Line
A subject line is a headline inviting the reader to open a newsletter. There are many ways to do this, but common methods include:
Offering readers something in return for their time, such as a discount or insider advice (e.g., 7 Top Tips for Writing a Company Newsletter).
Asking a question (e.g., Do you need help writing a newsletter?).
Creating a sense of urgency or timeliness (e.g., Last chance to download our free ebook on how to write a newsletter!).
Personalizing subject lines by including the subscribers' first names.
Targeting different audience segments with tailored subject lines.
Keep it short, though! A good subject line should be no more than 20 words long, as some email clients will cut off longer subject lines.
4. Introductions Matter
The first few lines of an email show up in the preview, making this space another chance to entice the reader to open the newsletter. The first line should continue the theme of your subject line, with a short, simple statement of what subscribers can gain from reading:
Find this useful?
Subscribe to our newsletter and get writing tips from our editors straight to your inbox.
A good company newsletter can boost engagement by up to 400%.
After that, the opening paragraph should summarize what the newsletter says. Use short bullet points to list each story or section, giving readers a quick way to find the content most relevant to them.
5. What to Include in the Body of Your Newsletter
The main body of your newsletter will depend on your company and goals. However, it should always be clear, concise, and relevant to your audience.
Common types of content for a company newsletter include:
News about your business or industry (e.g., customer testimonial or a story related to your company's recent achievements).
Upcoming dates of note, such as industry events or product launches.
How-to guides for advice relevant to your subscribers.
Giveaways, discounts, or competitions for customers.
In all cases, though, remember to give your reader something of value! People opening a newsletter are hoping to gain some insight or advice. If it is all promotion and nothing else, they will lose interest in reading.
6. Craft a Perfect Call to Action
A call to action (CTA) is a prompt for the reader to do something, such as click through to your site or make a purchase. As a result, it is often a vital part of a newsletter. Tips for writing an effective call to action include:
Provide a clear, simple instruction (e.g., Click here to learn more).
Let the reader know how they stand to benefit by acting.
Make it impossible to miss by using graphics and formatting.
Not every newsletter needs a call to action. Some may be just news, but even this helps establish trust and builds your reputation for expertise. And these will encourage people to act when you eventually ask them to.
7. Proofread Your Company Newsletter Carefully
Finally, don't forget to proofread your newsletter! Typos or other errors will look careless at best. And a bad error can be expensive. If you would like extra help ensuring your writing is error free at all times, then, why not upload a newsletter for proofreading today?
More Writing Tips?
In today's digital age, engaging and interactive presentations are a great way to capture your...
Trusted by thousands of leading
institutions and businesses