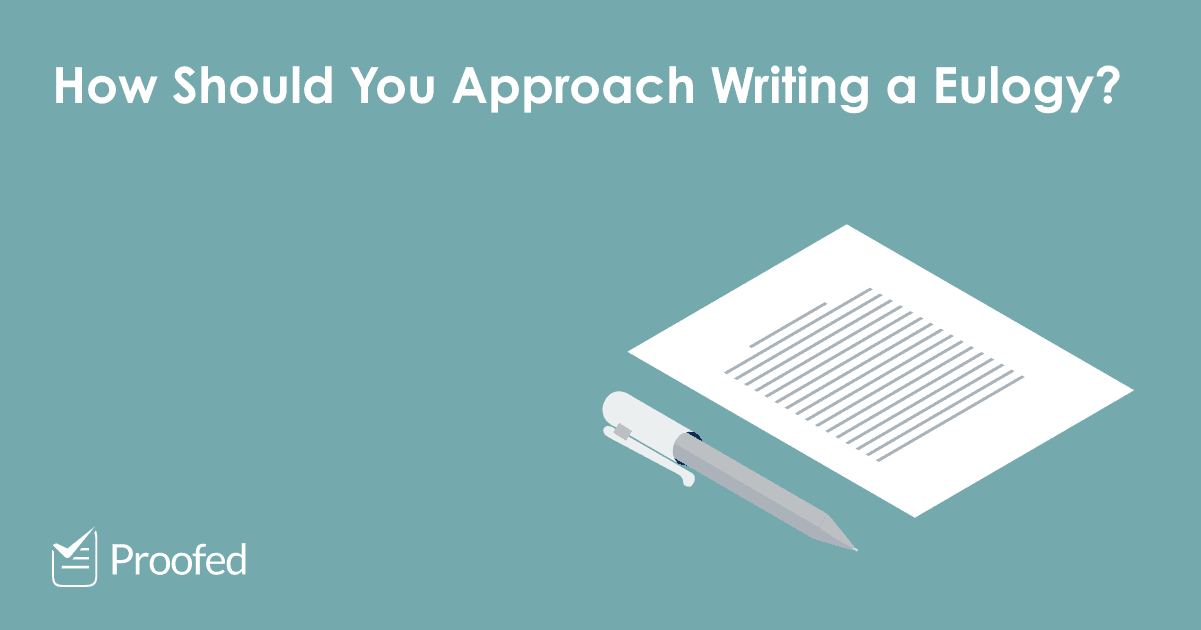 7 Simple Tips for Writing a Eulogy
A eulogy is a speech or a piece of writing about someone who has died. It is usually given at a funeral or memorial service. If you have been asked to give a eulogy, it can seem like a daunting task at what is already a difficult time. But this post offers some advice that will help you to write one.




1. Decide on the Tone
A eulogy should be heartfelt and meaningful. The tone should be respectful, but it doesn't always have to be completely somber.
Depending on the circumstances surrounding the person's death, you may feel that you can write a lighter eulogy or include some humor. Think about what the person would have wanted and use your judgement.
2. Introduce Yourself
At the start of the eulogy, say how you knew the deceased. Some people attending the funeral may not know you, so it's wise to give some context. Explain how you were related to the deceased or how you met them. You should also thank the audience for attending the service.
3. Give Key Points About the Deceased
Once you have given the introduction, you can go on to talk about the deceased. This might include mentioning:
Major events from their life
Their relationships with their family and friends
Their achievements (professional and otherwise)
The things and ideas they cared about most
If you feel you need to mention negative things in the person's life, be tactful. Talk about their difficulties with compassion, and don't say anything that would shock, offend or confuse the audience.
4. Include Memories and Stories
Rather than simply listing things about the deceased or their life in chronological order, you can share personal stories and memories of them. This can help you to capture the essence of the person in the eulogy.
Find this useful?
Subscribe to our newsletter and get writing tips from our editors straight to your inbox.
If you are not sure where to start with this, you might find it useful to draw up a list of qualities that describe the deceased and think of stories to illustrate each one. You can also ask family, friends, and colleagues of the deceased whether there is anything they would like you to include.
5. Close the Eulogy
To end the eulogy, offer some words of comfort and say goodbye to the deceased. You may wish to finish on a quotation – either something the deceased used to say or a quote that is relevant to their life.
6. Get the Timing Right
Aim to write a eulogy that is between three and five minutes long. You want it to be long enough that you can go into detail about the deceased, but you want to avoid losing the attention of the audience.
If you are unsure how long to make it, ask the person organizing the service how much time you will have available to speak.
7. Ask for Feedback
Once you have written a first draft of the eulogy, it may be useful to get feedback from family and friends who knew the deceased. You can then edit it as necessary and practice reading it out loud.
If you would like help to check that the eulogy is error free and flows well, moreover, our proofreading services are available 24/7.
More Writing Tips?
In today's digital age, engaging and interactive presentations are a great way to capture your...
Trusted by thousands of leading
institutions and businesses