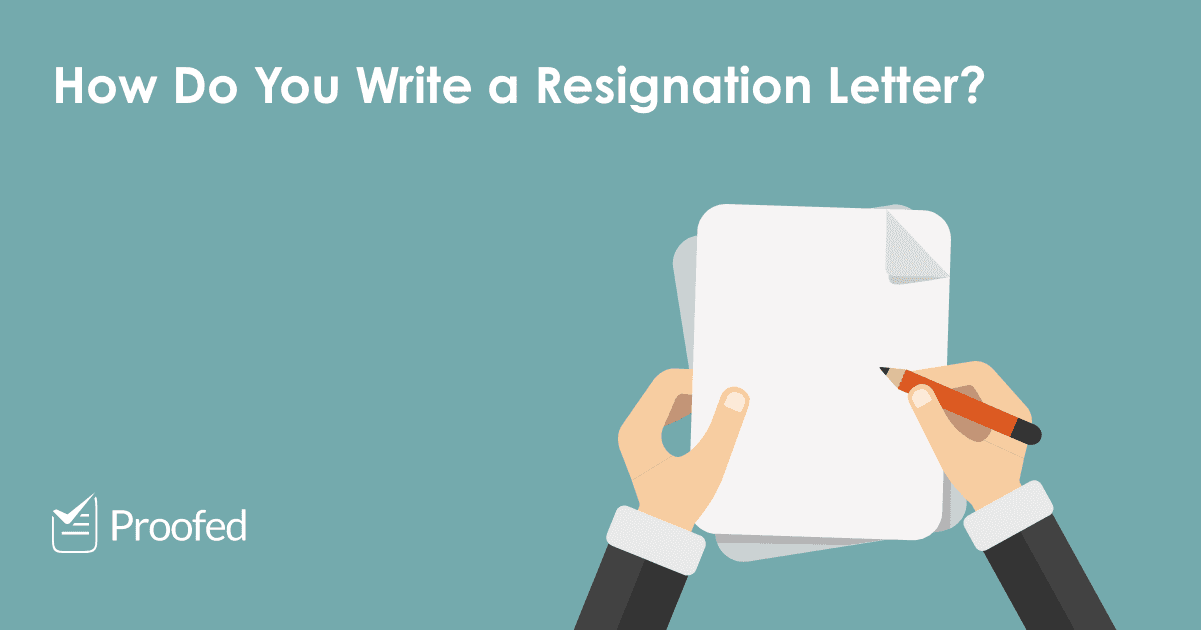 5 Top Tips on How to Write a Resignation Letter
Once you've decided to quit your job, you'll need to notify your employer. And if you want to maintain a professional relationship with your employer rather than burning your bridges, you can follow our tips on how to write a strong resignation letter. In this post, then, we'll cover:
The general structure of a resignation letter.
Five top tips for making sure your letter is perfect, including avoiding negativity, expressing gratitude, and getting your letter proofread.
Read on below to find out more.
General Structure of a Resignation Letter
In general, a resignation letter should be structured as follows:
Opening paragraph – Clearly state that you are leaving, including the official position from which you are resigning and the last day you will work. Check your contract for your notice period.
Middle paragraph – Say that you're happy to help with the transition period and the handover to your replacement if required.
Closing section – Once you have included all the necessary information, politely thank your employer and wish them well.
Now, we'll look at some tips for writing the perfect resignation letter.
1. Avoid Negativity
You don't have to explain why you are leaving your job. You may wish to give a reason, such as relocating or having been offered an opportunity you cannot refuse. But it's wise not to give any negative reasons for leaving. Avoid complaining about people you worked with or the job itself.
2. Express Gratitude
A resignation letter is a chance to thank your employer and leave on a positive note. In the closing section, you can express your gratitude for the opportunities and experience the job gave you. You might also want to mention the high points or what you've learned from your time in the role.
3. Keep It Formal and Polite
Your letter will be passed to relevant parties, such as your manager and the HR department, and it will likely be stored in the company's records. As such, it should be professional and courteous.
It is also a good idea to keep your letter formal and polite so that you leave a positive impression. You might need a reference from them in the future, or you could end up working with your employer again further down the line.
4. Include Your Contact Details
Your resignation letter should follow a standard letter format, with the date, your contact details, and your employer's details and address at the top. Give your personal email address, phone number and home address in case your former employer needs to get in touch once you have left.
5. Proofreading Your Resignation Letter
As with any formal letter, you want your resignation letter to be free from mistakes. It's thus a good idea to double check that your letter is error free, and our expert proofreaders can help with that.
An Example Resignation Letter
Sandra Nelson
3498 Black Oak Hollow Road
Sunnyvale, CA
94089
Find this useful?
Subscribe to our newsletter and get writing tips from our editors straight to your inbox.
September 19, 2020
Tel: 408-756-8095
Email: sandranelson@email.com
Imogen Harvey
HealthFoods
4357 Brooke Street
Sunnyvale, CA
94087
Dear Ms. Harvey,
Please accept this letter as formal notice of my resignation from my position as assistant manager at HealthFoods. In line with my contract, my last day of employment will be Monday, October 19, 2020.
I will be happy to assist with recruiting my replacement, as well as the full handover of my role and responsibilities before my last working day. Please let me know how I can help.

I would like to thank you for the opportunities and support you have provided me during my time with the company. A particular highlight of the past five years was achieving the highest winter sales in the company's history. I am grateful to you and the company for helping me to develop my skills in sales and marketing.
Thank you again for the opportunity, and I wish you and HealthFoods all the best for the future.
Yours sincerely,
Sandra Nelson
More Writing Tips?
In today's digital age, engaging and interactive presentations are a great way to capture your...
Trusted by thousands of leading
institutions and businesses