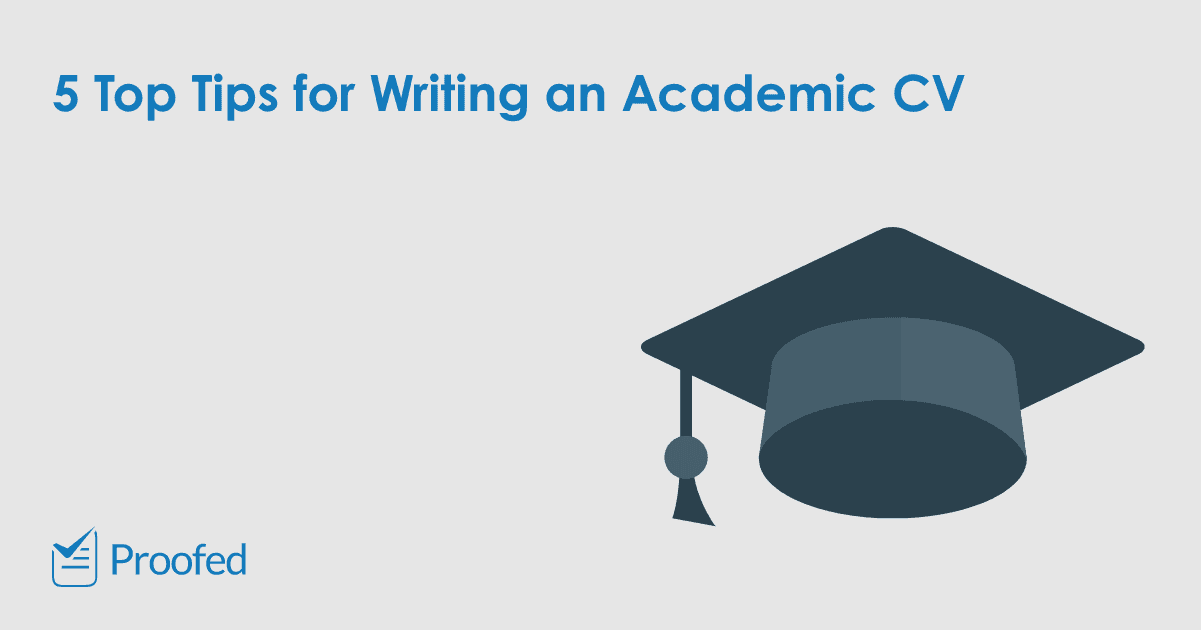 5 Top Tips for Writing an Academic CV
If you're preparing an academic CV, you'll want to make the best first impression possible. But how can you do this? We have five top tips for writing an academic CV that should help, including:
Check that you have all the information required for an academic CV.
Make sure to tailor your CV to the role you're applying for.
Use a clear, concise writing style so your CV is easy to read.
Make sure your CV is professionally formatted for clarity.
Have your CV proofread to make sure it is 100% error free.
For more on all these points, read on below.
1. What to Include in an Academic CV
In general, an academic CV should include the following information:
Your name, current position, and contact details.
A personal statement that summarizes your career and research interests.
Your education history, including details of your degrees.
Academic appointments, including teaching and research experience.
Publications, including forthcoming publications and works under review. If you don't have any current publications, include works in progress.
Awards, honors, grants, fellowships, prizes or scholarships.
Conference presentations and invited talks, including upcoming events.
Any other relevant information (e.g., professional memberships, administrative experience, languages spoken, or other qualifications).
Details of your academic referees.
If you're a recent graduate, you may not have experience in some of these areas, so you can skip any sections that don't apply. But it's a good idea to gather as much of this information as possible before you start writing.
2. Tailor Your CV to the Role
You should tailor your academic CV to each application. This applies to both the information you include and how you present it on the page. Before you start writing, then, read the job requirements carefully and prioritize:
Any specific information the job specification asks for.
Relevant skills and experience (e.g., for a research position, your research interests and experience should come before your teaching experience).
Any significant accomplishments that will make your application stand out (e.g., an important award or scholarship).
It can help to keep a master copy of your CV that lists all your positions, achievements and skills. Then, for each application, you can review it to emphasize the most relevant details and cut anything that isn't important.
Find this useful?
Subscribe to our newsletter and get writing tips from our editors straight to your inbox.
3. Make Your CV Easy to Read
A good CV is easy to read. To make sure yours meets this requirement:
Use a clear and concise writing style.
Break your CV down into distinct sections with subheadings.
Avoid long blocks of text and think about how to present information so that it is easy to skim read (e.g., use bullet points).
Where applicable (e.g., education and work history), list positions, publications, etc., in reverse chronological order so that the most recent (and therefore most relevant) information comes first.
Keep the overall length in mind, too. Academic CVs are usually longer than a standard resume, but they should still be within the 3–5 page ballpark. If yours is longer, try to can cut some of the less relevant information or look at whether there are parts of your CV you could make more succinct.
4. Format Your CV
To make a good first impression, you'll want your CV to look professional. And this comes down to formatting. Helpful tips on this count include:
Use a simple typeface (e.g., Arial or Times New Roman).
Make sure the fonts are large enough to be easy to read (e.g., 10–12pt).
Leave white space so the text doesn't look too cramped on the page.
Use italics and bold formatting sparingly to draw attention to key details.
Make sure all dates can be read at a glance (e.g., by right-aligning them on the page so they're separate from other text).
Apply all formatting consistently throughout your CV.
If in doubt, the best option is to keep it simple. Flashy images and graphics might seem eye-catching, but unless they're relevant to the role they're more likely to be a distraction than anything else!
5. Academic CV Proofreading
Attention to detail is vital in academia, so make sure to proofread your CV before you submit it. Or, even better, have an expert proofreader check your academic CV for errors. If you'd like to see how we can help, for instance, why not submit a free sample document for proofreading today?
More Writing Tips?
If you're a writer, then you know the hard work and research it takes to...
Trusted by thousands of leading
institutions and businesses