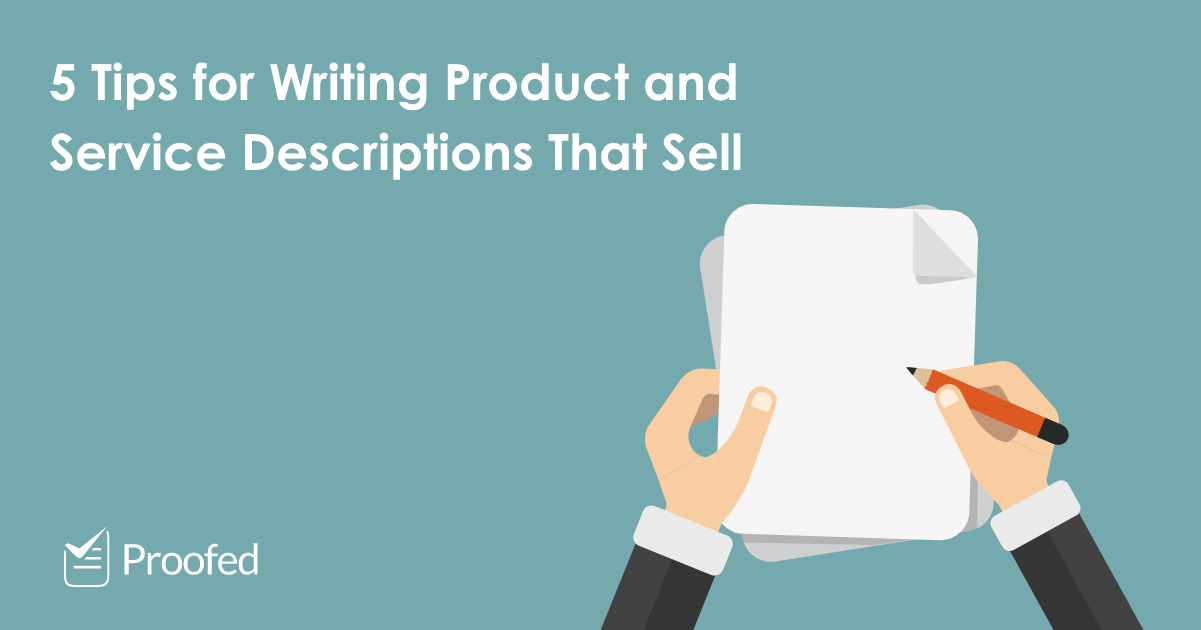 5 Tips for Writing Product and Service Descriptions That Sell
Every business needs a competitive edge. And one way to do this is with high-quality sales copy. But what goes into good product and service descriptions? We have five top tips to help boost sales:
Know your audience and target your copy accordingly.
Use bullet points and subheadings to make text easy to skim read.
Explain how the product or service will benefit the reader.
Develop an SEO strategy and include keywords in your copy.
Proofread all sales copy carefully to make sure it's clear and error free.
For more on all the above, check out our detailed advice below.
1. Know Your Target Customers
All sales copy should be written for a target customer. As such, the first step in writing a strong product or service description is to think about:
Who your target customer is (e.g., age, demographics, budget)
How your product or service will address a problem they have
Their level of know-how (e.g., will they understand technical jargon?)
The kind of language they use and what they search for online
Once you have a sense of who you're addressing, tailor your copy to match.
2. Make Your Product Descriptions Easy to Skim
Big blocks of wordy text are hard to read and may put customers off. To make your product and service descriptions accessible, then, focus on writing for skim readers. This means you need to:
Write clearly and concisely, avoiding unnecessary jargon and repetition
Use bullet points to present key details of the product or service
Break up longer descriptions into short sections with clear subheadings
Focus on the most important features for your target customer and not overwhelming them by providing too much information at once
Make sure to leave plenty of white space when the copy goes online, too.
3. Focus on Features and Benefits
Think in terms of features and benefits when planning your copy:
Find this useful?
Subscribe to our newsletter and get writing tips from our editors straight to your inbox.
Features are qualities or functions of the product or service. For instance, features of our proofreading service include correcting typos, ensuring concision, and leaving feedback on stylistic issues.
Benefits are what your customer stands to gain via the product or service features. The benefits of correcting typos, making writing more concise, and leaving stylistic feedback, for example, are ensuring clarity and giving your copy a professional, authoritative tone.
If you can translate each key feature of your product or service into the benefit it will provide, your sales copy will be much more compelling.
4. Optimize for SEO and Include Keywords
If you're writing online sales copy, search engine optimization (SEO) is essential. This means tweaking copy so it includes the terms and phrases people search for most often online. This involves two key steps:
Step One – Identify keywords related to your product or service. For this, you'll need a keyword planning tool, such as Google AdWords, which will show you how often specific terms are searched for and suggest related keywords. Keep the language your target customers use in mind.
Step Two – Work a handful of keywords into your copy, including in headings and subheadings. Use a keyword density checker, such as SEOQuake, to make sure you've used a good number of keywords.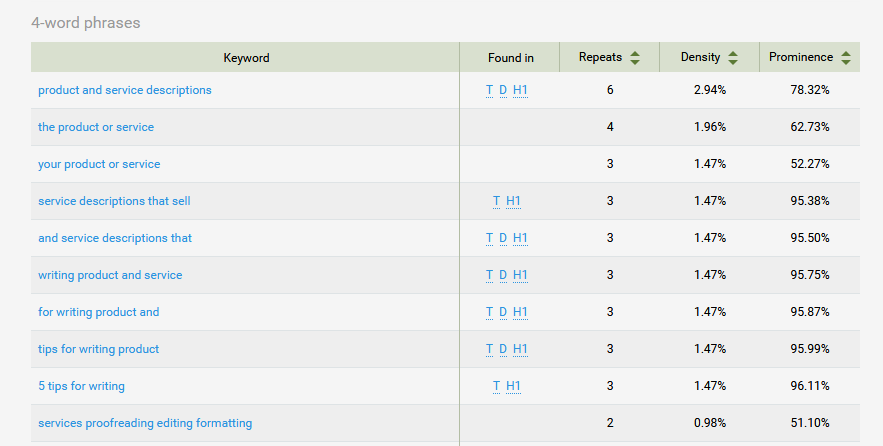 Make sure to work keywords into your product and service descriptions naturally, though. Good copy should always read smoothly, so forcing keywords into places where they don't fit could be counterproductive.
5. Proofread Product and Sales Descriptions
Finally, when you have a description you're happy with, don't forget to proofread! Even minor errors can look unprofessional or reduce the clarity of your copy, which reduces trust and could lose you sales.
If your business creates a lot of copy, our expert editors can help. We will check and optimize any written content your company produces, including product and service descriptions, to make sure it is perfect.
Sign up for a free proofreading trial today to find out more.
More Writing Tips?
In today's digital age, engaging and interactive presentations are a great way to capture your...
Trusted by thousands of leading
institutions and businesses