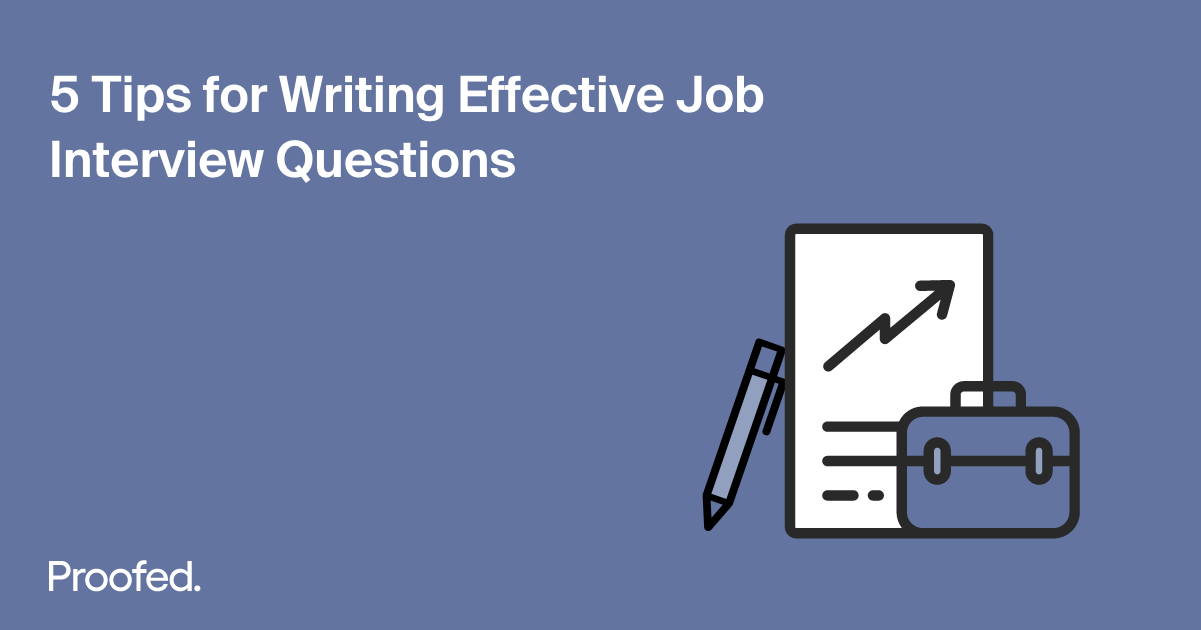 5 Tips for Writing Effective Job Interview Questions
Recruiting the best employees for your business can be difficult. Asking the right questions in an interview, though, can help you to find the right person. But how do you write effective job interview questions? We have five tips to help:
Tailor questions to the skills the role requires.
Find out why the candidate is interested in working for you.
Base questions on elements of their resume you want to know more about.
Ask questions about challenges the candidate has overcome in their work.
Find out what they expect from the job.
Find out about writing effective job interview questions with our tips below.
1. Tailor Your Interview Questions to the Role
Every interview will inevitably involve asking a few generic questions. However, if you want to find the right person for the job, think about the key skills the role requires before you start, and base some of your questions around them.
For example, a customer-facing role requires someone who is confident, empathic, and a good communicator. Tailored questions could therefore include:
How important is communication when working in a customer-oriented role?
Can you think of a problem you solved in the workplace using empathy?
How would you deal with a customer who is complaining loudly?
This will help you assess the skills the candidate claims to have on their resume.
2. Find Out Why They Want the Role
Asking a candidate why they want to work for you is a good way of tell how well they will fit in at your company. Questions might include:
What is it about our company that made you apply for this position?
How does this role fit in with your long-term career plans?
What prompted you to change from your previous field to this one?
This will help you evaluate whether someone has a genuine interest in the job, and whether they are likely to want to stay with your company in the long term.
3. Ask About their Previous Roles
Before you interview a candidate, make sure to review their resume and cover letter, then make notes about their previous roles, qualifications, or other elements of their application. For instance, you can ask job interview questions about:
Find this useful?
Subscribe to our newsletter and get writing tips from our editors straight to your inbox.
Day-to-day duties and responsibilities in past roles.
Examples of where the candidate has used key skills in their work.
The candidate's role in successes at their previous employers.
Any gaps or inconsistencies in the candidate's work history.
Reasons for leaving previous employers or roles.
If relevant, past earnings in previous positions.
These types of questions can help you root out those who exaggerate their skills or experience in their resume, as well as ensuring that you don't pass over good candidates who did not sell themselves fully in their initial application.
4. Ask Questions About Challenges Faced at Work
Candidates will focus on successes in their application materials. But it is also important to know how prospective employees will handle challenges in their work.
You may therefore want to ask a few questions about:
Challenges the candidate has faced in specific roles or their career overall.
How they overcame these challenges or learned from them.
Changes they have made to prevent problems reoccurring.
Where relevant (e.g., in a managerial role), how the candidate has resolved conflicts or disagreements between colleagues.
Questions like these can reveal how well someone will learn from mistakes, how they cope under pressure, and whether they work well as part of a team.
5. Ask What They Want from the Job
Finding out what a candidate wants or expects from the position will show you how well they understand the advertised role. Questions could include:
What kind of support would you expect from management in this role?
Our company offers various opportunities for continuing professional development. What sort of training would you be interested in?
Do you have any questions about the company or the role itself?
This will also help you assess whether their expectations are realistic.
Proofreading for Business
If you need any help with any aspect of writing for your business, our expert proofreaders are always available. Sign up for a free trial today to find out more!
More Writing Tips?
In the grammar world, positioning is everything. The wrong word in the wrong place can change the...
Trusted by thousands of leading
institutions and businesses