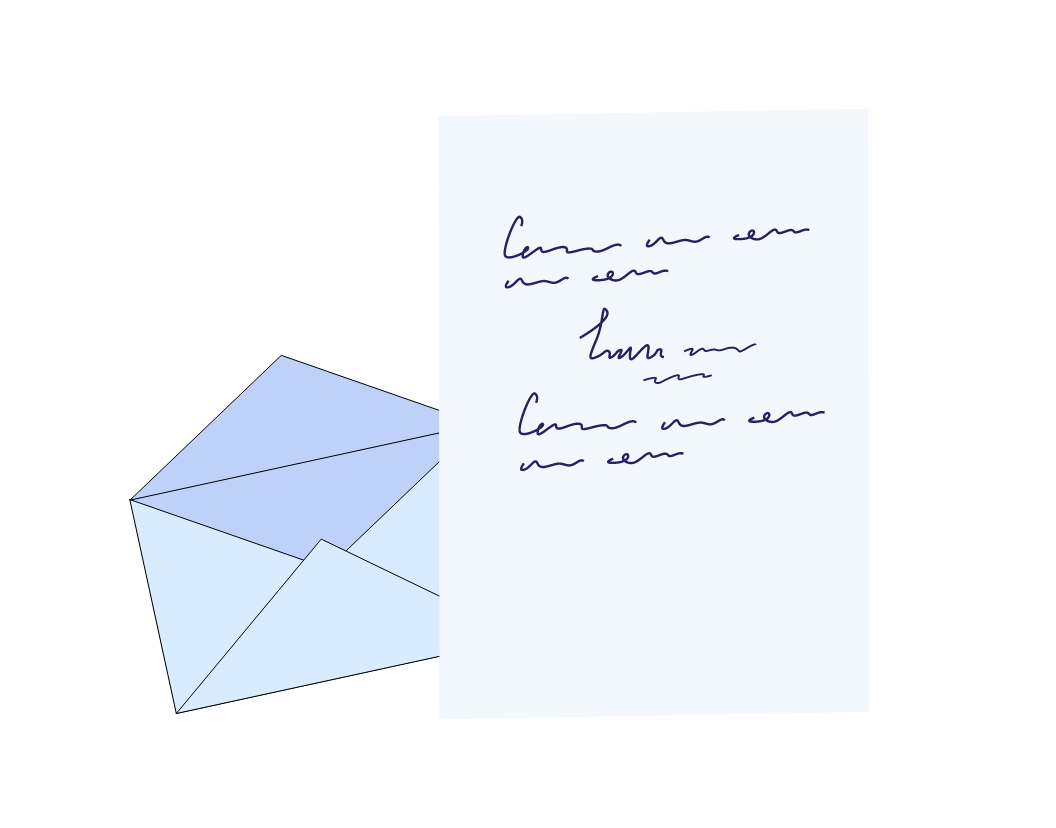 5 Tips for Writing a Handwritten Letter (World Letter Writing Day)
The 1st of September is World Letter Writing Day. This is a day aimed at inspiring people from all around the world to write a handwritten letter. In today's tech-based society, this can be a great opportunity to get back to basics and rediscover the personal touch that handwritten communication offers.
Our top five tips for writing handwritten letters are:
Practice your penmanship before you begin writing.
Find the perfect stationery.
Choose the right salutation.
Figure out what you'd like to say in your letter.
Choose the right valediction.
You can put these tips into practice by writing a letter to a friend, relative, or loved one. Find out how by checking out our guide below.
1. Practice Penmanship
These days, writing usually means texting on a phone or typing on a computer. And if it's been a while since you've handwritten anything, it will be a good idea to practice your penmanship before you begin writing your letter. That way, you can be sure you're satisfied with your writing style (and that it's legible)!
This is especially important if you plan to write in cursive, or even use calligraphy, to add some extra personality to your letter, since these can be tricky skills to master.
2. Choose Stationery
Another way to get creative with your letter is through the stationery, envelope, and ink color that you choose. There are endless paper options that you can purchase, but you can also decorate your own using dyeing or staining techniques.
Whatever stationery or ink that you choose or create, just be sure that it still allows your writing to remain clear and easy for your recipient to read.
3. Salutations
Once you're ready to start writing, it's a good idea to first note the date at the top right of your letter before moving on to the salutation (or greeting).
You'll want to find a way to begin your letter that is appropriate for your recipient. It is common to start with "Dear" followed by your recipient's name. If you're writing to a friend or loved one, you could also begin with "To my best friend" or "To my sweetheart." These are just a couple of examples.
Take the opportunity to get creative with what you choose!
Find this useful?
Subscribe to our newsletter and get writing tips from our editors straight to your inbox.
4. What to Write
Once you've determined how you'd like to greet your recipient, you'll want to figure out exactly what you'd like to say to them.
You could write a casual letter just to say hello and catch up, a letter to let them know you're thinking of them, or a letter reminiscing on experiences you've shared together. Typically, it will be a good idea to keep your letter to one or two pages, so you'll want to make sure you're staying on topic and keeping your writing concise.
If you're struggling to figure out what to write about, perhaps include a favorite quote or photo that you can use as inspiration. This is another way to make your letter more unique and personal!
5. Valedictions
After you've covered everything you want to say and wished your recipient well, you'll close your letter by signing your name after a valediction.
Some common valedictions include "Sincerely," "Love," "Warmest regards," or "Forever yours." The options are widely varied, so it will be important again to choose one that is appropriate for the recipient of your letter.
Since it is much more difficult to go back and edit a handwritten letter than a typed message, if you get to the end of your letter and realize you forgot to mention something, you can always add a postscript after you sign your name.
Expert Proofreading Services
Writing how you speak will allow the recipient of your letter to hear your true voice, but the spoken word doesn't always follow standard punctuation and grammar rules. It will still be important to proofread your letter before sending it to make sure your meaning is clear and that there are no glaring mistakes.
And for all your digital writing needs, from emails to book manuscripts, our expert editors are ready to help!
More Writing Tips?
For many students and their families, autumn officially starts once school is back in session....
Trusted by thousands of leading
institutions and businesses