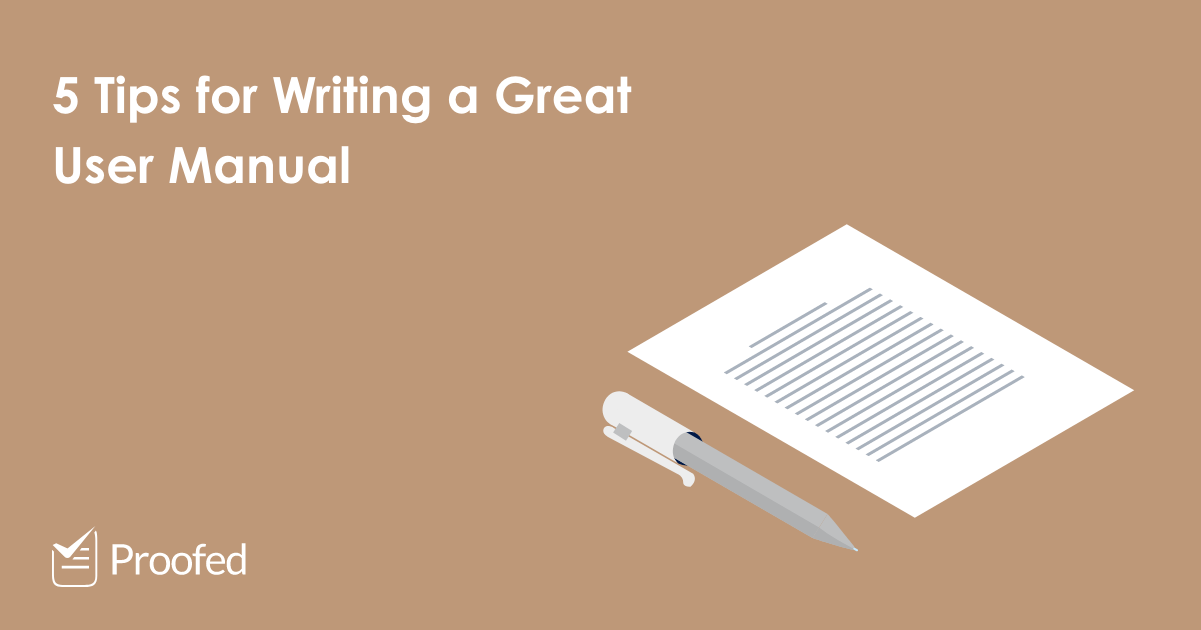 5 Tips for Writing a Great User Manual
If you have created a new product or process, a user manual should help people to use it correctly and solve problems they encounter. As such, it's important that user manuals are clear and easy to follow.
Here are five tips to help you write a user manual that works:
Use plain language rather than technical jargon.
Present information so that it's easy to navigate.
Break complex processes down into step-by-step instructions.
Use illustrations and visuals to help the user follow the text.
Get your user manual proofread to make sure it is error free.
For more detail on all the tips above, check out the guide below.
1. Use Plain Language
All good user manuals are easy to read. And while technical jargon is fine if you know the reader will understand it, this isn't always the case. As such, you need to explain it in a way that every user will be able to follow.
This doesn't mean you should patronize users and explain every tiny detail. But it does mean you should think about who will be reading your manual and how you can make it accessible by using simple language.
One tip here is to get a test reader, someone unfamiliar with the product or process, to try following your manual. If they have questions about terminology, you can then make notes and redraft your manual accordingly.
2. Make It Easy to Navigate
User manuals should be laid out in a way that makes it easy for readers to find the information they are looking for. Label the pages with page numbers and use clear and logical headings and subheadings.
If your user manual is long, add a table of contents at the beginning of the document. It should include all the main headings and subheadings. You might also want to use color-coding to organize the information. And if your user manual is electronic, you could make it searchable.
In addition, to make the user manual more readable, use a clear and simple font, and make sure to leave plenty of white space around the text.
3. Give Step-by-Step Instructions
It's wise to break down written instructions into simple steps. Avoid long paragraphs or blocks of text, as these can be difficult for readers to follow.
Instead, break down the process you're describing into short, step-by-step instructions. For a simple process, this might be a series of short bullet points, each covering one clear instruction.
Find this useful?
Subscribe to our newsletter and get writing tips from our editors straight to your inbox.
Alternatively, you can break longer processes down into a series of headings (e.g., "Step 1: Installation," "Step 2: Preparing for First Use"), then break down what the user needs to do in each step into shorter instructions.
In either case, good instructions will:
Lay out each step in a clear, logical order.
Use precise language to say what each step is for.
Clearly label any parts or tools required.
Explain the expected result of actions as well as what to do (e.g., rather than just "Hold the reset button," you should say "Hold the reset button until the red light flashes" so the user knows what to look for).
Combined with the clear, simple language mentioned above, this should make your instructions easy to follow even for inexperienced users.
4. Use Visuals
Adding photos or diagrams to a user manual can make instructions easier for readers to follow. If you're writing an electronic manual, you could even include videos to demonstrate the steps readers have to take.
When using visuals alongside instructions, though, make sure to:
Use a clear image and/or a simple design to minimize ambiguity.
Indicate the direction of motion if required (e.g., if an instruction says to insert one component into another, you could add an arrow to the accompanying image to show the correct method).
Clearly label images so users can connect them with accompanying text.
Use high-quality images that won't look fuzzy on screen or in print.
Strong visuals will result in a much more user-friendly manual.
5. Have Your User Manual Proofread
Errors in a user manual can cause serious problems and lead to significant costs. As such, you should always proofread manuals to make sure the information is correct and the text is clear.
As above, it pays to have a "test user" to read your manual for clarity, and you will want someone with technical knowledge to check it for accuracy. But it's also a good idea to have a professional proofreader check the final draft, as they are trained to spot errors that other people miss.
Proofed can help with that last step. To see how our expert proofreading services work, then, why not try submit a free sample document today?
More Writing Tips?
When it comes to written content, perfection is the goal. Whether it's a crucial business...
Trusted by thousands of leading
institutions and businesses