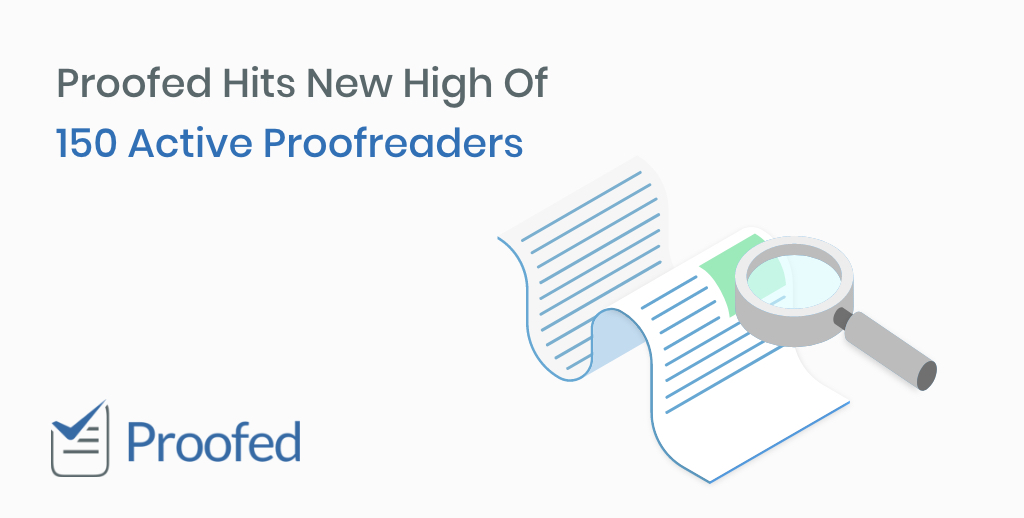 Proofed Hits New High Of 150 Active Proofreaders
Team credits boost to Proofreading Academy course.
Proofed now has more than 150 active freelance proofreaders. This is a new high for the company, partly due to the success of the Proofreading Academy training program.
Our freelance proofreaders are among the best editors around. From poetry to press releases, we've helped thousands of people around the world to perfect their writing. And to keep up with this demand, we're always looking to recruit new talent.
Currently, we have more than 150 freelance proofreaders on our team. And as well as boasting valuable academic and professional experience, all our proofreaders are graduates of Proofreading Academy. This is a comprehensive course for budding editors and all Proofed freelancers are trained to a high standard. The training program also means we offer great consistency in our editing and proofreading, no matter which freelancer is checking your document, so you can always rely on getting great results with Proofed.
Find it useful?
Subscribe to our newsletter and get tips from our team straight to your inbox.
Jude Irwin, Proofed's Head of Freelance Editor Management, is excited to welcome more new editors to the company. "It's great that our team is growing. We do everything we can to support our freelancers and we get great feedback from them."
Recent graduate, Alexander Jones, is equally excited to be part of the team. "I studied history at the University of Leeds and I've always been passionate about language. The Proofreading Academy course was very informative, too, so I felt ready to set to work once I'd finished it. And working with Proofed has been very rewarding. I love getting to work on so many different document types. And being a freelancer offers great freedom to work when I want, so I can combine proofreading with my passion for traveling."
We're always looking for new recruits, too, so get in touch at hr@getproofed.com to find out more about working as a freelancer with Proofed.
More Press Releases?
Proofed is delighted and humbled to announce that it has been featured on the 2022...

Top 50 list announced at June 22nd Inspire Work Summit. We're officially one of the...

We might be experts in the written word, but Proofed is now expanding into the...

We are delighted to announce that Proofed has been selected as a finalist in the...

Proofed welcomes four new specialists to help support editors. Proofed is delighted to welcome four...
Trusted by thousands of leading
institutions and businesses