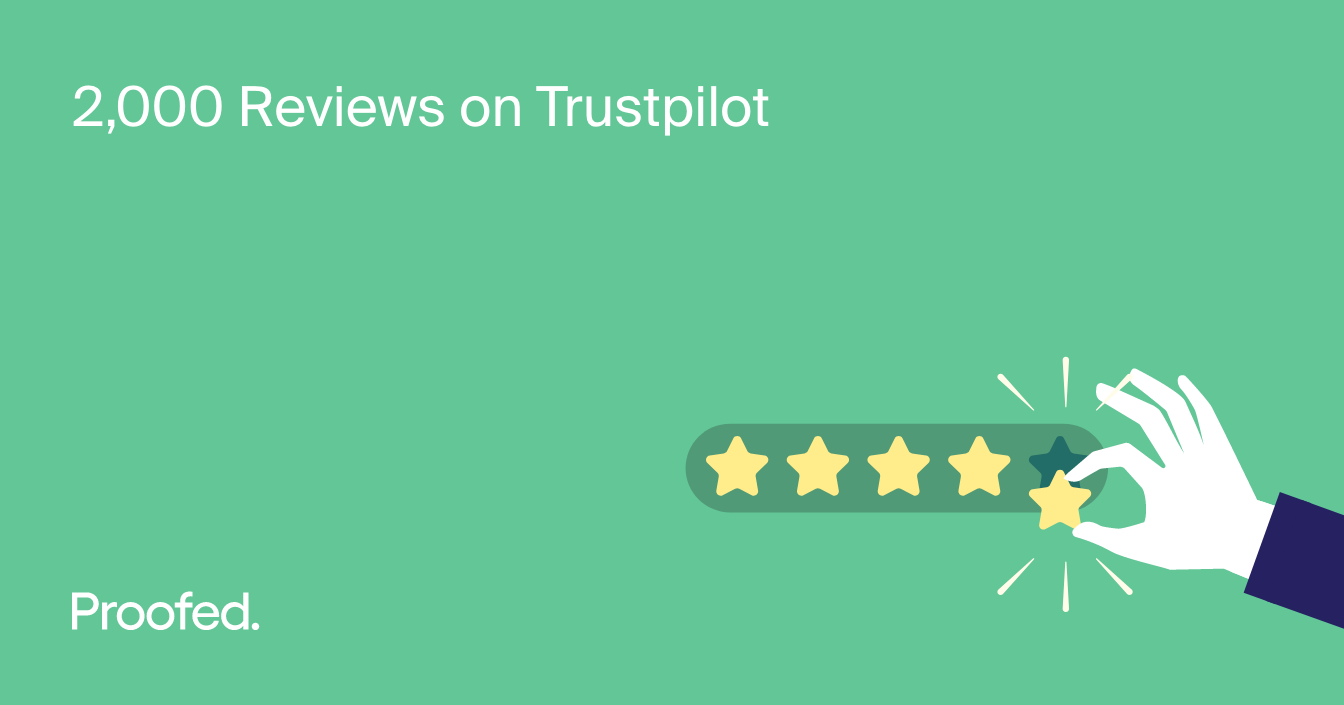 Proofed Hits 2,000 Reviews on Trustpilot!
Company uses feedback to further improve services.
Any good proofreader knows the value of feedback (and offering feedback on writing is a key element of the editing and proofreading process). That's why, at Proofed, we also invite our customers to offer feedback, in particular via our TrustPilot profiles, through which we've received over 2,000 reviews across our US, UK, and Australian websites.
We're very proud of the average Excellent rating we've received from our customers on Trustpilot, especially the comments describing our services as "thorough," "precise," and "incredibly fast." It is very humbling to know that you value our services so much! And we'd like to extend a massive thank you to everyone who has left a review on Trustpilot so far.
In fact, if we could, we'd happily leave you a five-star review ourselves!
In addition, while we are always pleased to receive positive feedback, we also want to know when our customers have had a less-than-perfect experience with Proofed. This is so we can use feedback to improve our services further, which is something we always aim to do.
For example, some customers asked for a feature where they could request a specific editor. So, after seeing this in the feedback we received, we added an Editor Profile page to our sites. Now, customers can learn more about the proofreader or editor they're working with. And if they need a proofreader with specific skills or experience, they can request a freelancer to suit.
Find this useful?
Subscribe to our newsletter and get writing tips from our editors straight to your inbox.
Likewise, while broadly positive, some of our earliest reviews received for proofreading grant proposals noted issues specific to the document type that our freelancers had missed. To make sure this didn't happen again, we recruited experts who specialize in preparing grant proposals to handle such requests and share their knowledge with our other editors.
We also had feedback from customers who appreciated our proofreading but found the website difficult to use with certain document types. And since we want proofreading to be a stress-free process, we updated our platform to allow people to upload even more formats.
This is because our priority at Proofed isn't getting good reviews (although that is nice). Rather, it's providing the best services possible for our customers. And all of the feedback we receive, positive and negative, helps us to enhance our services and grow as a company.
As Adam Harvey, CEO of Proofed, notes, "It's exciting to see so many positive reviews. We are very appreciative of all the positive feedback, but, equally, we use all the feedback we get to improve on our services and offer the best experience we can for customers."If you'd like to get in touch with our team and offer any feedback (or ask any questions), reach out today! And if you haven't yet tried Proofed, why not give our services a go for free?
More Press Releases?
AI-generated content is here and it's revolutionizing content production. But getting that content reviewed and...
Trusted by thousands of leading
institutions and businesses