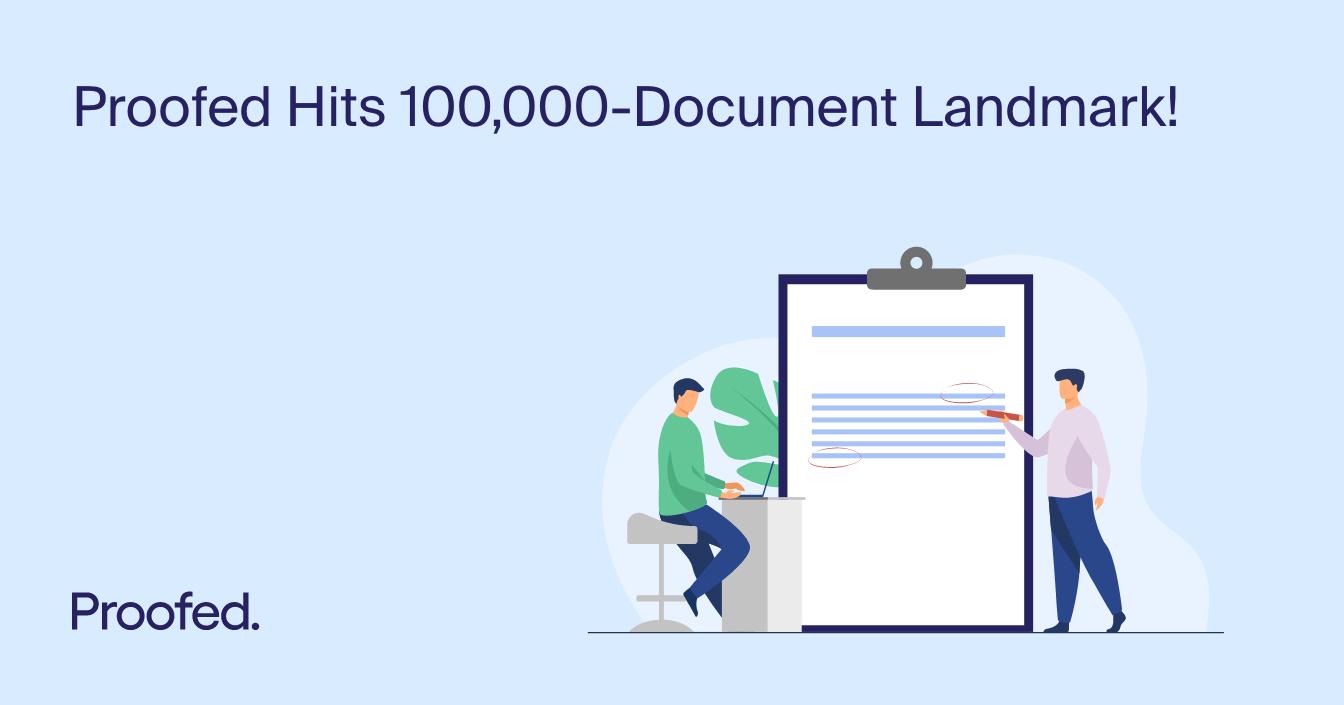 Proofed Hits 100,000-Document Landmark!
Increased demand is met by Proofed's growing team of expert editors.
We've been busy! In fact, we've been so busy that we've now proofread more than 100,000 documents from customers around the world. With the growing demand, we expect to have edited 250,000 documents before too long.
We proofread a range of documents, from academic essays to poems and novels. But there's been a marked increase in demand for business documents, as many companies are looking for help with their content production processes. When you need a steady stream of consistent, exceptional content, this makes perfect sense.
Businesses trying to handle all their content production in-house can face severe bottlenecks, especially during busy periods or when staff or resources are short. There's a simple solution to this—outsource your editing and proofreading to our experts!
We've helped companies in dozens of industries, including financial firms, marketing agencies, and legal service providers, meet their goals by reviewing and refining their content to match their in-house standards and stylistic guidelines, ensuring that documents are ready on time and at optimum quality. This also means that editorial staff within companies have more time to create content.
Find it useful?
Subscribe to our newsletter and get tips from our team straight to your inbox.
In response to the increased interest from business customers, our CEO and co-founder Adam Harvey says, "We're excited to see growing demand from businesses! It's been great working so closely with our business customers, and we're looking forward to working with many more amazing business teams. It's also great to see our editors perform so well and help us cross the 100,000-document mark. But we're always ambitious to take on more! We're working to grow our team to keep up with demand, and we're always looking for new ways to ensure our editors have the best possible environment to deliver excellent work at speed."
To learn more about our customized services for business customers, visit our business page.
More Press Releases?
Proofed has made it to the finals of the Talent Acquisition Awards in two categories....

Proofed is delighted and humbled to announce that it has been featured on the 2022...

Top 50 list announced at June 22nd Inspire Work Summit. We're officially one of the...

We might be experts in the written word, but Proofed is now expanding into the...

We are delighted to announce that Proofed has been selected as a finalist in the...
Trusted by thousands of leading
institutions and businesses