Website copy is often used interchangeably with content in general, but they're not the same thing. If you're using digital marketing as a part of your business strategy, knowing the difference between the two can have a significant impact on your revenue, customers, and brand. Content can be anything displayed or written for education or entertainment purposes, but website copywriting has a more specific purpose.
Website copy is the specific language used on a site's home page, landing pages, blog posts, guides, and other on-page text. The most important thing to remember when creating great website copy is the purpose: to persuade readers to act. This can be to buy, click, subscribe, share, or comment.
This guide will show you how to write great copy for your website and give you effective strategies for creating web copy that drives revenue.
Tips for Writing Great Website Copy
 Here are four tips for world-class web copy:
Keep it simple and concise.

Use persuasive language.

Utilize SEO in your copy.

Make it visually appealing.
1. Keep It Simple and Concise
There's beauty in simplicity when it comes to web copy. Short, easy-to-follow information will engage readers. The average time users spend per individual page on a website across all industries is 54 seconds. That doesn't give you much time to make an impact. 
Your readers are there to find an answer to a pressing question. Your goal is to make it as simple as possible for them to find it. 
Being concise is always better. Avoid lengthy paragraphs with superfluous descriptions. Sentences should be short and direct.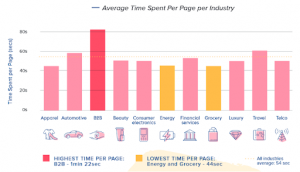 To keep your language simple, avoid jargon and technical terms. If your average target customer needs to look up terms or reach out to industry experts to understand your copy, it's too complicated. This can vary by industry. Highly technical fields like healthcare, biochemistry, or computer science may require some usage of technical language that's relevant to the copy.
Use the Active Voice
Be sure to use the active voice. This will automatically simplify and shorten your language. Here's a good example:
Active:

We buy houses.
Passive:

Houses are bought by us.
Not only is the active example shorter, but it's also easier to read and understand. Don't make things more complicated than they need to be. 
Remember, the goal of web copy is to persuade the reader to act. Every word counts.
2. Use Persuasive Language
Choosing what words to use when crafting web copy plays a large role in how persuasive and inspiring your copy is. Action words appeal to readers because they create urgency, evoke emotion, and inspire them to act.
Action Words
Join, discover, hurry, learn, jumpstart, transform, disrupt, eliminate, and become are just some of the action words that are at your disposal. Different action words cause different emotions, so be sure to know what feelings you want to elicit in the reader when creating your copy. Try to avoid clichés, or the only action you'll inspire the reader to do is exit.
Call to Action
Action words should be used logically throughout the copy, but a specific call to action (CTA) should be carefully placed. This is the part where you invite the reader to act. Here are some examples of CTAs:
Get started now!

Try it for free!

Join the movement

Learn more

Get it now

Give us a try

Read more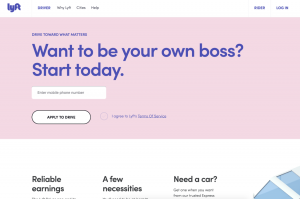 If you've written your copy well, your audience will be inspired to take the next step. That next step is your CTA. 
Social Proof
Social proof is full of examples where readers connected emotionally with a brand or service.
Social proof includes:
Testimonials

Photos and video reviews

Followers on social media

Expert recommendations
Readers want to belong, and social proof validates that others have used your product or service. When they read the social proof articles, they feel that they are part of a larger group who have had similar experiences. Eighty-eight percent of consumers trust user reviews just as much as personal recommendations.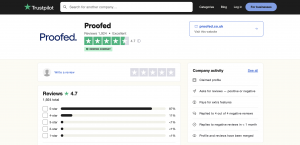 After you've chosen the most effective words, elicited the right emotions, and crafted a catchy CTA, how do you make sure that it all ties together? 
Your brand will suffer if you have errors or inconsistencies in your messaging. One way to protect the investment of your time and creativity is to ensure that the finished product is effective.
Proofreading and Editing
Professional proofreading and editing polish the copy and check that all the pieces flow and are consistent. If the message isn't clear, the copy won't be effective. We are our own worst enemies when it comes to editing our own work.
When you only have seconds to make an impression, anything that detracts from your message is costly. Errors in the copy can project an image of unprofessionalism and may cause irreparable damage to your brand.
At Proofed, we understand the value of persuasive and polished website copy. We've worked with Fortune 500 companies and explosive start-ups to help them craft professional, effective copy. Click here to learn more.
3. Utilize SEO In Your Copy
Search engine optimization (SEO) takes website copy to another level. Your business can't make an impact online if it doesn't rank well in the search results. People need to be able to find you. That's where implementing SEO comes in.
Target Keywords
Using target keywords allows you to connect with your intended audience. These are the people that have problems that you can solve. A keyword is a word or phrase that describes your product or service. Think of what problems your business solves, and you'll be headed in the right direction.
Once you have your target keywords, you'll need to use Google Keyword Planner, and then finetune it with Google Trends. This will help you compile a precise list of keywords that people are searching for that are relevant to your business.
Keywords are also useful in crafting an outline for content. Knowing what your audience is searching for gives you the framework to build your web copy around.
Meta Tags and Descriptions
Once you have your target keywords, you can improve SEO on a more granular level by optimizing meta tags and descriptions. Meta tags are bits of text that describe a page's content. You don't see them in the language on your actual website, but you can find them in the HTML code.
Meta descriptions summarize a webpage's content. You can find them on the search engine results page (SERP) directly beneath the clickable title tag.

The meta description is an opportunity to show a searcher what information they will most likely find helpful on the page. They have an indirect impact on search rankings.
For more on boosting your SEO, check out this article.
4. Make It Visually Appealing
Once a searcher clicks on your page's link in the search results, the first thing they'll notice is the aesthetics. The font, layout, ads, and visual media will all contribute to the first impression.
Photos and videos are some of the simplest ways to catch the attention of a reader. Just like the language, choose photos that are relevant and elicit an emotional connection with your target customer. When it comes to local searches, 60 percent of consumers are more likely to consider search results that include images.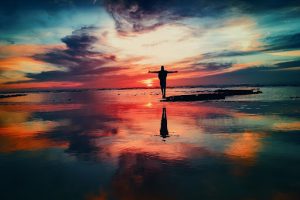 Headlines need to be eye-catching and relevant. If your headline doesn't match the content following it, you could lose credibility. Keep headlines short and don't overuse them. Whitespace also makes an impact on the readability of your copy. The use of whitespace invites the reader to focus on sections of the text without overwhelming them.
Consistency is key when it comes to design. Every page of the site should have a similar design. It's okay to be creative, but you don't want to disrupt the flow with an abrupt change in the layout. The design should follow a logical path to make it easy for the reader to find the information they're looking for.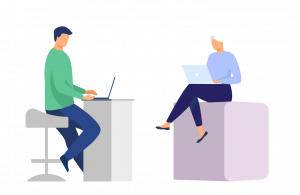 Strategies for Creating Great Website Copy
Beyond writing the web copy, it's important to have strategies in place to customize your content to your target audience and to stand out from your competitors.
Here are four strategies to create compelling web copy:
Conduct competitor research.

Define your target audience.

Create a content calendar.

Continuously review and improve.
1. Conduct Competitor Research
Researching the top businesses in your field is a good starting point when deciding how to structure your copy. Chances are they're at the top because they've prioritized their website copy. Here are some factors that you'll want to evaluate:
How do they use keywords throughout their copy? 

How is their website designed?

What problems are they solving?

Is it clear and concise?

What kind of social proof is presented?

How do they incorporate their CTAs?

What types of media do they use?

Who is their target audience?
Pay close attention to what seems to work and what doesn't. Chances are you're a first-time visitor to their site. Ask yourself what you thought was most appealing. If one of your customers were to visit their site, would they find it useful? Would their content answer your customer's most common questions?
This research also provides you with the chance to pinpoint what they don't address or cover within their copy. If you want to stand out against your competitors, discover how to fill in the gaps and improve on their content.
2. Define Your Target Audience
Your copy should be molded to fit your target audience. Before you can create copy that caters to that audience, you'll need to know who you're targeting. Companies waste $37 billion every year on content that fails to engage a target audience.
How do you find your target audience?
Analyze your current customer base.

Look at who your competitors are targeting.

Evaluate the trends within your industry.

Conduct surveys.
Once you compile the data from your research, you'll be able to clearly define what your target audience looks like. Don't forget to consider why you provide the service or product that you do. Be sure to reevaluate your audience as your business grows or changes.
Tailor your language and messaging to your target audience. Your copy won't appeal to everyone, but your product or service doesn't either. Be sure to provide your audience with consistent content on a regular schedule.
3. Create a Content Calendar
To stay consistent with your marketing efforts, you need to be organized. A content calendar is a schedule that outlines when you plan on publishing content. You should know weeks or months in advance what content you will be publishing. A plan will help you to streamline all your marketing efforts, and it will also help keep your team up to speed and on schedule.
The calendar should include blog articles, social media posts, email newsletters, podcasts, and whatever other medium you use. Note the date you plan to publish, the author or creator, and any deadlines. Don't forget to incorporate proofreading and editing into the plan.
Here are seven simple steps to generate a constant stream of blog ideas.
Tracking your content's performance is an important part of the content process. Some of the metrics that you want to pay attention to are:
Clickthrough rates

Time on page

Conversions

Web traffic

Pageviews

Shares

Downloads
You can use software such as Google Analytics or Semrush to track performance. Based on the analytics, you'll have a better idea of what kind of content works best with your target audience. It's also important to repurpose and update content as you find out what achieves better outcomes for your business.
4. Continuously Review and Improve
The content scape is evolving every day, and it requires continuous review. Improvements will help keep content relevant. Using A/B testing will also help you determine what web copy works and what doesn't. There's no one-size-fits-all version, and there are vast differences between industries.
Using analytics to track performance will point out any spots that need further improvement.
Adding a content audit to your process and calendar will provide immense value as you scale your efforts. Quarterly or even monthly audits may be necessary if you're producing material at lightning speed.
Summary
Great website copy is an important part of getting marketing right. You can't afford to sit on the sidelines and watch as companies that embrace quality web copy experience explosive growth. Web copy has morphed from static information to dynamic engagement. Every headline and CTA must be strategically worded to find success.
Through careful attention and analysis, you can crack the code to win over your target audience and provide them with the answers that they seek. Try these tips and strategies on your website and watch how your web copy enhances engagement and increases traffic.
Need help proofreading and editing your website copy? Check out Proofed's website proofreading and editing service for businesses!