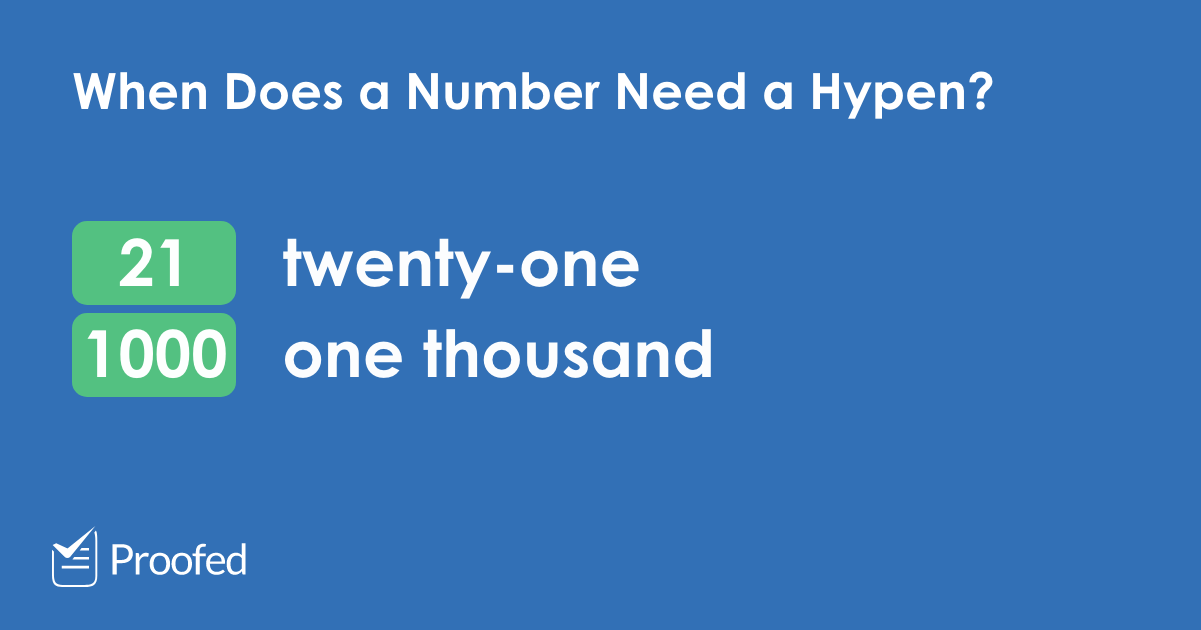 When to Hyphenate Numbers
We've written about hyphens and numbers before, but here we're combining the two. Why? Because it isn't always clear when a number needs a hyphen. However, the two main occasions to hyphenate numbers are:
When writing out compound numbers as words.
When using a number as part of an adjective.
Read on to find out when to hyphenate numbers in your writing.
Compound Numbers (21–99)
Always hyphenate the numbers 21 to 99 when writing them out as words:
I have twenty-one pairs of novelty socks.
My grandma is sixty-seven years old.
I have ninety-nine problems, but none involve a female dog.
Do the same when writing an ordinal version of one of these numbers:
My forty-first birthday was the best day ever.
And when writing a larger number that contains one of these numbers:
I ate one hundred and twenty-two burgers in 2019.
Around twenty-four million people eat fast food every day.
Where applicable, you can also omit the "and" when writing out larger numbers if preferred:
I ate one hundred twenty-two burgers in 2019.
However, it's only 21 to 99 that we hyphenate in these large numbers. Larger round numbers, such as "one hundred," do not require a hyphen.
Compound Adjectives
Always hyphenate adjectives that include a number when they appear in front of the noun they're modifying. This applies to both words and numerals:
A six-foot ladder will be tall enough.
Find this useful?
Subscribe to our newsletter and get writing tips from our editors straight to your inbox.
We study seventeenth-century manuscripts.
I will send a 40-page document later today.
The 7-year-old boy lost his whistle.
However, these numbers don't need a hyphen when they occur elsewhere:
The ladder is six feet tall.
The document comprises 40 pages.
Keep in mind, too, that some style guides suggest omitting the hyphen when a unit of measurement is abbreviated. For example, if you were using the Chicago Manual of Style, you would hyphenate an adjectival measurement when writing the unit out in full, but not when abbreviating it:
A six-foot ladder will be tall enough.
A 6 ft. ladder will be tall enough.
The same rules apply when writing out fractions. As a result, we hyphenate them when they're used adjectivally in front of a noun, but not in other cases:
A two-third majority voted for the new laws.
He ate two thirds of the cake.
This same convention applies to other compound adjectives, too.
Summary: When to Hyphenate Numbers
Rules can vary on when to hyphenate numbers, so it is always worth checking your style sheet if you or your employer has one (or if you have been asked to use a standard style guide, like APA or Chicago). However, there are two occasions when it is standard to hyphenate a number:
When writing out 21 to 99 as words (e.g., twenty-one, ninety-nine).
When a number is part of an adjective (e.g., a seven-year-old boy).
And if you'd like an expert editor to check you've used numbers correctly in writing, why not submit a document for proofreading today? We'll help you achieve perfect punctuation every time!
More Writing Tips?
Whether you've heard of superlatives or not, you probably use them all the time without...
Trusted by thousands of leading
institutions and businesses