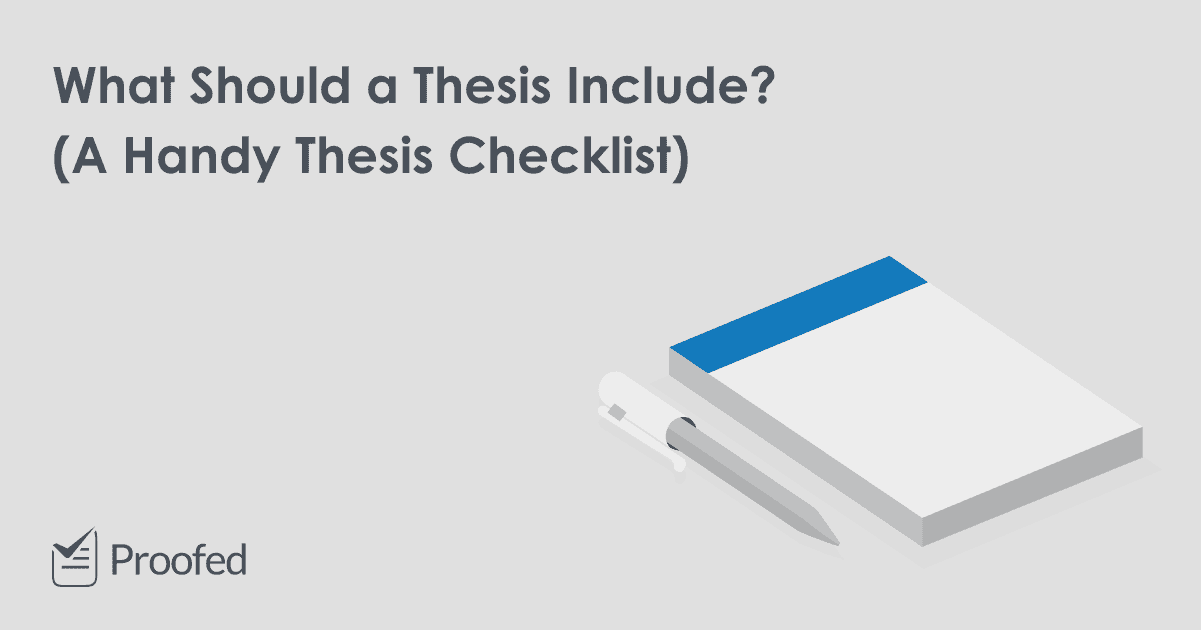 What Should a Thesis Include? (A Handy Thesis Checklist)
What to put in a thesis or dissertation depends on the subject. After all, there's a big difference between analyzing seventeenth-century literature and conducting a scientific experiment!
However, there are some common features shared by most theses. Use this thesis checklist to make sure you have all the bases covered in your work.
The Basics of a Thesis
No matter what you're studying, your thesis should include:
Cover page – A page with key information about your thesis (e.g., title, your name, the date of submission). Your university might have a template cover page, so make sure to check.
Abstract – A brief summary of your main arguments. This can include predictions, methods, results and recommendations, but focus on key details. Ideally, it will be no more than 500 words.
List of contents – A contents page. You may also want to include lists of images, tables or equations used in your work. Microsoft Word makes it simple to add lists based on heading and caption text.
Introduction – A short section outlining the background, aims and objectives of your research. If you're conducting an experiment, the hypotheses should go here as well.
Main text – This will usually be spread out over several sections or chapters, covering the complete details of your research. What this involves will depend on your project, but there is a standard structure for experimental work (see below for more information).
Conclusion and recommendations – The conclusion is where you summarize your findings and explain how they are related to your predictions. You may also need to make recommendations for further research or applications of your results.
References – A complete list of all sources cited in your work.
If you're missing any of these when you come to hand your work in, make sure to ask your supervisor in case you've overlooked something.
Experimental Work
If you're reporting on an experiment, your thesis should also include:
Find this useful?
Subscribe to our newsletter and get writing tips from our editors straight to your inbox.
Literature review – All theses should engage with past research, but experimental studies usually include a section dedicated to setting out studies and theories you've drawn upon.
Methodology – Whether you've conducted a sociological survey or a medical laboratory test, you need to explain your methods. This includes both the techniques used and your reasons for picking them.
Results, Discussion and Analysis – For any experimental study, you must report your results. You should also discuss and analyze their significance. Depending on your university, the results, discussion and analysis may be presented in separate sections, so check your style guide if you have one.
Appendices – You don't have to use an appendix (or appendices). But most studies will have extra information (e.g., complete test results, questionnaire transcripts) that doesn't fit in the main body of your thesis. Adding this to appendices at the end of your document is a good idea.
Of course, every thesis is a little bit different, but as long as you include most of the above somewhere in your work, you're on the right track!
Expert Thesis Proofreading
One last thing! Before submitting your thesis, you'll want to have it proofread. This will ensure your writing is all easy to read and typo free, helping you win valuable extra marks for your research.
And if you'd like to find out how our expert academic proofreaders could help you, why not submit a free trial document today to find out?
More Writing Tips?
In today's digital age, engaging and interactive presentations are a great way to capture your...
Trusted by thousands of leading
institutions and businesses