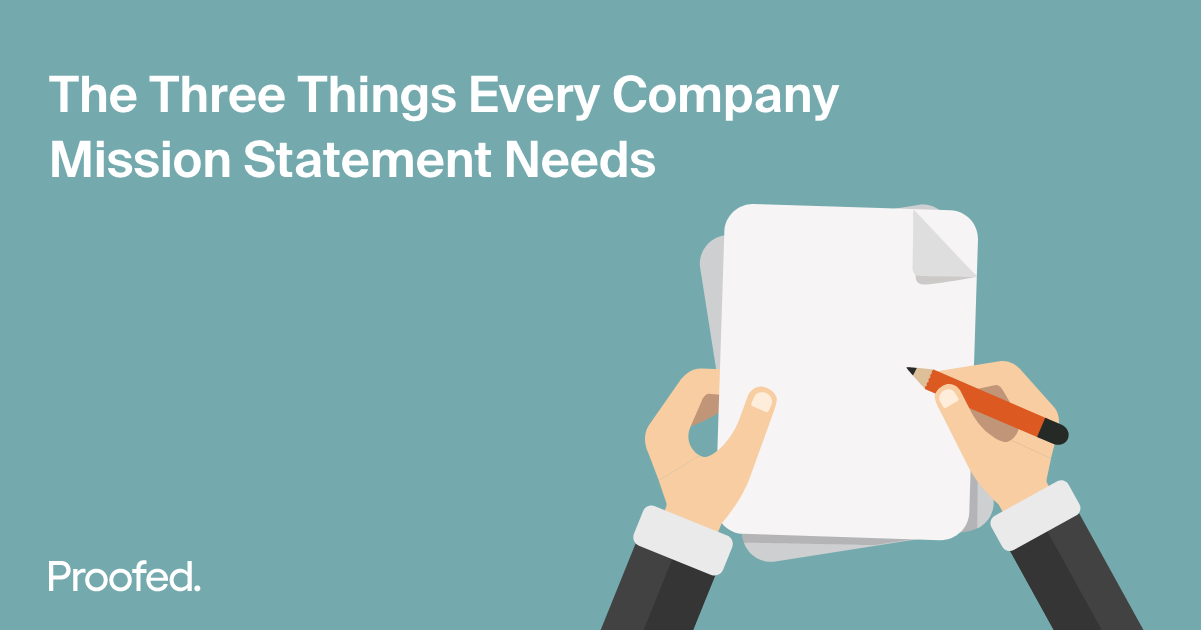 How to Write a Great Company Mission Statement
Many businesses and organisations use a "mission statement." Aimed at both the public and employees, these statements set out why a company exists and what it stands for. But how should you write a mission statement for your company?
The answer will depend on factors such as your brand voice and industry. But there are three things every company mission statement should include:
What your company does. What goods or services do you provide?
The values your company operates with. How do you operate?
Your business' motivation. Why do you do what you do?
Below, we will look at each of these in more detail.
1. What Does Your Company Do?
To start your mission statement, come up with a simple explanation of what your company does (e.g., the products or services you provide).
Focus on the core details here so there is no doubt about what you do:
Lenny's Cravats' purpose is to sell clothing.
Team Tow Truck's purpose is to provide breakdown support.
This will ensure readers immediately know what your company does.
2. How Does Your Company Operate?
Here, you are not describing how you operate on a day-to-day basis, but what values guide the company and its operations. Thus the next step is to think about your company's core values. These might include a commitment to sustainability, quality produce, continued innovation, or excellent customer service.
When you have one or two core values you want to highlight, work them into your mission statement. To build on the examples above, for instance, we could say:
Lenny's Cravats' purpose is to sell high-quality, sustainable clothing.
Find this useful?
Subscribe to our newsletter and get writing tips from our editors straight to your inbox.
Team Tow Truck's purpose is to provide breakdown support with customer service that is second to none.
Ideally, these values should also reflect what your target customers value. If your customers care about the environment, for instance, they may be more interested in your company if they know that you value sustainability.
3. What Is Your Company's Motivation?
You should also explain what drives your company. Why do you do what you do? It might be that you have always wanted to change the way people buy a certain product, or you might want to take the stress out of using a particular service:
Lenny's Cravats' purpose is to sell high-quality, sustainable clothing so that buying great clothes needn't cost the Earth.
Team Tow Truck's purpose is to provide breakdown support and first-class customer service so that our customers know they will receive help from a friendly face whenever they need roadside assistance.

If writing a statement for your own business, think back to why you started it!
Finalizing Your Company Mission Statement
When you have the basic elements of your mission statement, you can refine it for perfection. Key steps here include:
Rephrasing to fit your brand – Take the basic information you have and tweak it to fit your company's brand voice. For instance, you might want to use the first person ("Our purpose is…") or rephrase parts of the statement to address the reader directly. Make sure the language fits your objectives.
Seeking feedback from colleagues – When you have a first draft, ask others at your company for feedback. Seek a range of opinions from people in different parts of the company if possible.
Displaying your mission statement – Think about where to use your mission statement. Common options include the "About Us" page on your website, on marketing materials, or at your premises.
Remember, your mission statement reflects how you want the world to see your company. As such, make sure you perfect it before using it for your business!
Business Proofreading
Whether it is sales copy, mission statements, or business proposals, you'll want to be sure your business writing is error free and professional. Why not try our proofreading services for free and see how we can help today?
More Writing Tips?
Among and between are both prepositions used to describe how objects, people, or things relate...
Trusted by thousands of leading
institutions and businesses